This interview is part of a series on Trailblazing Women role models from around the world and first appeared on Global Invest Her and LinkedIn .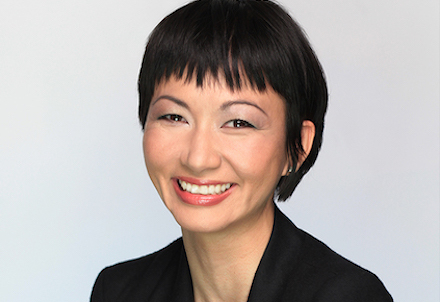 "If you see an opportunity, just jump on it, be willing to iterate. I use a 'run fast, develop quickly' philosophy and try to be not too resistant to change. Be bold and trust yourself. Only you know what's right for you and what you are capable of. A lot of people don't show up fully and realize their potential. I'd love to see a lot less of that."
Tania Yuki is founder and CEO of Shareablee, a leading provider of social content analytics for business. She has spent most of her career in digital marketing, measurement and analytics, and was recently honored with a Great Mind Award from the Advertising Research Foundation and featured in Fast Company and Forbes as one of 12 women driving digital in New York.
Tania began her career as a media and internet attorney, specializing in digital rights management, IP and film financing. After moving to the US from Australia she was seduced by digital and went on to run an online video content network as head of acquisitions and branding and has also led product management for comScore's Video Metrix, the world's leading online video ratings service.
Tania is also the founder of wimlink, an organization that holds regular events and seminars promoting entrepreneurship, leadership and the professional development of women.
Who is your role model as an entrepreneur?
I am a huge fan of Richard Branson and have read all of his books. What I most respect about him, is the bold, eclectic perspective he brings to all his endeavors. He doesn't get siloed into anything. It's so refreshing to see someone who moves so seamlessly across different worlds. I have a big belief that everything you do is the really the same thing -- you can apply so much of the same problem-solving to many different practices and find creative solutions.
What is your greatest achievement to date?
I am very proud of making the move from Australia to New York. At the time, it felt like the biggest mountain possible. I thought that New York was so far away from Australia, worlds away. I was completely unconnected and didn't know anything about how things worked before I came over. The other achievement I am proud of is launching Shareablee. It's never the perfect time to quit your job and launch a company, and it's been so much fun and the best thing I've done professionally, so far -- and we're just getting started.
What has been your biggest challenge as a Women Entrepreneur?

My biggest challenge has probably been learning how to effectively assert myself, and not in the way you might think. I've always been very direct from a very young age and have never shied away from sharing my opinion, and this can sometimes be hard to take, so I think a lot about different strategies, and framing conversations.
"I feel like there is a little more pressure on women than men to be softer in how we express ourselves, and I think about that sometimes during difficult conversations."
But overall, I tend to trust that if you are honest, direct and have no hidden agenda, things will come out the right way. All you can do is be yourself and do your best, and focus on improving and adding to your toolkit.
What in your opinion, is the key to your success?
The biggest thing we have done right at Shareablee, is been very proactive in working directly with key stakeholders in our industry and with our early customers to keep building a terrific product. When you are a startup, it's very easy to fall in love with what you've built in a vacuum and then keep evolving it into something that people don't need, like or want. The startup world is littered with these kinds of companies.
From the very beginning we put our prototype into peoples hands and let them play with it, use it. What people think they want, and how they react to a working product, are two entirely different things and you have to be aware of that when you're building a product, to not build too much before putting it in people's hands.
"It boils down to having an obsession with the customer's business, and to belief wholeheartedly that you are building something that's really going to help your customers.Then, you have to be ready to act fact. If you see an opportunity, you jump on it, be willing to iterate really quickly."
I use a 'run fast, develop quickly' philosophy and try to be not too resistant to change. That type of thinking is also in the DNA of the Shareablee team. We have assembled this amazing, bright, quirky, and curious group- everyone is a 'tinkerer' and has that restlessness to constantly improve things. When you are hiring, you have to hire as much for culture-fit, as talent. Talent is a given. The key is whether that person will fit in, feel creative, want to contribute and work with the rest of the existing team.
If you could do one thing differently, what would that be?
"Lighten up a bit more about everything! Because I am doing a lot of things for the first time, it can get a little heavy sometimes! Everything has worked out in the past, so I need to get better at knowing that this will, too."
My new focus is to be more mindful and conscious about things, and make sure I am enjoying this process. When I started Shareablee, a good friend of mine who started and ran his own company for 10 years through the financial crisis, told me that he worried and struggled through every moment of the experience. When he looked back on that time, after having a really successful outcome with the company, he said: 'I could have just chosen not to suffer and enjoyed it more. I would have ended up in the same place, with fewer grey hairs and a very different experience!' I do believe that how you feel about something is your choice. Remember you are not controlled by your choices, rather how you feel about them. So, I plan to lighten up more and enjoy the process!
What would you say to others to encourage them to become entrepreneurs?
I speak to a lot of people who want to become entrepreneurs, yet they stay in their job. There is never a perfect time to start a company. You have to be ready to forgo a salary and go unprepared into the unknown. You will never know exactly what to do, but you just keep taking one step and the next one comes and you keep going. You just have to trust yourself and trust that everything will fall into place. Then, once you make the jump and look back on it, you will see that it's really fun and wonder what you were so worried about - the sky didn't fall! You probably won't end up homeless or destitute, the stakes are not so very high.
"There is a myth that says that you can develop a business while still working on something else. I don't believe that. I don't think you can half bake a job and a business."
The biggest trap, is if you are in an awful situation and your boss is horrible, it's so easy to leave that. But if you are in a good job/situation, it's harder to start something yourself and jump into the unknown. Both options (working for someone else or yourself) are valuable, just very different. Pick one, then move forward. When you start your own company, you have to be intensely focused and obsessed. A new company can't settle for anything less than that - particularly from its founder(s).
How would you describe your leadership style?
Open and inclusive. We have a very flat organization and great ideas can come from many different people, no matter where you sit in the company. I don't do hidden agendas, politics and I work hard to foster a culture where people can speak freely and disagree with me and each other, without there being repercussions.
What advice would you give your younger self?
Make decisions quickly, don't worry about stuff and be as brave as possible!
It doesn't matter. Do anything that feels right, if it's wrong you'll find out soon enough. Be bolder, move faster and do not feel like any one thing can determine your future. If you take the time you need to make something 'perfect' you are not moving fast enough! Not everything matters that much. Your identity is not tied up to what you do, each choice. Keep pushing and trust your instinct!
What would you like to achieve in the next 5 years?
Massive scale! And not just growth and scale, but the right kind - understanding what we need to do to serve our customers' needs 1, 2, 10 years from now. That's what is powerful about our company culture. Over the next 5 years there will be so many interesting developments both inside and outside our industry, and we have to be thinking about the non-obvious, and how it could change things.
For example, I am obsessed with wearables and even Facebook is saying that wearables are a big part of it's future. We measure and optimize social, but now we have to be thinking way beyond that. I want to keep building a company that stays well ahead of things and brings eclectic innovation and trends into our technology. I am very curious about how consumer behavior is going to shift and what business must learn quickly, because of that. We have to innovate for the futures you believe might happen, before you have the evidence - because when things change, they change quickly.
3 key words to describe yourself:
Curious
Restless
Reflective
"Be bold and trust yourself. Only you know what's right for you and what you are capable of. A lot of people don't show up fully and realize their potential. I'd love to see a lot less of that."
For other interviews with trailblazing women leaders Click Here
Popular in the Community