This interview is part of a series on Trailblazing Women role models (Entrepreneurs and Leaders) from around the world and first appeared on Global Invest Her. You have to see what you can be.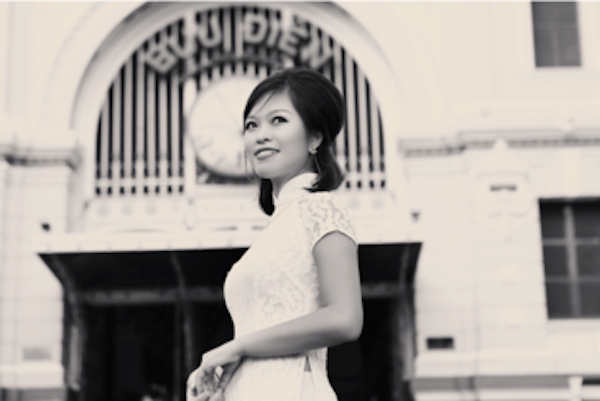 "Love every day of your life. You never know what's going to happen next."
Thuy Truong is a Vietnamese serial entrepreneur who was selected as a "30 under 30" in Vietnam 2015, "10 under 30" in Southeast Asia 2015, and one of Forbes Vietnam's Most Influential Women 2017. She was the CEO of GreenGar, a profitable mobile gaming company and a 500 Startups graduate, and CEO of Tappy, a hyperlocal social app that transforms any location into a virtual community. Thuy is currently the founder of the non-profit organization Salt Cancer Initiative, and she is leading mobile app development for the CancerBase research project with the Kuhn Laboratory.
Who is your role model as an entrepreneur? 

Growing up in a small village in Vietnam, I didn't notice many entrepreneurs. Entrepreneurship is still very new as a concept in Vietnam, and the word has only really started being used in the last 5 years. For me an entrepreneur is someone who takes risks and builds a business from zero to something. I get inspired by entrepreneurs like Steve Jobs and Elon Musk, but my real role model was my grandfather. He was a great entrepreneur who started as a farmer, then became a land-owner, and built many businesses in different sectors, from manufacturing to real-estate. After the Vietnam war, he donated lots of his estates to the State to help re-build the country. He passed away when I was only 5 years old, but I still remember how many people respected him and how business-focused he was. I admire what he did for the people around us, learned a lot from his legacy and wish one day to do the same for people around me.
What is your greatest achievement to date? 

I was named one of Forbes Top 50 Most Influential Women in Vietnam for 2017. I feel honored to be selected among the top women entrepreneurs, politicians, and artists in Vietnam. All the women on that list are legendary in Vietnamese business and it even includes the first self-made billionaire. To be included in that group is phenomenal. It's a call for me to try harder to deserve what they have nominated me for. On a personal level, my greatest achievement was doing a roadtrip around the USA all by myself over 2 months in 2016. That trip changed a lot about my philosophy about my life. When my last company got aquired, I was burnt out, my energy level was low and I decided that I wanted to refresh myself before going back to Vietnam. So I put together a plan to cross the USA and off I went. I had never done any camping before so I signed up for a camping class. On my first camping experience, I miscalculated the time I gave the Park Ranger and arrived at 9.30pm. I had no signal on all of my devices and was so scared, driving for 2 hours in complete darkness before I arrived at the state park in Georgia. I was so relieved to see another human being! I didn't want to pitch my tent at 10pm in pitch darkness, so I slept in my car, feeling totally disconnected from the world. The only thing I could do was read a book or write – no devices, but had so much internal chat inside my head. I stayed 4 days in that park, cooking, reading and hiking and they were the best days so far, so I continued to learn about hiking and how not to be scared of getting stuck by myself . Fast forward 2 months, and I had completed all the in-state parks across the USA.
A lot of people wonder why I did it. For me it was the best decision I made. When I started the road trip, I wondered what else I was going to learn about myself and my survival skills. After my trip I went back to Vietnam and a few months later I was diagnosed with lung cancer. I'm so glad I did the road trip when I did! I moved back to the USA for treatment. The early treatment was very painful and I felt I had lost control, so when I was strong enough, I started hiking again, giving myself a target to do 1 hike per week. I've already completed 17 hikes and am heading to Mount Whitney (14 000 feet) in June! Hiking is one of the biggest parts of my treatment. It's all about knowing your limits. When you feel uncomfortable, you've got to turn around. Now I volunteer regularly for the Pacific Crest Trail!
What has been your biggest challenge as a woman entrepreneur? 

"There were a few challenges being a woman entrepreneur and the greatest one for me was fundraising for my company as a non-native English speaker. It was hard to pitch in English and there were a lot of perceptions in Silicon Valley where they looked at me differently. I was a triple minority: female, non English-speaking and first time founder!"
When I decided I had to shut down my first company and move back to Vietnam, that was hard, as it was the first time I had to admit I had failed. When I started my company in Vietnam, I went on a non-traditional route. Not many companies at the time had done an accelerator and fundraising in Silicon Valley. It was very hard to realise I had failed.
With my second company, which I sold it after only 10 months, it was hard to make that decision. There was still so much potential, but I got an offer on the table. I had to consider all my investors and employees, knowing that when I sold the company, half of my employees would be gone. These are my three examples of key challenges. As a women entrepreneur, I find we have fewer people we can share them with.
What in your opinion is the key to your company's success? 

Resilience. I'm not a big fan of statistics. I believe each person should have their own career path, where they are heading to and how to get there. The key is to have a goal and be both flexible and persistent at the same time.
I took the same approach to my lung cancer diagnosis. When you google 'stage 4 lung cancer', the statistics say most people have only 8 months to live.
"You should be your own statistic, be your own case study."
I am a real numbers person. With my treatment plan, I measure how much sleep I get and keep it constant, watch my energy level, track how many miles I do hiking before and during treatment… When we talk about statistics in entrepreneurship or anything else, it's not about being the best, but being a better version of yourself. I always think 'what can I do to move my company forward every day'. It's all about running against time. Nearly 99% of companies fail and 1% succeed in the long run. Your job is to every day, increase that 1% to 1.1%, 1.2% etc to become successful.
If you could do 1 thing differently, what would it be? 

I would not do or live differently. Everything happens for a reason, and it might take us a long time to find out what those reasons are. A year ago, nobody knew I would go on a road trip and then come back to discover I had cancer. A lot of things in life just happen. I wouldn't do things differently or want to be anywhere else than I am now.
What would you say to others to encourage them to become entrepreneurs?
"People always ask me 'when is the best time to start a company?' The best time to start a business is today! It would have been even better if you had started yesterday! The best way to be successful is to focus on how you move away from failure and towards success."
Steve Jobs and Mark Zuckerberg started their companies as college drop outs, Elon Musk started Space X and Tesla after he sold Paypal – it's not about when or what you do, it's about how you do it.
How would you describe your leadership style? 

Approachable but cold-blooded. I'm very approachable and always try to answer peoples' messages and say thank you them for admiring my work. If they have a very difficult question like on term sheet advice, I'm more than happy to give advice and am approachable if they ask me a question. After the She Started It film came out, a lot of people sent me touching messages, telling me they supported me.
At the same time, I am very cold-blooded in the sense that I am very business and decision-oriented. When I decided to sell my second company, it was not an easy decision – ½ of the employees would lose their jobs, but I could return investors their money, so I had to follow through as I don't like to disappoint others. I like to move forward without having to explain why I do things and where I'm heading to. If it takes too long to explain something to someone, I would rather use my time to do something else.
What advice would you give to your younger self? 

What would you like to achieve in the next 5 years? 

If I can be alive in the next 5 years, that's already a very big achievement.
I am envious of people who grow up with big dreams, knowing what they want to do. I didn't have big dreams growing up to be a doctor, lawyer etc. My father was a lawyer and my mother and grandfather were entrepreneurs. As a kid, I was never the 1st or 2nd in class, or the cutest girl. I didn't have those labels so nobody paid attention to me and I could do whatever I wanted to do.
Vietnam: Salt Cancer Initiative.
On my birthday in December 2016, I started my Vietnamese non-profit. When I got my cancer diagnosis, many people sent me emails to support me on my journey. I feel extremely lucky and touched about that. There are hundreds of thousands of cancer patients in Vietnam every year who get a diagnosis, who don't have the privilege to go to a better healthcare system. I was in Vietnam when I got my diagnosis and and when I saw how terrible the healthcare system is over there. I didn't get the answers I wanted, they clearly knew I had cancer and didn't tell me. I could not wrap my head around all that when I got my diagnosis. I want the other hundreds of thousands of cancer patients in Vietnam to at least get the answers they want. Even if they can't get better equipment or medicine, at least they should have the information they need to know about what's going on with their disease. I didn't have that when I was there. I wanted to figure out what would be the possible way for me to give more support and share the support I have in the USA with other cancer patients in Vietnam. So I started the Salt Cancer Initiative non-profit.
We offer art/drawing classes for kids with cancer in different hospitals and translate American cancer information booklets into Vietnamese and distribute them free to 10-15 different hospitals in Vietnam now. Requests for the booklets are rising. They explain what cancer is and give basic information about lung cancer, kids with cancer. Our booklets are tremendously helpful to cancer patients there, to help them better understand their disease.
We are also organising the very first multidisciplinary Oncology Conference in Vietnam. We have partnered with 20 top notch cancer physicians & oncologists in the United States to come to speak at this conference in Vietnam in September 2017. They will offer free services to cancer patients and do a training conference for 100 Vietnamese oncologists on patient care, health care, scientific information. After the conference, we hope these 100 Vietnamese doctors will go out and help more cancer patients more efficiently and effectively. I'm really looking forward to that.
I'm currently working with the University of Southern California (USC) on different mobile technology to help cancer patients in the U.S., to build a Cancerbase platform. We are working with different professors from USC and Stanford, to build a shared platform for cancer patients, where they can support each other and leverage mobile technology to do so. In April this year, I organised a 3 day Hackathon for USC putting 100 participants together (Developers, UX designers, medical students and cancer patients) to build cool technology products to help cancer patients helping them understand more about their journey or have a better quality of life. (Read more about it here).
3 key words to describe yourself?
Watch Anne Ravanona's TEDx talk on Investing in Women Entrepreneurs.
Calling all HuffPost superfans!
Sign up for membership to become a founding member and help shape HuffPost's next chapter
This post was published on the now-closed HuffPost Contributor platform. Contributors control their own work and posted freely to our site. If you need to flag this entry as abusive,
send us an email
.