This interview is part of a series on Trailblazing Women role models (Entrepreneurs and Leaders) from around the world and first appeared on Global Invest Her. You have to see what you can be.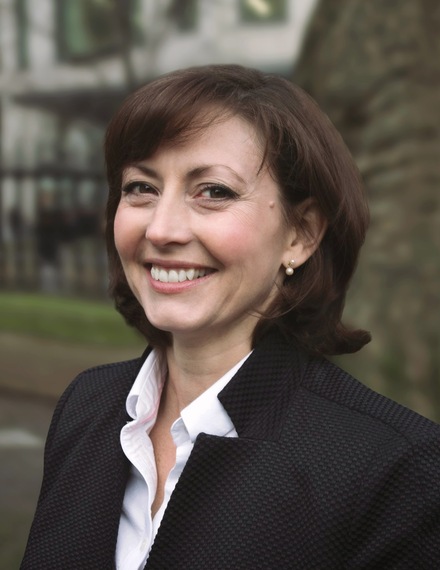 "What we are doing is really cool. I get up every day with a smile on my face, wishing that my morning train journey was longer so I can get more things done! It's so exciting and I really love what I do."
Wendy Jephson is a business psychologist who models human biases, heuristics and conduct into Enterprise Behavioral Analytics that transform financial institutions' investment performance and conduct so they can deliver higher returns while being compliant with new regulations.
At Sybenetix, Wendy leads a unique multi-disciplinary team of experts in behaviour management, cognition, human factors and expertise development that, for the first time, has modelled the complexity of decision-making skill for the investment management industry.

Her behavioural science & legal expertize was developed in major corporations such as Eli Lilly and Xerox and through her MSc in Business Psychology. The British Psychological Society and leading business psychologists have recognised Wendy's expertise in enhancing decision-making skill, applying psychology to the management of risk and understanding of how physiological factors affect investment performance.

Visit her website http://sybenetix.com/ and follow Wendy on Twitter @Sybenetix

Who is your role model as an entrepreneur?
This was an interesting one - mainly because my first reaction was that I don't have one. Which largely is true because my approach to life is that I can learn something from everyone I meet. People in my family have quietly gone about doing something different to the norm - my granddad was a lion tamer amongst other things - my mum, brother and husband all had big career changes to follow their passions and set up in businesses of different kinds. I admire that they all have a real resilience and determination to go out and do something different to fix a problem because it needs to be done. So they paved the path for me to also go out there and do want I'm passionate about - which is practically applying behavioural science to really challenging problems.

What is your greatest achievement to date?
Getting to be where I am right now really is amazing. I'm doing the job I decided I wanted to do 15 years ago when I was still a lawyer at Lilly. When I first got into my line of work, I found it fascinating how people coped with risk-taking and decision-making in financial services, under huge stress and with little feedback about why and how they were making decisions. Financial services is a system and we build bridges between technology, machine learning, trading know-how and behavioural science. I'm working with an amazing team of very diverse talents creating behavioural algorithms that analyse exactly how investment professionals make decisions to build unique behavioural profiles. No one has seen this before and what's really encouraging about it is that when people see it they say 'well of course that's what everyone needs and should be using'. It has taken years of research to produce software that can identify cognitive biases affecting performance, counter these biases and enable more skilful decision making throughout the investment process - and it really is just the beginning.
I also love sharing the journey with my three daughters at home as they try to work out what they want to do in life. The key I think is finding your passion. When you find the thing that makes you smile when it's still dark and you're getting on the train the rest is easy.

What has been your biggest challenge as a woman entrepreneur?
My biggest challenge has been how to make something incredibly complex and new to most people sound simple. I think this is true for most entrepreneurs. Their reason for being is to disrupt and innovate with something people haven't seen before. Working in financial services and tech I am in a very male environment but I don't think about the fact I am a woman. I go into my meetings as a professional expert to talk about the impact of our work on what they do. I am bringing a new take on what fund managers do with my area of expertise so I find they are interested in what I have to say and willing to engage in the debate.

There is a huge amount of pop psychology out there, which can be good for raising awareness, but we all love 'simple' - unfortunately human behaviour is anything but. The scientific methods we use to model real-world complex decision making into our technology is not well known outside my field and not easy to describe. We have been very fortunate that some of the smartest people on the planet at significant clients have been able to recognize the potential of the approach and gone with us on the journey.

The result has been truly remarkable and a real first in the financials services industry - we have built the first 'in-flight recorder' for investment decision making that can automatically analyse every decision made and deliver insight to investment managers right at the moment they most need it. If you're flying a plane in thick clouds and heavy turbulence you'd want every technological support to help you that you could get. The same is true of financial decision making and with markets the way they are right now who wouldn't want that kind of additional support to ensure you stay on that long term track and can weather the turbulence most effectively? Our system also uses this 'behavioural fingerprint' to identify abnormal behaviour in the context of suspicious activity, enabling firms to spot and investigate misconduct faster and smarter.

What in your opinion is the key to your company's success?
Bottom line everything we achieve is down to the team and without each one of us we couldn't do what we're doing - that breads a healthy respect for each other's skillsets and an acceptance of the need to listen, learn and support each other. That alone of course wouldn't mean success - we are also meeting a significant need in the financial services industry where there is no real existing solution that has impact on both performance skill enhancement and conduct management.

If you could do 1 thing differently, what would it be?
I'm an information junkie and find it really hard to stop looking for one more nugget. That's the real challenge of working in a scientific field. There is so much research out there, that every paper sparks another idea and google scholar is one search away from another really interesting ream of articles that could be read! Deadlines are the perfect way to say enough has to be enough for now, but I'd love to be one of those people who can stop sooner and relax!

What would you say to others to encourage them to become entrepreneurs?
It comes back to finding your passion. Sir Ken Robinson has spoken incredibly eloquently about this as well. Setting out to do something new and different is really challenging but with passion it can be the most fun you've ever had too.

Sybenetix has recently been chosen by TechCity to be part of Upscale - 30 companies chosen by the UK government as the next fastest growing tech companies in the UK. We had our first group coaching session from Jerry Colonna who told us the statistics are stacked against us and we were all highly likely to fail, so if we're not in it for the journey better think hard.
Being an entrepreneur requires resilience. Many people won't get what you're doing or just are too conservative to take the risk. Keeping going requires a passion and determination about what you're doing to keep you driving forward. We are fortunate to have connected with the thought leaders in the financial services field and they have been with us on the journey. Those are the people you need to find and then the rest will want to work with you.

How would you describe your leadership style?
Again an interesting question. From having studied this leadership in my MSc in business psychology I know it ought to be situational, which means the best leaders are able to adapt their style to the situation in front of them: collaborative when constructive and creative processes are at work; directional when things are going off track - that kind of thing. That's what I'm aiming for.
My approach is one that we work with very talented people and I start from a point of trust that they will deliver what we've brought them into the company to do. I'm not there to do the job for them - in fact if I could they wouldn't be there! I also think it's really important for people to see the bigger picture of what we're trying to achieve. So I want people to see the end users if at all possible, so they can see for themselves what it is they're contributing to and why their piece of the jigsaw matters and can have an impact.

What advice would you give to your younger self?
Believe in yourself more - what you produce is actually pretty good! Just go for it! Before, I used to think that somebody else must have done my work better out there and then I discovered - no they haven't! Very smart people often have the worst CV's - they don't play up what they have achieved and are just moving on to the next challenge. They think to themselves, 'if I can do that, it's normal', when in fact, it really isn't. It's actually extraordinary! Realise that the things you do in life are not necessarily the norm. They can be great.

What would you like to achieve in the next 5 years?
We really have just scratched the surface applying behavioural science to create a holistic behavioural risk management system for financial services. We've started with the most complex financial decision making you can find, but financial decision making is everywhere: from asset managers, to the many streams within the banks, to the person on the street. We really are looking to transform the industry. We are a bit like the 'Bletchley Park' of decision making, cracking the behavioural code! Decisions are everywhere. Kahneman himself says organisations are like decision making factories - when you think of a decision as a product then you immediately also think of quality control.

With data technology and behavioural science, we can bring that quality control to high risk decisions in many other fields so we're going to be busy for a very long time!

3 key words to describe yourself?
Information junkie
Resilient
Passionate
Watch Anne Ravanona's TEDx talk on Investing in Women Entrepreneurs.