This interview is part of a series on Trailblazing Women role models (Entrepreneurs and Leaders) from around the world and first appeared on Global Invest Her. You have to see what you can be.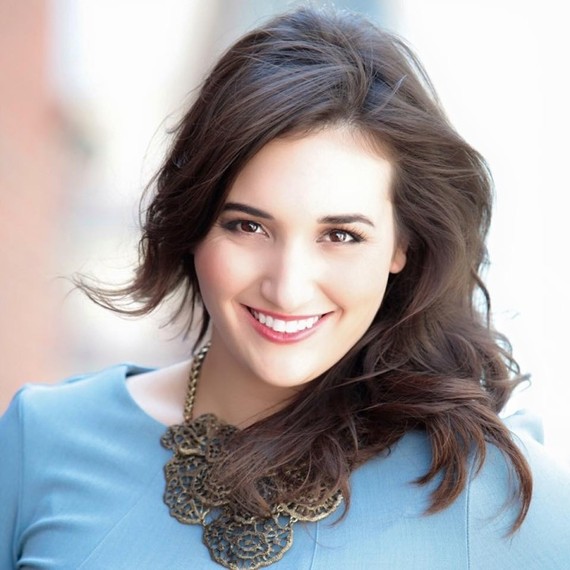 "Entrepreneurs are around 3% of the population and have a different mentality about how they see the world and their purpose. I always had that streak in me and thought there was something wrong with me vs something great about me! As soon as I realized, that it was not only ok but something special about me, that set me up for success."
Elizabeth Galbut is the Founding Partner of two start-up venture capital firms, SoGal Ventures and A-Level Capital. During Elizabeth's graduate studies at Johns Hopkins University & Maryland Institute College of Art, Elizabeth consulted with hundreds of start-ups and identified the lack of pre-seed funding as the major issue preventing these startups from succeeding. To solve this, she co-founded A-Level Capital, the student-led venture capital firm powered by Johns Hopkins students. With a team of 24 student investment team members, A-Level Capital aims to invest in 80 JHU student and young alumni startups in the next five years.

On a mission to create the change she wished to see, Elizabeth and Pocket Sun founded SoGal Ventures, the first female-led millennial venture capital firm, with an investment focus on exceptional, diverse founding teams that have plans for global domination through tackling major consumer or healthcare problems in the U.S. and Asia. SoGal Ventures represents how far our generation has come, and how deep our impact on the world can be. Elizabeth's favorite investment area is the intersection of smart design and machine learning/AI fueling major health tech innovation. Her placements include digital pathology standout Proscia, mobile health platform eMocha, smart air detector Birdi, lab research platform Nebulab, smart water bottle HidrateSpark, and mental health app Docz.

Elizabeth is proud alumnus of Georgetown University, London School of Economics, Johns Hopkins University, Maryland Institute College of Art, and Deloitte Consulting.
My mom is a great example of how far women have come in a single generation. She is a real role model for me and encouraged me to go for everything I wanted, even though it's tough. When she was in college, she wanted to be an athletic trainer for a collegiate football team. There had never been a woman in that role before. She tried for 2 years to get the job, and the coach didn't take her seriously and wrote back to her as if her request for the job was a joke. After taking her story to the press and continuing to follow-up with the coach, she finally did get the job. Back then, there was less than 10% women in her medical school class. Now at many medical schools including my alma mater John Hopkins University, over half the students in Medical School are women. I see my mom as someone who always pushed for gender equality for both herself and the generation of women around her - and this is a quality I've always greatly admired. I hope that by the time I have a daughter, more than 50% of VC's (venture capitalists) will be women. A lot of the LP's in our funds are men with younger daughters. They want to support females so that there will be a change when their daughters are looking for jobs or raising funding for their business.

What is your greatest achievement to date?
I've accomplished a number of things, and plan to accomplish many more in my lifetime. Yet my biggest accomplishment so far, is not a singular success, but rather my ability to stay true to myself and put my integrity first in all business and personal interactions. Reputation is something that's difficult to build, and very easy to tarnish. I pride myself in following my gut, acting with honesty and good intention, and doing what I believe is right. I've made mistakes, just like everyone else, but as a whole, I've always acted with intention and integrity.

What has been your biggest challenge as a woman leader?
It was a lot harder to gain the respect of some of my male colleagues and team members. For example, I created A-Level Capital while still at grad school. My co-founders are both men. In the beginning, there was a much lower level of initial respect from our team. I've had to build our team's respect for me to get to the point that it's equal. When I was in Consulting, I felt as respected as my male colleagues. In this investing industry I have to prove myself more, to be respected at the same level. I'm not naturally one to brag, so I am currently working on how I communicate and highlight my own achievements better. Something I've seen work really well for women, is to have someone else who the other party respects, say good things about you and build that ground level of respect.

One male VC once told me " I think what you're doing is cute". I don't know how to react to that type of demeaning comment. A VC is usually committed to their fund for 10-14 years and the success of a fund is highly dependent on who the General Partners are. Some people say to me: "You are 26, how do you know you'll still want to do this at 36?" I have to boldly say it's my passion and that I am excited to wake up every day to do this. Mark Zuckerberg started Facebook when he was 20 years old and he is still there today. Just because I'm young, doesn't mean I am not focused and know what I want.

How do you grow people in your organization?
At A-level Capital, I have 24 Student team members from undergraduate freshmans to grad students. A big part of it is how to grow them as individuals on my team. The biggest advice I got was from a female manager at Deloitte who coached me on how to identify someone's best attributes and allow them to thrive using their skills & interests. You must identify them very quickly, so you don't place someone in the wrong role. If you enable your team members to enjoy their work and experience personal growth from day 1, you're setting up your entire organization for success. It's good to let people try out different areas to discover where their talents and passions can be best applied and let them shine doing it. Understanding your team members' motivations, background, what they like and don't like, is a constant journey for a leader. As I manage my team remotely, I set up development calls with each person every few months to touch base. Although it's increasingly difficult as our team grows, it's an essential part of our success.

If you could do 1 thing differently, what would it be?
I would get rid of my perception that I needed everyone to accept me, to please everyone and be the person that 'fit in'. Growing up and in college, I spent a lot of time and energy trying to be that person and I always fell short and felt like an outcast. There are probably reasons for that. Entrepreneurs are around 3% of the population and have a different mentality about how they see the world and their purpose. I always had that streak in me and thought there was something wrong with me vs. something great about me! As soon as I realized that it was not only ok but something special about me, that set me up for success.

My 'aha moment' came, when I finished my consulting career to start grad school and got handed the leadership reins of the student entrepreneurship club. I still didn't know then that I wanted to be an entrepreneur, even though my mom always told me 'you're going to be an entrepreneur', and many of my managers gave me feedback that I had an entrepreneurial spirit. As an analyst in consulting, I was very successful at selling complex projects to big clients and that would sometimes get me into trouble, because I kept overstepping the role I should have been doing and sometimes overstepped management above me. At the entrepreneurial club at John Hopkins, I led a team of 52 student leaders across schools, hosting an event every week on average. Only after I had consulted with dozens of startups, did I realize that I was doing something I really liked. Bringing in investors, evaluating companies, matching startups to capital - suddenly I realized I was actually very good at that.

What differences do you notice between men and women investor's styles?
I don't want to generalize. There is a spectrum of attributes for both men and women. As an investor, I typically like to go to coffee/lunch or meet someone at events to get to know them better in an informal setting. Particularly for women entrepreneurs, that makes them more comfortable, brings out their personality and helps me understand who they are and why they are doing what they do. Because of this, we often find out information that other investors don't get, such as the company's current problems, worries, and deep aspirations. We get a full picture, not just the highlight reel. I never have startups pitch formally to me or come to my office, which a lot of traditional investors do. I don't like that power/ no power situation, where investors seem to have the upperhand and feel 'I'm the investor who has power. If you don't listen to me, you won't get my money' and 'you'll be so lucky if I invest in you'. I don't think that's a good approach to pick out a company and begin a partnership. I respect entrepreneurs. They are the ones investing their whole lives and sacrificing to build their companies and bring about real change. I see myself as lucky to invest in our portfolio companies and partner with the founders on their journeys.

How would you describe your leadership style?
I like to be an advocate for everyone on my team and seeing the best in every person. You have to be a role model and lead the way you want everyone else to perform. Your actions as a leader determine how your team behaves. I am a very cognizant, thoughtful and even-keeled leader and don't usually get flustered. I like to help people achieve and challenge my team often, pushing them to grow and evolve professionally. We picked the best people for our student team because each person has an amazing skillset. I wasn't aware of my talents at their age (team ranges from 18 to early 30 year olds). I like to help them become aware of their talents and understand what they are capable of.

What advice would you give to your younger self?
That it will all be OK. As a child I struggled with my weight and was bullied a lot. It was very hard for me emotionally. My mother has multiple sclerosis and the fear that she wouldn't be in my life or would be disabled really impacted me. Despite all her challenges, my mom instilled in me 'no matter what, you'll be ok'.

What would you like to achieve in the next 5 years?
I want to keep on doing a great job with A-Level Capital and SoGal Ventures. Of course, with SoGal, we'd want to raise a second and third fund by then, and grow our ability to invest in diverse entrerpeneurs at the seed stage. I'd like us to have dozens of thriving businesses solving big societal issues with innovative technology (healthcare, education, energy, finance, etc.) in our portfolio. Through my investments, I know I'll be facilitating real technological progress and change in the world.

3 key words to describe yourself?
Tenacious
Pragmatic
Resourceful
"At all points of your life, act like a sponge and absorb everything around you, even if it seems trivial. There's a lot to learn about the world and yourself. Absorb all that knowledge and personal growth. Where you are now is not where you will be in 5 years. You can grow exponentially."
------------------------------------
Watch Anne Ravanona's TEDx talk on Investing in Women Entrepreneurs.
Popular in the Community