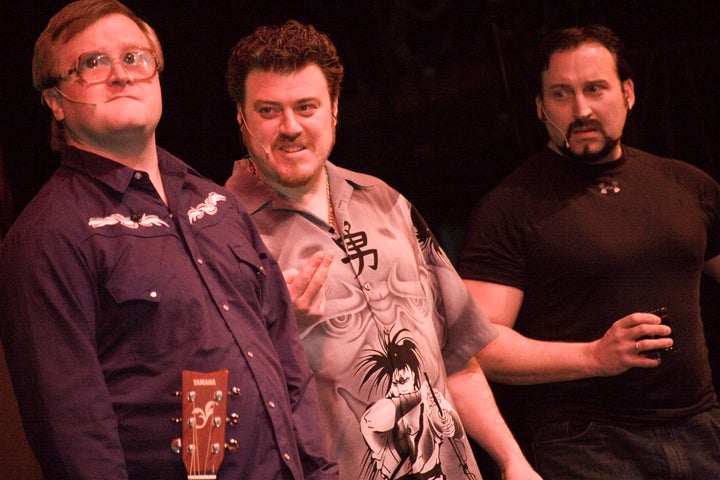 TOP 5 FOR THE NEXT 5 DAYS
1.) Trailer Park Boys At Lisner Auditorium
This Canadian comedy phenomenon was doing "Eastbound and Down" nearly 10 years before "Eastbound and Down." Alternative comedy fans have been following the somewhat underground phenomenon for over a decade. Seven seasons of a television show, multiple specials and two films later, the group is returning to D.C. for "community service." 7:30 p.m., all ages, $32.50 and up
2.) Beltway Poetry Grand Slam 2012 At Busboys And Poets
Whether you're a Busboys poetry open mic regular or not a fan of the art form that is incredibly difficult to deliver well, consistently, this Grand Slam should be an excellent starter course for how to do poetry well. We're looking forward to seeing Natalie E Illum, an artist willing to throw heavy topics at the audience without fear. Four of the eight performers will advance to the National Poetry Slam in Charlotte in August. 8:30 p.m., all ages, $10
3.) Colin Quinn At DC Improv
The blunt, to the point, comic's comic is coming to the Improv for two nights. The former "S.N.L." Weekend Update anchor thrived on "Tough Crowd," playing the role of mediator of hot button issues. A veteran stand up, there isn't a crowd Quinn can't turn around. 8 p.m., 18+, $20, also May 9
4.) Outlaws One-Year Anniversary Night At Marx Cafe
There can never be enough Outlaw country music DJ nights. Whether you're in Nashville or the nation's capital, it is not possible to sour the songs of Johnny Cash, Waylon Jennings, Merle Haggard, Willie Nelson, etc. while drinking whiskey and beer. 10 p.m., 21+, no cover
TOP 5 FOR THE NEXT 5 DAYS
Wednesday, May 9
Yo-Yo People at Kennedy Center
The Look Both Ways: Street Arts Across America series continues with the aptly named Yo-Yo People. Blending yo-yos with hula hooping and unicycling, the duo believes in truth in advertising. If anyone from the Kennedy Center is reading this, please continue booking acts like this. These shows bring together a beautiful cross section of children and adults, all confused about what's going on, all of them smiling.
Friday, May 11
Truckeroo 5 at Yards Park
If you don't work close to the downtown D.C. food truck mecca, this 12 hour event at a not exactly permanent structure is a good place to sample food from over 20 food trucks. Did we mention it runs 12 hours?
Saturday, May 12
Ballston Arts & Crafts Market at Welburn Square
Beginning today and running on the second Saturday until October, this Arlington-based handmade crafts market is a nice little way to spend an afternoon. Peruse cute jewelery, cute screen prints, cute soaps, cute stuffed animals and other things that are cute.
REAL LIFE. REAL NEWS. REAL VOICES.
Help us tell more of the stories that matter from voices that too often remain unheard.