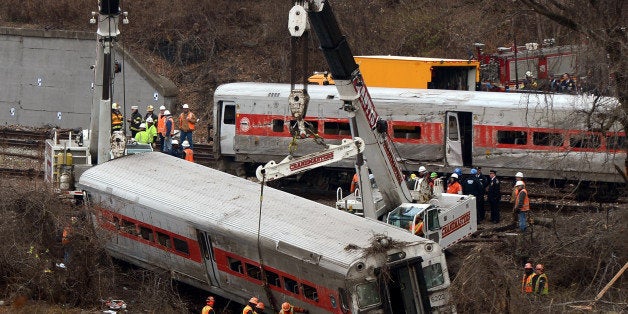 When Amtrak engineer James Shoemaker is called to work an extra shift at the last minute -- a common occurrence in the railroad industry -- he sometimes feels too tired to operate the train safely.
"I know a lot of people have turned to the 5-Hour Energy, but I don't do that," said Shoemaker, a 19-year railroad veteran. "I tend to sing to myself or clap my hands or get up and stretch."
Shoemaker, who usually works train routes out of Charlotte, N.C., said his schedule varies. That means he is sometimes operating a train when he would otherwise be asleep -- a big problem, he said. "I've caught myself nodding off," he said.
On Sunday, a Metro-North commuter train near New York City traveling at nearly three times the speed limit derailed and crashed, killing four passengers and injuring 67. The engineer, Wiliam Rockefeller, was dazed before the accident, suffering from what his lawyer said was "highway hypnosis." Anthony Bottalico, of the Association of Commuter Rail Employees, said Rockefeller told him he had nodded off.
Experts have long warned about the dangers of operating any type of vehicle while sleepy. For those responsible for transporting passengers -- train engineers, bus drivers, airline pilots -- the risks are enhanced. On a trip at rush hour, a commuter train like the one Rockefeller was operating on Sunday carries hundreds of passengers.
Several veteran engineers told The Huffington Post they are keenly aware of potential consequences of dozing. Even so, all admitted alarming moments where they caught themselves on the verge of a nap -- or even sleeping.
"I have nodded off, just as thousands of rail workers do every hour," John Paul Wight, an engineer for CSX Corp., one of the country's largest freight rail operators, told HuffPost. "It's part of our culture." Wright said he has suffered from panic attacks and anxiety as a result of his occupational fatigue.
Fatigue and sleeplessness is a "constant, chronic problem on the railroads," said Ron Kaminkow, general secretary of the Railroad Workers United union. In a recent union survey, 56 percent of railroad employees said that due to fatigue and rest, it is hard to keep up with rules and instructions while working.
"The biggest issue with railroaders is fatigue, not pay," Wright said. "We are paid very well. But we sacrifice our bodies and minds to work the long hours it takes to make the money, not to mention the high divorce rate, self-medicating and stress."
National Transportation Safety Board Chairman Deborah Hersman told NBC News that fatigue is an "insidious problem, particularly in the rail industry."
Just before the crash of the Metro-North commuter train, the engineer awoke and applied the brakes -- too late to avert the crash, investigators have said. There was no evidence that Rockefeller was under the influence of alcohol. Drug tests are unfinished.
Congress ordered U.S. railroads to install a fail-safe system by 2015 that would automatically stop trains at risk of before a crash. Metro-North has not yet adopted the technology.
James Maas, a retired Cornell psychology professor and sleep expert, said most automobile drivers have nodded off at the wheel, at least briefly, at some point in their lives.
These lapses are called "microsleeps," and can last up to two minutes, without a driver being aware of the nap, Maas said. It's possible to complete tasks while asleep, Mass said, noting that he has driven home late at night in the past, only to realize after he arrived that he did not recall the last few minutes of the journey.
"Sleep is not like a switch," Mass said. "It is a gradual in and out of awareness."
Sleep-deprivation is a massive problem for motorists. The National Highway Traffic Safety Administration estimates that fatigue contributes to about 100,000 auto crashes and 1,550 crash-related deaths a year.
Rockefeller's lawyer has said the engineer felt rested when he came to work at 5:00 a.m. Sunday, having slept seven hours the night before.
Maas said he found that sleepers tend to overestimate how long they slept by an average of 47 minutes. And there is no way to gauge the quality of sleep, he said.
"We are a nation of walking zombies prone to the consequences of sleep deprivation," Maas said.
Popular in the Community