Championships can be won, in part, during the off-season. When my cross country team at Elder High School in Cincinnati went unbeaten and won the state title, one of the reasons was the summer.
Either we would run on our own, or meet with teammates for an evening run. Everyone on the team definitely kept in shape during the summer. I would say most of my teammates ran at least hundreds of miles. That way when the season started we were already in really good condition and ready for the races!
So this is important to remember for every cross country team, or any sports team, for this coming school year. You can definitely put down the foundation for success in June, July and August.
But let's do more. Did you know that you can train and help Pope Francis with his plan to end world hunger?
The Pope, speaking at the UN World Food Programme (WFP) earlier this week, is calling everyone to action to end the injustice of hunger. Instead of just accepting hunger as an inevitable world condition, do something about it!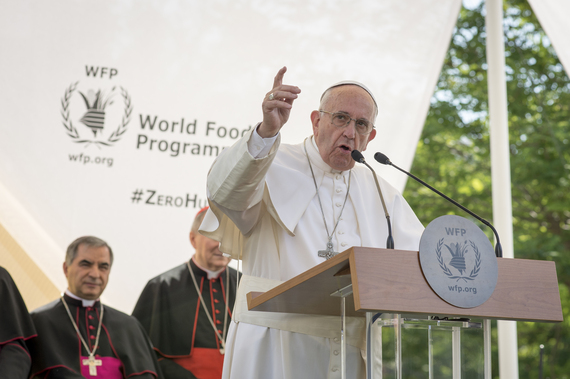 Pope Francis at the World Food Programme on Monday. The Pope said "the World Food Programme is an excellent example of how work can be done throughout the world to eradicate hunger through a better allotment of both human and material resources." (photo courtesy WFP/Giulio D'Adamo)
Here is how runners can help the World Food Programme. You can download the free app Charity Miles and select World Food Programme from the list of charities.
Every mile you run, walk or bike is a donation of a meal to WFP, paid for by corporate sponsors. When you are finished you can share your results on twitter and facebook. That is how easy it is.
Imagine if every athlete training this summer did Charity Miles? Think of how many meals would be raised for the World Food Programme.
With so much war and drought in the world there are millions of people living in desperation trying to find a meal each day. We have more hungry refugees today than anytime since World War II. Wars in Syria, Iraq, Yemen, South Sudan, Nigeria and surrounding countries have left civilians at risk of starvation.
But like Pope Francis says, "We cannot be simply satisfied with being aware of the problems faced by so many of our brothers and sisters. Statistics do not feed people."
But your actions can. The World Food Programme depends on voluntary donations to lead hunger relief. They are short on funds. Their food aid programs often face ration cuts or complete suspension due to lack of funding.
Their resources are stretched thin these days because of the severity of the hunger emergencies. The war in Syria alone requires an incredible effort by WFP to deliver food to war victims under siege, sometimes through air drops.
This costs a lot of money, so WFP continually needs resources. So every meal you can donate makes a difference.
It is also about making a statement for everyone to follow, including Congress. The more citizens care about an issue, the more likely policies in government will be enacted to address the problem.
This summer you can get ready for next season by running and training. But with Charity Miles you can also help feed people a world away. So get your running shoes on and make this summer count!
Author William Lambers on Charity Miles for the World Food Programme
Related
Popular in the Community