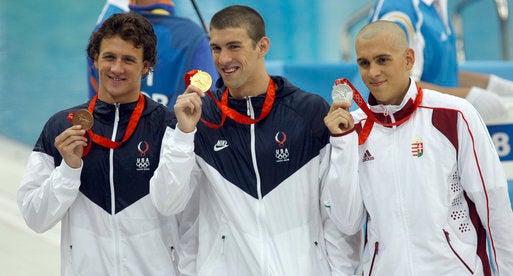 What if we trained our minds as much as Olympic athletes train their bodies?
Can you imagine what life would be like if you were as good at managing your thoughts and emotions as Michael Phelps was at the 200 meter butterfly?
Now, try to imagine what the World would be like if more people were practicing meditation daily. Seriously, stop for a moment right now and visualize what it would be like to simply walk down the street in your hometown if meditation and mindfulness were a part of your neighbors' daily lives!
Think about how hard the greatest athletes in the world work at their sport. Conditioning their bodies relentlessly. Meticulously feeding themselves only the best foods at the right times to reach peak performance. Working on their minds to match their physical conditioning so that they are practically unmatched in their sports.
The game of life should be more important than winning a gold medal at the Olympics. Yet most people don't give their mental fitness much thought at all. On a daily basis, they allow outside influences to dictate how they feel and how they react to everything.
Imagine an athlete having such a sloppy approach to their training. They wouldn't even make it to the Olympics!
The practice of being aware, living in the Now, and staying as high on the emotional scale as you can is truly a practice. It can either win you the Gold in the Emotional All Around or see you struggling just to get out of bed.
Instead of swimming thousands of laps in the pool every week, we meditate for 10-20 minutes per day. We feed our bodies and minds healthy things. And when we are tested, we rise to challenges that would send most others into a tailspin of stress.
Winning Emotional Gymnastics All-Around
In women's gymnastics you have the floor routine, the balance beam, uneven bars, and the vault. Win them all and you have the most coveted gold medal in gymnastics.
In life, our events are Happiness, Joy, Peace, and Love. Win them all and you have the best life a human being could ever hope for. You'd also be among the top performing humans being on the planet!
Get a free meditation called "Zen in Ten" and learn more about how you can medal in Life Balance and Happiness at Thriverly.com.
Popular in the Community