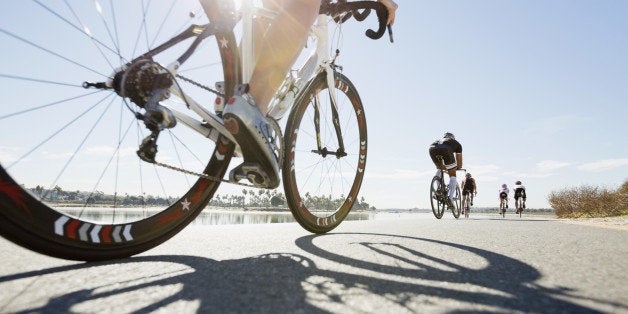 What I Learned The Hard Way
The first year I cycled in the STIHL Tour des Trees, we rode nearly 600 miles through Oregon. I had very little experience with road biking and no idea what to expect. I'd never ridden more than 40 miles on my bike, and where I live, the only climbs are bridges over water.
Before the Tour, I worked out religiously but not exercise specific. I read about various cycling training techniques: interval training, ways to increase my lactate threshold, and single leg pedaling to name a few. I spent more time on the stationary bike and in spin classes than I did on the bike.
After the Tour my hands were stuck in a semi-claw position for about a week, and my Achilles tendons were sore for a month. But I did make it and completed 90 percent of the climbing.
The second year, the STIHL Tour des Trees traveled around Lake Ontario, and the climbing was reduced to rolling hills but replaced with an incredible pace. This year, through Wisconsin, looks to be similar; so I have a good idea of what to expect. I am not going to harp on the obvious training approaches suggested by various fitness, cycling and athletic outlets. I will, however, reiterate the suggestions for training given on the STIHL Tour des Trees website. This will get you through a long cycling tour better than anything I can tell you. The one thing I know for sure is that I have a choice, I can suffer now and elevate my enjoyment on the tour, or... well... you know.
Training Tip: Reduce the Suffering
In an effort to increase my cycling stoke I watched the documentary "Rising From Ashes," about the start of the Rwandan Cycling Team. Their coach, Jonathan Boyer (Jacques Boyer to the French), was the first American to ride in the Tour de France. He said (and I am paraphrasing) "If you want to be a cyclist you have to suffer, you will suffer, everyone at some point suffers." Man, can I empathize with this. Every time I ride I go through some amount of suffering. The point of training, for me, is to reduce this suffering as much as possible.
What I have learned from the past two STIHL Tour des Trees, logging nearly 1,200 miles along their routes by bike, is that there is nothing -- I mean nothing -- that can replace saddle time when you train.
Saddle Time is the Single Most Important Aspect
I will tell you from direct and painful experience why I think saddle time is the single most important aspect of training for the Tour. First, the ergonomics of my bike changes with fatigue. I find that I can ride my bike for a solid 25 miles and not notice slight pains or numbness until I ride longer. To prepare my body and bike for the Tour, I try to get in as many long rides, more than fifty miles, as I can. The first year on the Tour, I had only ridden a 40-mile ride. On the first day of that Tour, with 86 miles of climbs I'd never see in Virginia, both of my legs cramped up and I rode softly into a ditch.
Second, it is important to know how your body is going to react being on the road under so much stress for long periods of time. It is less embarrassing to fall on your own in a familiar environment than in front of anyone else -- even the kind, experienced cyclists on an event like the STIHL Tour des Trees. Third, like I said earlier, I made it through Oregon, but I believe I would have enjoyed it more if I were in better cycling shape.
For my second year on the Tour, I made the mistake of buying a new seat and not putting high mileage on it before the event. One day in and the chaffing I encountered pushed my endurance for pain to a whole new level.
Now, after relying on masochism and brute force for two Tours, I have finally decided that the tour director, Paul Wood, is right: I need mileage on my bike more than anything. Most moments on the STIHL Tour des Trees add up to the adventure of a lifetime, but to fully enjoy it, train. The more you train, the less you feel the pain. And the only way to get that is to get on the bike and ride.
Making Time to Train
Making time to train can be complicated as my work requires me to travel quite a bit. The biggest challenge is trying to find hotel gyms with more than a treadmill. Please hotels, I'm begging you, always have free weights in the fitness centers. If no gyms are available, I will run up and down the hotel steps and do plyometric exercises in the room. I've given up on stationary bikes, boring.
But when I'm home, I do my best to ride on two wheels everywhere. I ride 14 miles roundtrip to work most days and try to do longer rides when possible. We have a ton of group rides in my area and I try to roll with them as often as I can. I also like to take different routes and keep it as fun as possible. Training for anything at this stage in my life should be fun, so I do what I can to make it so. One thing I love about cycling is the view from my bike. It is quite different than my car. It seems like the faster I pedal the slower my mind moves. I become more aware of my surroundings, I see things that I ride by every day but never noticed, such as a big magnolia tree, an old Southern farm house, herons flying. I become connected to where I live in a different way.
The last thing I have done more of is riding in pace lines. Doing anything with friends is always better than alone. People keep my spirits up and help me get through those long rides. It's no different on the Tour. Pulling off a century is much more fun with a group of five or six riders that I pace well with. It helps fend off fatigue and gives me the chance to get to know some new people.
My goal this year is to push myself on the rides but still enjoy every minute. I find motivation from other Tour riders and share their dedication and support for those having a hard time getting time in the saddle. Tour rider Julia Bartens said it best to a friend who hadn't trained enough: "Don't worry about it, it just means you'll ride slower!"