When I told friends and family that I was participating in a sanctioned triathlon, in Kirkland, WA., at Carillon Point, the number one question asked, was: "Why?" Now why would that be? Was it that I was over 50, a mother of three active school-age kids, or that I wasn't a swimmer, runner, or cyclist? Actually, I think it had to do with this inescapable notion that triathlons are for an elite group of Adonis-esque athletes.
They are not. I contend that participating in a sprint triathlon (l/2 mile swim; 13.5-mile bike; 3-mile run) is like being "on vacation," compared with what most moms (or dads) endure in getting one or more kids (and themselves) out the door on any given day. When I told this to an over-taxied mom in an email, she said that she was lying on the floor laughing, and that she wouldn't be "caught dead" in a trisuit. Naturally, she's my first recruit for joining me next season.
I was faced with the impending death of my little brother, 48, from a rare form of cancer. We were very close, and had traveled the world over. From diagnosis to the end of his life, was well under a year. We said our last goodbyes at a small airport in Merimbula, Australia. My last memory of us together, was me, his big sister, standing before him, with my head in his chest, soaking his T-shirt with my tears, and he trying to convince me, that, "Everything will be all right." He chose to live out his final days with his lovely Australian wife and their two little girls, rather than return home to Seattle for more treatment, and have the high cost of medical care in the United States leave his beloved family penniless.
Upon his death, it was as if my entire core were shattered into a million pieces of painful shards of glass. I literally hurt everywhere. Instead of withdrawing (as I desperately wanted to do), I decided to train for a tri in the hopes of strengthening my emotional and physical core. I had read that, "Things work out best for those who make the best of things that don't work out." Training for a
triathlon was my first step in that direction.
I started taking spin classes; two-to-three times a week, at 5:30 a.m. Sometimes I'd attend another session at 6:00 p.m., and a l.5-hour class on Saturdays. I hated them, at first. Before too long, though, I started feeling the equivalent of a "runner's high"-- on a bike. An hour would fly by, as I listened to the instructors' entertaining monologues and playlists. I can still hear Susanne's angelic voice, gently persuading us to "Keep it going." And Tony, in his good-natured lawyer speak, rattling off statistics from the The New York Times, about the "superior brain power" of people who work out. Or Kevin, 60, a 13-time Ironman, smiling grandly, and saying, "Connect the dots, folks... Train hard in one area of your life, and other parts of your life will fall into place...." I'd always leave in a better mood.
Shamefully, I didn't train for the swimming or running portion. I had the faith that my many decades of competitive tennis, combined with total body conditioning classes and jumping rope, would carry me through.
Interestingly, my biggest fears had nothing to do with athleticism. A series of What-ifs kept me up at night: What if I get a flat tire? What if I can't get out of my wetsuit? What if I get hit by a car? What if I get penalized for "drafting" (keeping too closely to the cyclist in front of me)? What if people start swimming over top of me?
None of those worries were an issue, particularly since I was one of the last to emerge from the half-mile swim (the equivalent of 72 lengths of a pool). This was due, in part, to the "wetsuit" that one of my (alleged) best friends let me borrow. She failed to tell me that it was for windsurfing in the 80s. Let's just say it wasn't designed for swimming -- probably more appropriate for staying warm and afloat if you went overboard in Antarctica. Needless to say, everyone was swimming past me. With my first breaststroke, in the frigid, choppy, Lake Washington, the wetsuit filled with water, and I felt as though I were being held hostage by it. I seriously considered asking to be rescued. I didn't. I was in the last heat of the day, and was the second to the last to finish, in 32.41 LONG minutes.
Once outside of the transition area (in 6.49 minutes), and out on the open road with my bike, it was as if the entire city of Kirkland was shut down. I was virtually the only one on the road. I felt like a star in an Alfred Hitchcock ghost-town movie, sans the tumbleweeds. Silent, scattered shoppers stared at me. As I crested yet another steep hill (not quite the advertised "gentle, rolling hills" I had expected), a tenderhearted young boy yelled, "Show me your number! Show me your number!" When he saw that I wasn't a duathlete, he jumped up and down, and enthusiastically continued, "ALRIGHT! ALRIGHT! YOU'RE A TRIATHLETE! GO! GO! GO!" Music to a grieving sister's ears.
I finished the bike portion in 1:03:16 hours, and exited the transition area in 5.52 minutes. My run took 36:10. I'm not ashamed to admit that I came in 563 out of 575 participants, with an overall time of 2:24.48 hours.
The following weekend I raced in the Black Diamond Triathlon, at the foothills of the Cascade Mountain Range, in Nolte State Park. This time, I signed up for a "Tri-It Novice Triathlon," with a quarter-mile swim portion. I swam like a seal (12:09) in my rented, black wet suit -- freezing, pouring rain and all. After a 5:47 transition, I rode like the wind for 47:21; and transitioned again in 3:26. I came through the darkness of the thickly forested race path and ran full stride toward the seemingly illuminated finish line in 33.44. My second journey of the soul ended in 1:42:28 hours. This time, I made it into the Top 10 of the "Tri-It" participants (out of 29). And I came in second in my age division (of two.) I now have two "participation" medals and some cool T-shirts to show for it.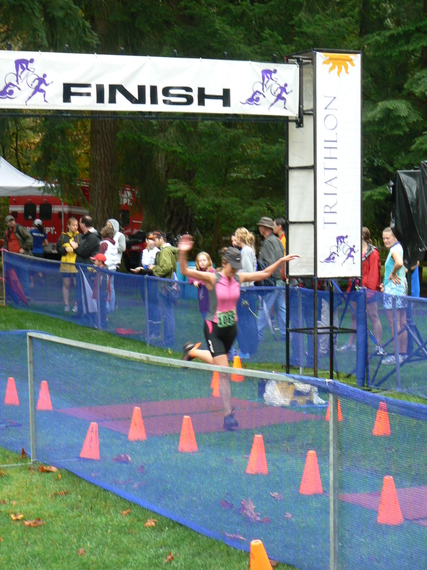 Might you, dear reader, consider participating in one, too? I can't promise that you'll emerge a winner (in the traditional sense). I can promise, however, that when you cross a triathlon finish line, that you will feel triumphant (pun, intended), in a way that you can only begin to imagine.

Is running in a triathlon really easier than getting your kids (and yourself) out the door on any given day? You'll never know until you tri.
~In memory of Robert "Bobby" Jordan Houston~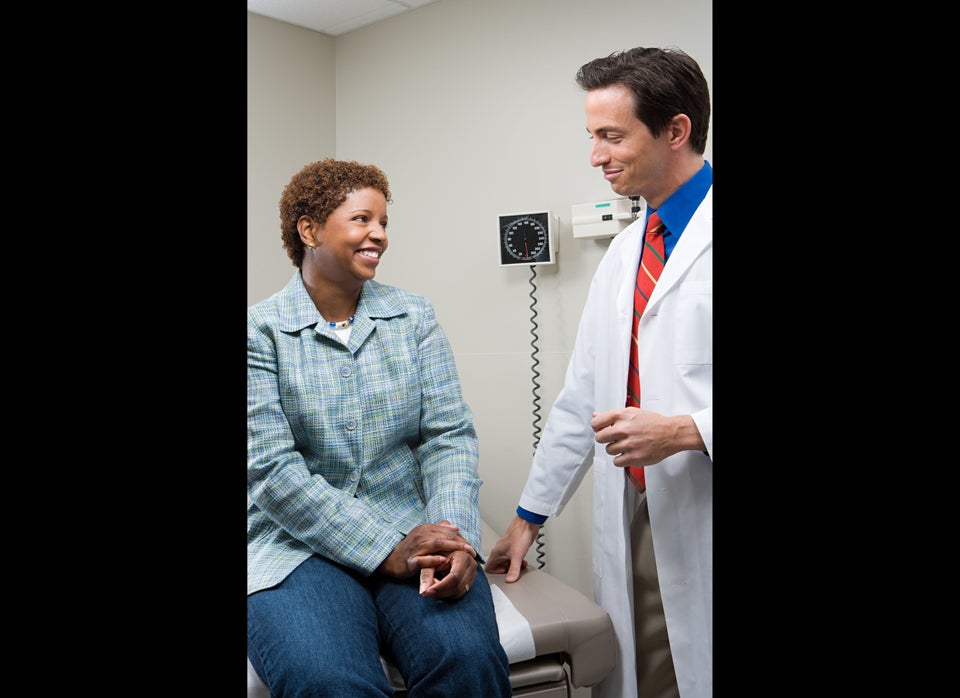 Dr. Colvin's Advice For Staying Active After 50
Related
Popular in the Community