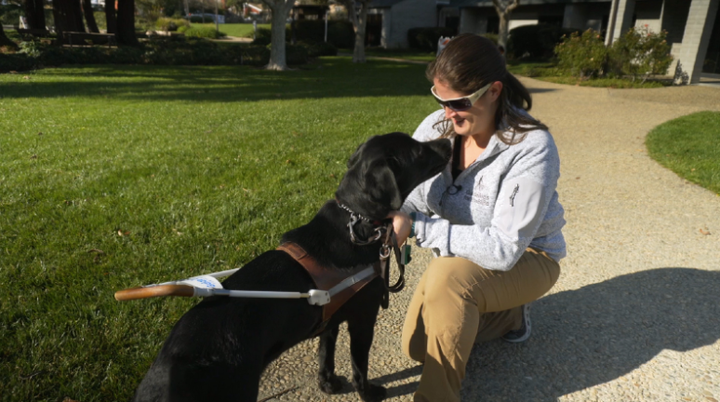 Training dogs might be in my DNA.
I started as a volunteer puppy raiser for Guide Dogs for the Blind (GDB) at the age of 9, and I was immediately hooked. Besides loving animals as a child, my first experience raising a guide dog at such an early age gave me an unspoken understanding that I was an important part of a collaborative effort that profoundly changes lives for the better. I was well aware that my role could make or break the success of the puppy I was raising.
This understanding led me to continuously raise guide dog puppies in training all through my high school years and college. My passion for puppy raising fueled my decision to move to California to work at GDB's national headquarters, where I am now a senior guide dog mobility instructor. So you could say that I've always loved my "job."
While my time as a childhood puppy raiser wasn't all work ― it provided a dog lover like me with immense joy on a daily basis ― it did inform my adult view of the importance of dogs and humans working as part of a unit that is stronger than its individual parts.
Volunteer puppy raisers receive puppies when they are about 8 weeks old and raise them until they are 15-17 months, after which the dogs can enter formal guide dog training at GDB. When I was raising puppies during this formative time, I was responsible for providing my puppies with a well-rounded, nurturing environment and for teaching them basic obedience and manners.
I did get support from GDB, which offered a comprehensive puppy raising manual, organized training and socialization through meetings with other local puppy raising clubs, as well as staff to answer any of my questions.
But there's no substitute for spending time every day getting puppies accustomed to being touched and exposing them to different situations, conditions and objects, which will later help them on their journeys to becoming canine heroes for a partner who is blind or visually impaired.
I learned at an early age that one of the most important things I could teach my puppies was to focus on their person (me), rather than on something external. Oh, and to always use positive reinforcement (food or praise) to reward every example of good behavior.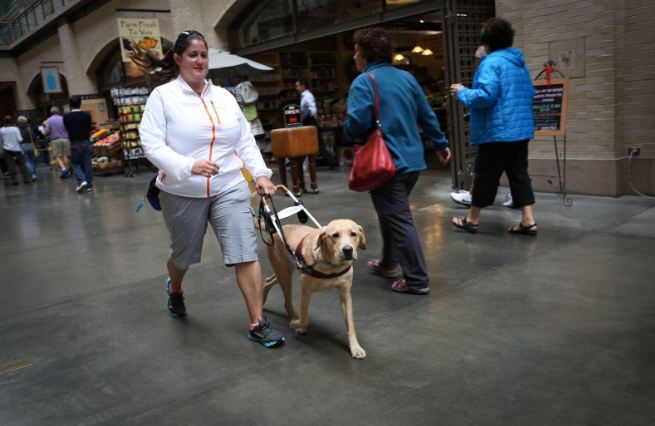 It was always exciting and a little bittersweet when my puppies entered formal training. I love every puppy I've raised, so it's definitely emotional to "give them back," but I know they are on their path to being a guide dog for the blind, and that gives me great strength and comfort.
Now that I'm a staff member who helps oversee the formal training, friends and family often ask me for tips on training their dogs. The process of training a guide dog is more involved than basic training for a family pet. One key factor that sets guide dogs apart from other service dogs is teaching them the all-important concept of "intelligent disobedience."
Intelligent disobedience is when a dog is trained to help a blind person in ways that go directly against the handler's instructions in an effort to make a better or safer decision. Without learning intelligent disobedience, a dog can't graduate to become a working guide dog.
For example, when a handler wishes to cross a busy street and instructs a guide dog to "go," the dog should refuse in order to prevent the person from getting in harm's way. The animal understands that this contradicts the learned behavior to respond to the owner's instructions; instead, it makes an alternative decision to keep the human safe. It's a critical skill.
People often ask me if guide dogs are listening to and comprehending the audio instructions at some pedestrian crossings. Their ability to keep their partners safe in these settings is an example of how they've learned intelligent disobedience.
We teach this by using positive reinforcement that senses and rewards the dog's natural hesitation for walking into an object or into an unsafe situation. We start teaching intelligent disobedience about midway through the training process. Since it can be a make-or-break part of the training for many dogs, I always do my best to stay extremely focused during this portion.
I know firsthand how complex guide dog work is ― because the stakes are so high for the individuals who are paired with guides. Not all dogs make the cut. Fewer than half actually graduate from GDB to become guide dogs. But there's no shame in not making it through. Those that don't make the cut become "career change" dogs, such as service dogs for diabetics or good old-fashioned family pets.
Those who do graduate to become guide dogs become life-changers for their partners. Since I work on the Guide Dogs for the Blind team, I get to witness these transformations on a daily basis as blind people gain greater independence and mobility with the help of their guide dogs. And do I even have to mention that they get the bonus of daily love, companionship and social inclusion?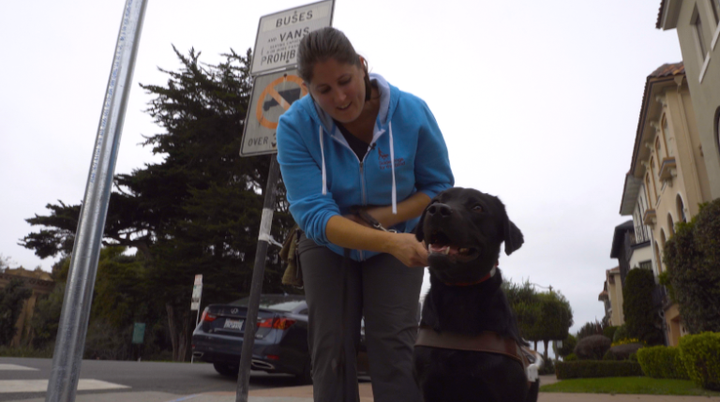 Unfortunately, accomplished guide dogs are often misperceived as being no different than "emotional support animals," which have spiked in popularity in recent years. This is dismaying to those of us in the guide dog community, because we often see owners falsely representing their dogs as service animals when the dogs have had little or no training, or even worse, when the animals are misbehaving in a public or business setting. This erodes the public's trust in legitimate service animals ― even in the amazing guide dogs I work with. And this can also damage the very access, independence and social inclusion their human partners richly deserve.
I always thought the puppies I raised were stars, but I never thought they would actually get starring roles in a movie! Not only did a litter of these puppies take center stage, but I was also fortunate to participate in the new documentary feature film "Pick of the Litter."
More than two years ago, filmmakers Dana Nachman and Don Hardy contacted GDB with the premise of following a litter of puppies from the moment they are born through their quest to become guide dogs. I was lucky enough to train Patriot, one of the dogs in the film, which was a delight. I call it my Hollywood moment.
I hope people who watch the movie will fall in love with these wonderful, life-changing creatures ― the way I've been doing every day for the last 22 years. I tell everyone who watches it to bring Kleenex.
"Pick of the Litter" is currently in select theaters and available to stream on demand. For more info about Guide Dogs for the Blind, head here.
Support HuffPost
At HuffPost, It's Personal
Popular in the Community