I am not a runner. In fact, I hate running. Always have.
But I just ran my first half marathon.
I had been feeling like I needed a challenge in some aspect of my life when a friend (who is a runner) mentioned she was considering signing up for a race. Was running 13.1 miles a challenge I craved? No. Was it a reasonable first step into a novice's relationship with running? Of course not.
But just like that, I dove feet-first into training.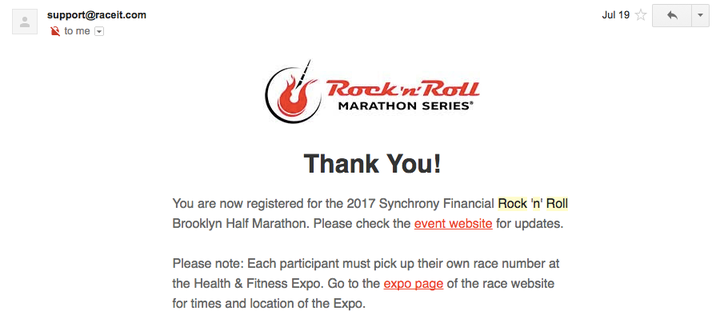 What followed was 12 weeks of googling "what to eat before a run," a slight change in my social life (I started literally running to the bar after work instead of just beelining), a newfound appreciation for Taylor Swift and her quite frankly perfect running music and so many moments when I wanted to give up.
All the runners I knew seemed to be in better physical shape than I was. There's the friend who runs ultra marathons. There's the friend I signed up with, who I learned very late into the game can run a mile in under 8 minutes. At the start of my training, I was barely clocking in under 13 minutes per mile.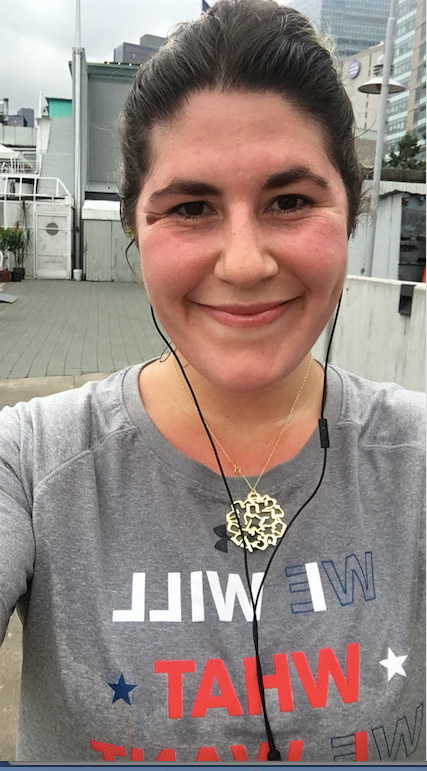 There was the time I went to a friend's bachelorette party in Miami and skipped three of the runs I had planned for that week in favor of day drinking and eating pizza at 3 a.m.
There was the cloud of anxiety that hung over me before every single run, the self-doubt that made breathing difficult even before my runs started. It made running feel like it was actually suffocating me.
There was the day about 3/4 of the way into my training, that I ran Brooklyn's Prospect Park 3.33 mile loop in 90-degree heat and proceeded to burst into tears in the middle of a hill because I simply couldn't do it anymore. Never mind that I hadn't drank nearly enough water or eaten enough before hitting the pavement ― in my mind, I was just failing.
In all of that time, there were achievements, too. Sure, I was struggling through my runs, but I was running longer distances with more ease. Running is the first exercise I've ever done in which you can so clearly measure your accomplishments. The first time I ran 10 miles, on a gorgeous 60-degree day in September, I for the first time in my training (and ever) understood "runner's high."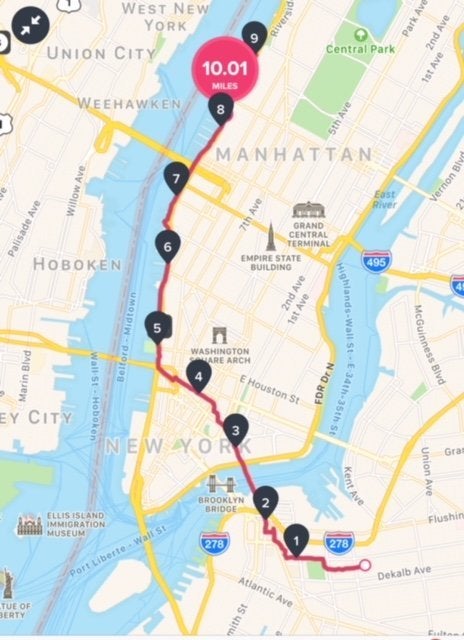 Then came the last "long run" before race day. We picked an October race because we were sure that would mean cool fall temperatures and an easier race climate. Fast forward to the first week of this October, when temperatures hovered in the high 70s with almost 100 percent humidity. I got through five of the 10 miles I was scheduled to do before I had to start walking. And despite the fact that I kept up a run/walk through the remaining five, I couldn't help but feel defeated ― and as anxious as ever ― about the looming race.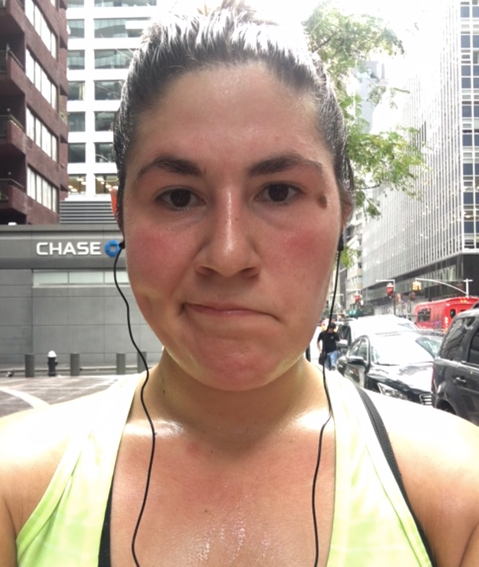 "The only thing I'm hoping is that there's no humidity the day of the race," I said to friends. "LOL, K," the weather responded. On race day the weather report called for a high of 72 degrees with about 93 percent relative humidity.
Everyone kept talking about race day adrenaline. Everyone kept reminding me that I had put in the work. And every single time someone said it, I felt more and more anxious. I had, at this point, told everyone I knew (and some people I didn't know) that I was running a half marathon, thinking that would be the glue that would hold me accountable.
It wasn't until Friday, the day before the race, that I realized how the negative self-talk was having a physical impact on me and my race-day performance. Dr. Leah Lagos, a clinical and sports psychologist, explained why people want to quit, what they can do to combat that feeling and what a race really is all about.
Dr. Lagos explained that a big part of training is learning how to let go ― letting go of expectations, letting go of constantly counting the miles, and learning to focus only on yourself.
"People have to be really clear about what they are running for," she said. "The healthiest thing to be running for is intrinsic, not extrinsic. When someone says they're doing it for the money or to get first or second place it often has a negative physiological effect for most people ― tightening the muscles, narrowing the focus or making their minds busy."
Sure, the last thing on my mind was placing (I ended up coming in 6,321 out of 9,419 , but who is counting?), but I had put a ton of pressure on myself to do this so that no one around me would think I had failed. Dr. Lagos reassured me that the race was all about me (a notion that delighted the only child in me) and challenged me to do a few things beforehand.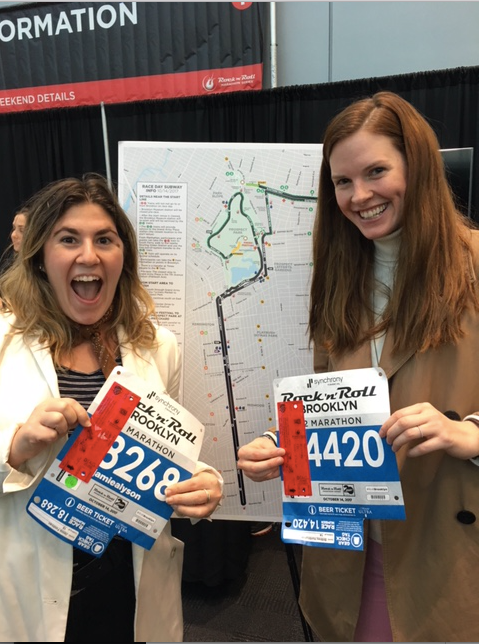 "Everyone has that moment where they have to just push a little more," she said. "I call it leaning in to resistance as opposed to trying to fight it. Lean into it, notice what it feels like and know that it's a normal part, it happens to everybody. The next step is to bring in the 'go-to' thoughts. With a lot of runners, whether professional or competitive, we pick three go-to thoughts that they can go to in their mind."
Dr. Lagos added that something as simple as picking a song that amps you up and going back to it can help get through those crashing moments, too.
Armed with my three "go-to phrases" (I went with "I am strong, I am in control, I am capable"), six hours of music on a carefully curated Spotify playlist and a stomach full of pasta, I was ready to go.
Every time someone passed me, I ignored them. Every time my legs started to hurt, I turned up my music a little louder. And slowly but surely, I got closer and closer to the finish.
It didn't matter that I had doubted myself. It didn't even matter that the last three miles of the race were all uphill. It didn't matter that I gave all of my friends and family the wrong time and they missed seeing me on the route. I didn't stop. I didn't walk. I didn't quit. And I did it for myself.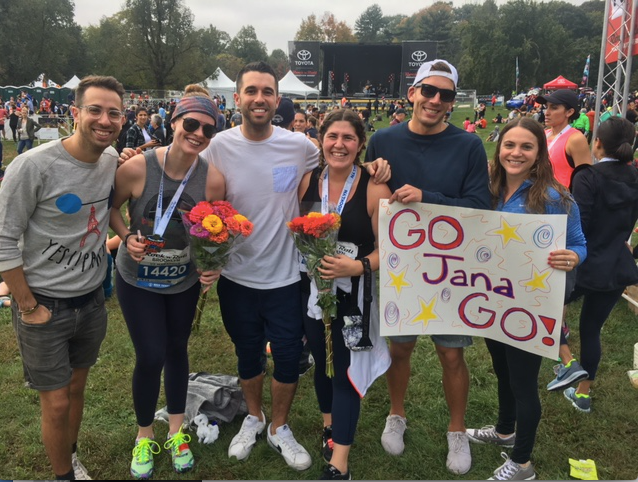 The flowers and the fanfare didn't hurt, though.
And holy moly, if I felt runner's high that first time, I felt it tenfold after crossing that finish line. I felt like the happiest person on earth.
I might still feel like a non-runner, but I did it. I'm already on the hunt for my next race. And if I can do it, so can you.