The rapid pace of change in technologies available to marketers is undeniable. According to Adobe's 2013 Digital Distress report, only 48% of digital marketers self-identify as highly proficient in digital marketing, while 76% of digital marketers argue that marketing has "changed more in the past two years than the past 50." While I argue that the principles of marketing have not changed that much, the number of digital tools available and the complexity of today's customer have.
According to a report in eMarketer, email, organic search (SEO), paid search, and social media, are the top four acquisition strategies for small to medium sized businesses, but gaining expertise in these areas can be challenging. That's where digital marketing and social media certifications become extremely beneficial to today's professionals.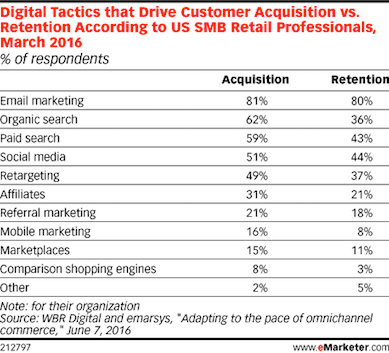 Whether you are a student trying to land an internship or job or are a professional wanting to advance in digital marketing, having multiple industry-recognized certifications can make a difference. While it's always good to specialize, digital strategists and agency account relationship owners are expected to be Swiss army knives of digital knowledge. Depth and breadth matter. Taking a course in digital marketing can help in gaining knowledge of digital strategy and tactics, and pairing these courses with industry recognized certifications can augment theory with applied skills to help new grads stand out from the pack.
The following certifications are my favorite programs, and each will be part of my fall semester digital class. It will be a fast-paced, challenging semester for my students (as they also have projects with community clients), but they will come out prepared for the job market with the latest skills and knowledge.
Digital Marketing Certifications Programs
Google Adwords. Anyone can take the Google certification programs. Sign up for an account at http://www.google.com/partners, and two certification options are there (Analytics being the other). Adwords is a powerful tool that includes keyword/search marketing, display/banner ads, video ads, and more. To pass this certification, you will need to take the Fundamentals exam and one other exam of your choosing. A minimum score of 80% is required to pass, and certification is good for one year. If you fail to pass with the minimum score, you must wait a week before attempting again. Google has eliminated the cost of taking the exam, so there is no cost barrier to getting certified.
This certification is a challenging assignment in a digital marketing class due to the difficulty of the exam, but I set a schedule of attempts which count towards the grade.
Google Analytics. Marketing analytics are becoming hotter as marketers become more data driven and focused on attributing visitors accurately to sources. Google's program has become more robust with new tracking features added regularly, including analytics for mobile apps and gaming systems. Google estimates that viewing all materials and videos takes approximately 4.5 hours, and they grant access to the tool for a hands-on experience. Again, a minimum score of 80% is required, but only one exam is needed. Certification is good for 18 months, and the smart marketer will need to keep up with enhancements and developments in tracking and measurement between certification periods.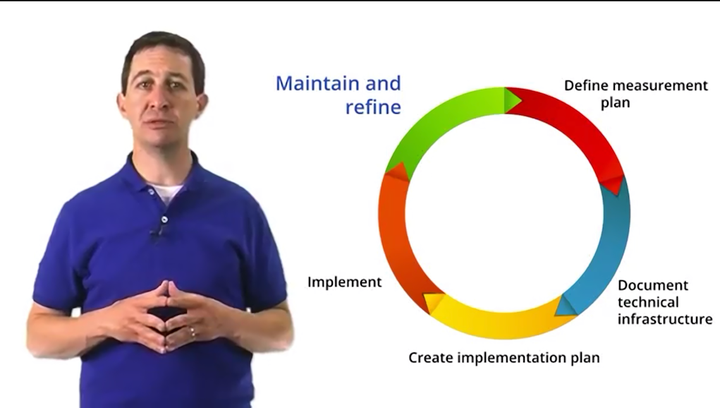 Hubspot Email Marketing. Today, email gets a bad rap. It is still highly effective (see the eMarketer study noted above), but it is also done very poorly by many national marketers. Hubspot, the inbound marketing specialists, offers a free certification taught by industry professionals. The course is heavily focused on strategy related to segmentation, targeting, frequency, email construction, and database management. I found the course to be engaging, and the testing was fair and appropriately challenging.
Hubspot Inbound Marketing. Digital marketing sprang from not only information technology advances, but also from direct marketing techniques such as direct mail and catalogs. This inbound course focuses on fundamental direct marketing techniques on driving leads into the sales funnel and encouraging a desired conversion activity. Too often, students consider discussions on web marketing to be a design affair when it's really about supporting the goals of the company and driving a sale. A beautiful website helps, but the inbound methodology is critical to ensure that a web strategy is effective.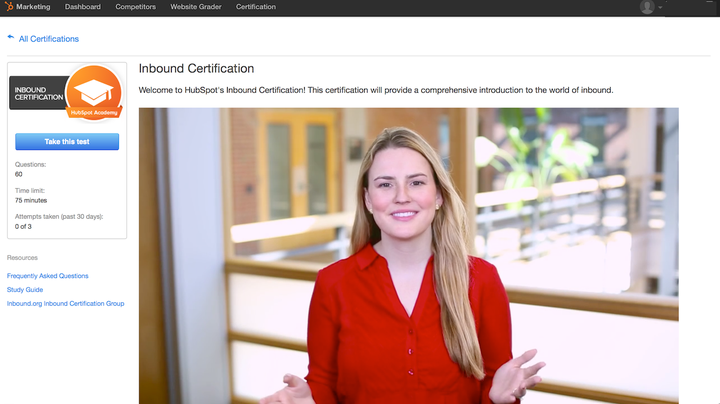 As with Hubspot's email certification, the inbound certification is free (and expires in 13 months).
Hubspot Content Marketing. Much has been written about the power of relevant content and storytelling. This concept centers on best practices in providing relevant content that engages a firm's audience and provides a soft push toward conversion. Hubspot's program is coming soon (estimated at late November 2016, but subject to change).
Hootsuite. Hootsuite's tool certification costs $199 to the general public, but the costs can be waived if your university enrolls in the company's education partnership. The certification material videos lack the energy of the material presented by Google or Hubspot, but they are effective at showing key social media management functionality such as workflows and approvals.
The downside of this certification is the exam can be retaken without delay, and participants can retake only missed questions. University faculty may wish to add a requirement to take a quiz or follow-up exam via Blackboard or other Learning Management System to ensure the learning outcomes.
LinkedIn's Lynda.com Search Engine Optimization (SEO). Select Lynda.com (owned by LinkedIn) online courses offer a certification for completion. SEO is an important concept for which I wish Google would create a certification program. To date, Lynda's program is the best I've found. Many university libraries offer Lynda.com as part of tuition, which is a cost-savings for students.
The shortcoming of Lynda's certification program is that a participant can click through each of the sections and become certified. I plan to pair all of Lynda's certifications with a quiz via LMS to overcome this issue. The other risk of SEO certification is the fact that it does not expire. SEO guidelines change frequently, and it's incumbent upon digital marketers to stay close to what's changing in industry.
LinkedIn's Lynda.com Mobile Marketing Fundamentals. The final certification that can be earned for free by many participants is Lynda's Mobile program. It has the same shortcomings as the other Lynda program (gaming the system and content that will change frequently), but it's a good start. I'm a big fan of the instructor, Michael Becker, who formerly led Mobile Marketing Association in the US, so I feel it is worth assigning to students.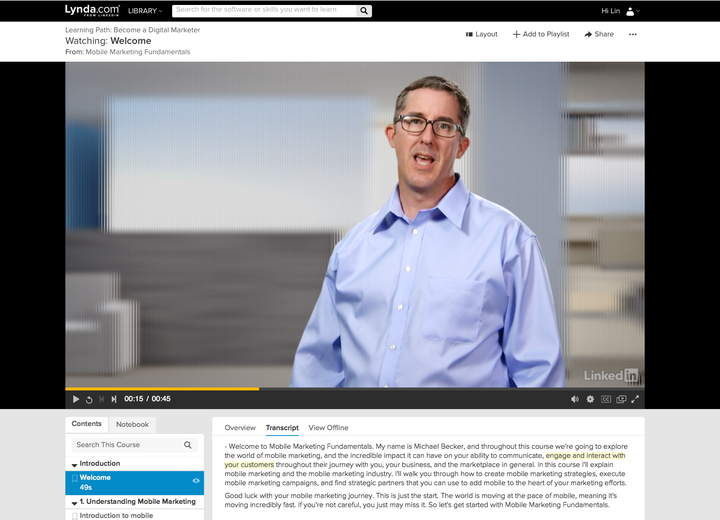 A summary of the certifications I use in my digital marketing is presented in the graphic below.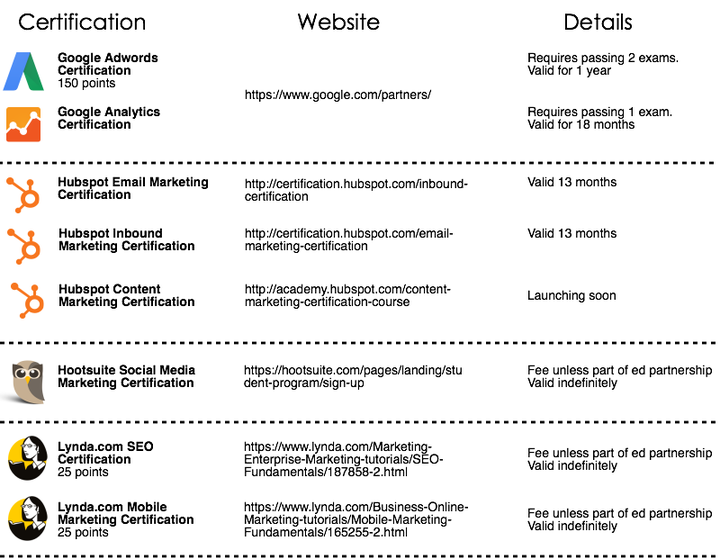 Note: Most of the certifications listed above have a function to publish the certification to LinkedIn. It's best to go into those certifications on LinkedIn and make sure that any certificate numbers and expirations are correct as I have seen these sometimes not pass through. Having a robust certification section on LinkedIn can help stand out from the crowd of applicants
Bonus: Salesforce Superbadge in Reports and Dashboards. While I don't include this certification in my course due to time limitations and overlap with our marketing analytics course, students can become certified in the art and science of reporting and dashboard creation. Today, crafting a story from data is a high demand skill set, and Salesforce is an industry leading platform.
Final Thoughts
Adobe now has a digital marketing certification that takes a year to complete. I've had a couple of exchanges with Adobe attempting to set up a partnership to certify on Adobe Marketing Cloud, specifically the Adobe Target (formerly Omniture Test & Target) for A/B testing and multivariate. Adobe sells their certification courses, so it was never feasible for integration into my classes. Companies like Salesforce and Hubspot that partner closely with higher education will benefit in the long term as these soon to be digital professionals leave school with a platform preference and hands-on, certified experience.
It is in the digital marketer's best interest that most of these certifications expire as the tools and concepts change and evolve constantly. By following the blogs or Twitter accounts of each of these companies and other digital thought leaders between certification exams, marketers can stay current and embrace sophisticated, data-driven marketing techniques. While completing certifications will not serve as a golden ticket to walk into a strategy VP role, it is a sensible approach for landing an interview in digital marketing. It will also not serve as a master solution to become a true expert; only time and experience with the platforms and technology will lead to this level of mastery. But, it's a great start.
We talk a lot about lifelong learning in higher education, and it's definitely the rule in digital marketing; certifications are an effective and industry recognized way of staying current. A MediaBistro post on the role of a digital marketing manager made the bold claim, "certifications are the new degree." I argue that certifications are the perfect partner for the marketing degree and can be the secret weapon for standing out in a competitive field of candidates.
Popular in the Community