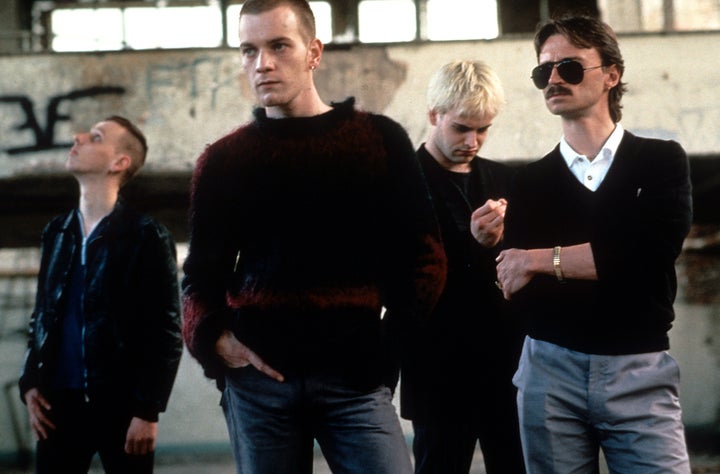 Released in 1996, the Oscar-nominated "Trainspotting" is an adaptation of Irvine Welsh's novel of the same name. Directed by Danny Boyle, the film starred Ewen Bremner, Robert Carlyle, Ewan McGregor, and Jonny Lee Miller, among others.
In an interview with The Playlist this week, Boyle hinted that it may be time for a "Trainspotting" sequel, adapting Welsh's follow-up novel, "Porno." The Playlist reports that Boyle is eyeing the film, which will hopefully include the original cast, for 2016. Boyle also told the publication that John Hodge, who penned the script for "Trainspotting," is writing the screenplay for the sequel.
"This has been a long time coming," Boyle told The Playlist. "There's always been this long term plan for 'Trainspotting 2,' if John can produce a decent enough script, I don't think there will be any barriers to Ewan or any of the cast coming back. I think they'll wanna know that the parts are good so they don't feel like they are letting anyone down."
Boyle added, "The reason for doing it again is that people cherish the original, people remember it or have caught up with it if they never saw because they were younger. So you want to make sure you don't disappoint people. That will be the only criteria I think."
McGregor spoke about the possibility of a "Trainspotting" sequel last February, saying, "I was always a bit loathe to do it, because 'Trainspotting' is so important for me... It was such an amazing film that still stands up today. I think making a sequel to it is almost a dangerous thing to do. You don't want to damage the reputation of the original film if you make a lesser version... That said, it could be interesting because it's been so long, and ['Porno'] is set 10 years later."
UPDATE:
Welsh said in a statement to HuffPost Entertainment, "It's always been a vague intent to do this. There is a long-standing very good first draft of a script, written by John."
See Welsh's full statement, via email, below:
It's always been a vague intent to do this. There is a long-standing very good first draft of a script, written by John. Danny seems to have focused in on it as a proper project now, which is nice, but there are still a lot of issues to resolved. As the author of the sequel you want a script to remain as true to the spirit of the book and the characters as possible, but putting on my film head, I'd say we would have to play more fast and loose with the original text of Porno than on previous adaptations of my stuff.

I say this as I think things have moved on since "Porno" came out over ten years ago, and the story of a motley crew getting together to make a gonzo porn movie no longer seems that edgy or interesting on its own. Porn/erotica is now pretty passe in the '50 Shades era'. The second issue (which I think has already been resolved in the rough script) is to make Renton the central figure. In the book Sick Boy is the main character, and Renton is more peripheral. I think we have to come up with something around the 'porno' theme, but something that is really going excite the actors.

Because people love the characters and the actors who played them, it's tempting to get everybody back together, but while reunions are always fun, I'd rather not do it all unless everybody was vibing on the material. I have great affection for "Trainspotting" and I wouldn't want to trash that legacy for the sake of few quid in the bank. It would have to be a David Bowie rather than a Rolling Stones type of comeback. So it's nice news, but as always, it's down to the script, and about whether we can come up with something, which to mind, has to be at least as good as, in its own way, as "Trainspotting."
PHOTO GALLERY
2013 Movies To Watch
Calling all HuffPost superfans!
Sign up for membership to become a founding member and help shape HuffPost's next chapter
BEFORE YOU GO