 Seeing David Williams' Confessions of a High Maintenance CEO is making me laugh (somewhat in humor, but also in guilt.) Most CEOs are high maintenance. However, most every business has been riddled at one time or another with the issues of chronically (and negatively) high maintenance people at work.
These situations are not the ebb and flow of creative energy, but the result of unhealthy people producing a toxic energy drain. High maintenance people can also be overwhelming as friends. Ironically, their tendency to lose friends contributes even further to their inclination to latch onto "people targets" at work.
Courtesy of columnist Ayanna Guyhto, here are the 13 unlucky signs of negative high maintenance followed by a few of the methods you can use to reduce the drain of "people debt" on your company's energy level and bottom line:
The 13 Traits of High Maintenance People:
1 -They have urgent "needs." To a high maintenance personality, everything is urgent. Every piece of email needs to be copied to someone in authority and every action needs to be passed by the boss before they proceed.
The 5 second solution: "How do you intend to solve that problem?" Teach your employees to come to you with ideas and solutions for your feedback, but that your door and inbox are not open for dropping their challenges into your lap.
2 – They have a sense of entitlement. Everyone deserves to be treated with equal respect. The high maintenance individual will expect more. When this happens, there's generally an unhealthy level of ego at play.
The 5 second solution: React to the bigger issue at hand, to avoid being pulled into the daily tug and pull of keeping an oversized ego at bay. David Williams outlines four steps for taming an ego here.
3 – They could be self-sufficient. But they're not. The task could be as simple as looking up an email address, retrieving a file, or looking up a bit of needed information over the web. But this person feels more engaged and important by making continual requests for service from others, including the boss.
The 5 second solution: Teach your team to avoid "upward delegation" – that their responsibility is to handle their job, not to hand pieces of it back to the boss, or heaven forbid, to the client.
4 – They cling to stories of personal wrongs from the past. The high maintenance individual has a difficult time moving past real or imagined wrongs of the past. The faults of others become a script that plays over and over as justification for extra support, lower work expectations, or greater entitlements now.
The 5 second solution: As a leader, you do individuals locked into the "blame game" a favor by not playing into the negativity dialogue. "I'm sorry that happened. But you're here now – we appreciate and respect you – and we have work to do."
5 – They talk. A lot. The high maintenance person thrives on attention. They have a continual need for others to serve as their sounding boards. While discussion and brainstorming is necessary and healthy, high maintenance people feel the need to use their co-workers as ad hoc life advisors and coaches; however they have little desire or motivation to actually hear and take the advice they receive. Mostly, they crave a listening ear.
The 5 second solution: Don't provide one. Listen freely to collaboration and ideas—but avoid feeding someone's need to "make the rounds" at the office to mire in the anguishing complaints about their challenging tasks and accounts.
6 – They are seldom satisfied. High maintenance people will see the flaws in every situation. Even when they've been given extra care and attention, they will invariably find something wrong with the solution or service they've received, or will feel the need to ask for an additional "adjustment" in order to gratify their need to feel validated and served.
7 – They are high-strung. Not all high-strung people are high maintenance. But the person with excessive needs will be persistently vocal and anxious about the things they require. Again – it's a dependency you shouldn't encourage or feed.
8 – They live in a state of perpetual drama. If you are around a high maintenance person for an extended period of time, you will observe frequent periods of meltdown during the course of the day. Every small inconvenience or mistake becomes a crisis. They will learn to work the internal HR system heavily at every turn.
The 5 Second solution: let the drama begin and end in HR. In the agency world, one individual became so adept at working the system, even a day off required a phone appointment with HR to "hash out a few issues." It was a wake up call for us all – for a chronically high maintenance person, even their days away from the office can produce a negative energy drain. Let HR handle the situation–but when someone becomes a near full time issue, it's a sure sign their high maintenance is an issue the company will need to address.
9 – They handle money poorly. Regardless of the economy or circumstance, high maintenance people are perpetually in debt. No matter their income, their living expenditures and needs are invariably more. They expend an exceptional amount of stress and energy dealing with past due accounts and the perpetual juggling act to use this month's income to cover last month's bills.
The 5 Second solution: Discipline yourself to be a company that covers its own expenses, and spend only what the business can afford to pay for in cash. The environment of discipline as opposed to the perpetual anxiety for "more" can carry over to help employees learn to manage their personal expenses better as well. In any case, work to prevent employees from making the office a perpetual sounding board for their personal "woes."
10 – They place a high importance on material status. The entitlement aspect of high maintenance people leads them to be keenly focused on the belongings or the status of others as well. This trait can infect the highest people in the organization, such as the CEO who demands that every company event include the provision of free upgrades and presidential suites at no additional cost. Ironically, the focus on material possessions and status is actually the sign of insecurity and of a low self-esteem.
The 5 Second solution: To keep these behaviors from derailing their company culture, the best example must come from the top. A leader who avoids flaunting material status and is willing to do for the company what is expected of others does a great deal to enhance the working culture for all.
11 – They are obsessed with details–theirs and yours. They are highly focused on the too-much-information and none-of-your-business particulars of your life and also of theirs.
The 5 second solution: Learn to set and maintain appropriate boundaries with these personality types. As a reminder to all in a company, great people talk about ideas—but small people focus their talk on other people or "things". Change the subject as many times as needed until the idea of a higher level of thinking and acting can thrive.
12 – They seem "unsettled." The high maintenance person is constantly ill at ease, buying, altering or discarding possessions and complaining about their work or living conditions. The details that are non-issues to others are insurmountable hurdles to them. Happiness perpetually evades them.
13 – They resent authority are often critical of others. It is extremely difficult for these individuals to respect authority or to see the bigger picture. Instead, they hold fast to their opinions of the support they need and the credit they should receive in order to fulfill their assignments. Passive aggressive behavior is paramount (undermining the boss by spreading unrest or ill will – often veiling the bad behavior in an aura of superiority or nobility).
The 5 Second solution: Generally, in a case like this, there is direct intervention required. Remind the individual that if they can't respect the boss and someone must leave…generally, it won't be the boss. Find a constructive way to address what ails you–change the trend for the better–get along–or consider a move or a change for the long term. But in the world of business, undermining the boss will hurt the perpetrator far more than the target, even if the resentment is justified.
By now you should be detecting a pattern of traits so apparent they are even humorous.
As an employer, however, I'm not laughing—I'm recognizing that much of the impetus lies with the boss or employer to vet prospective employees for emotional maturity (what author Dan Goleman refers to as "Emotional IQ") in making great hires. Alan Hall gives great advice on hiring as well, in his Forbes article and eBook the 7 C's: How to Find and Hire Great Employees.
Responsibility lies with the company to create and reinforce a positive culture. Do you have a working environment that allows bad behaviors to take hold and fester? Do you actively feed and reward the positive behaviors? Do you set a good example yourself?
If your company is already infected, you should deal with the situation directly. In some cases, you may succeed in helping these individuals to find their better nature and make a positive change. Nothing is more rewarding than turning a negative pattern around. However, in some cases the toxicity may be so deeply embedded that the only way to deal effectively is to simply refuse to engage. You will need to be firm. You may even need to part ways.
Have you had this experience? I imagine the answer is "yes." I look forward to hearing your stories and hearing about your success.
Related
Before You Go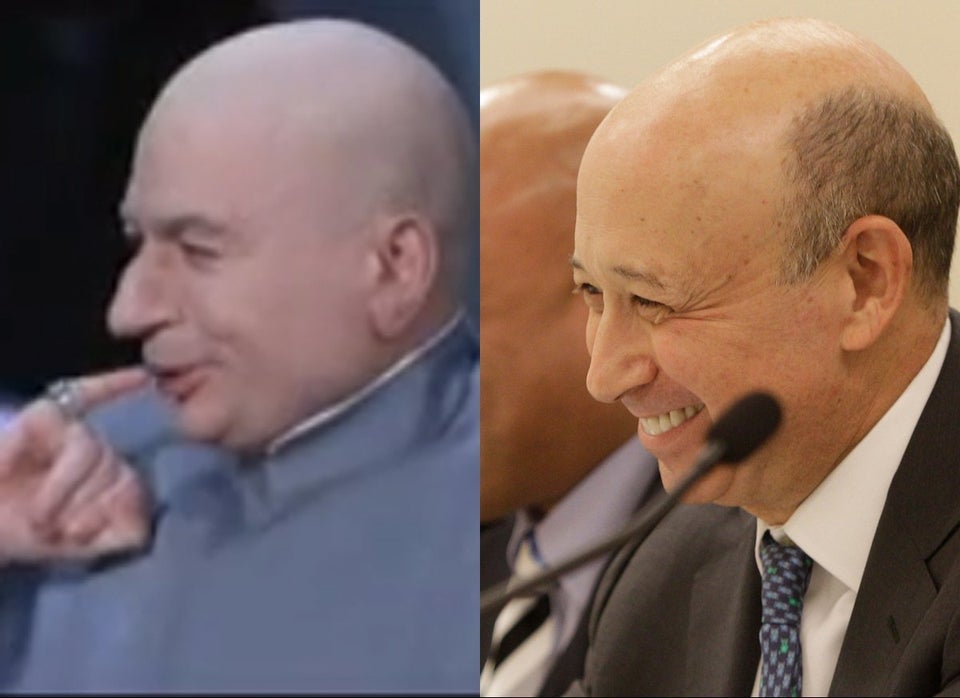 CEOs Who Look Like Villains
Popular in the Community