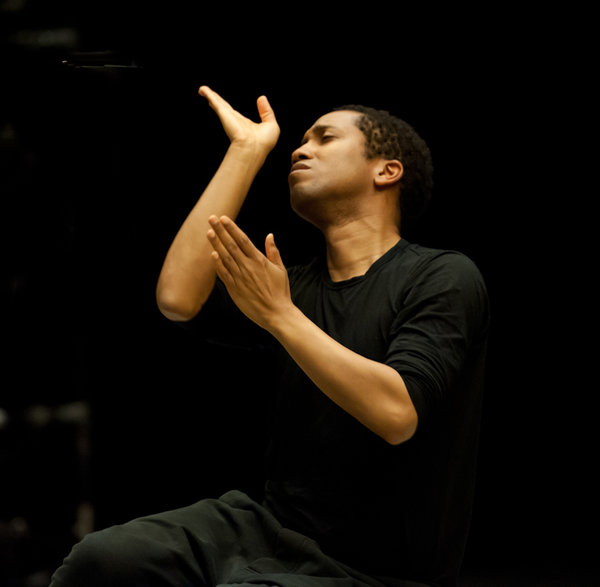 Trajal Harrell. Photo: Bengt Gustafsson
Choreographer and artist Trajal Harrell shows us in October with three New York area performances and a Bessie Award nomination why many believe his work has been transforming the art of dance in the same way Martha Graham did in the 20th century. The Yale graduate and 2012 Guggenheim Fellowship recipient pushes the boundaries of dance by incorporating elements from other art forms in ways most would never consider. He courageously confronts and challenges his viewers, exploring the "impossible" to reveal what is possible. And, he does all of this with wit, drama, emotion and love. When you get right down to it, his cerebral, seductive art -- which years ago began to feature fashion runway movement and now includes acquainting his audience with the facets of Harlem voguing balls -- is about imagination and hope.
While the inclusion of dance in visual arts has recently become popular, Harrell has always presented his work at museums and galleries while solidly maintaining his footing in the dance world. With performances at traditional dance venues and acclaimed projects in dance research and curating, Harrell has long been an ambassador of contemporary dance. In New York and the U.S., Harrell's work has been seen at dance/performance spaces such as New York Live Arts, The Kitchen, Danspace Project, Dance Theater Workshop ("DTW"), Performance Space 122 ("P.S.122") and at colleges/universities. Internationally, his work has appeared in countless major festivals and toured in France, Switzerland, Portugal, Japan, Holland, Belgium, Austria, Germany, Poland, Croatia, Brazil and Mexico.
Among visual arts institutions, Harrell's work has been seen at: ICA Boston, Performa Biennial, Third Streaming Gallery, The New Museum of Contemporary Art, The Bronx Museum of the Arts and Art Basel-Miami Beach. In 2013, Harrell will be presenting newer work at The Museum of Modern Art (MoMA) and MoMA P.S. 1, as the first commission by MoMA P.S. 1's Associate Curator of Performance Jenny Schlenzka.
Harrell's work currently appears as part of Anti-Establishment, a timely and important exhibition curated by Johanna Burton at the Center for Curatorial Studies, Bard College ("CCS Bard") of art by artists who have helped redefine the roles and functions of established arts institutions. On October 22, 2012, Harrell will give a performance and lecture at CCS Bard as part of the exhibition, following up on his performance there in June.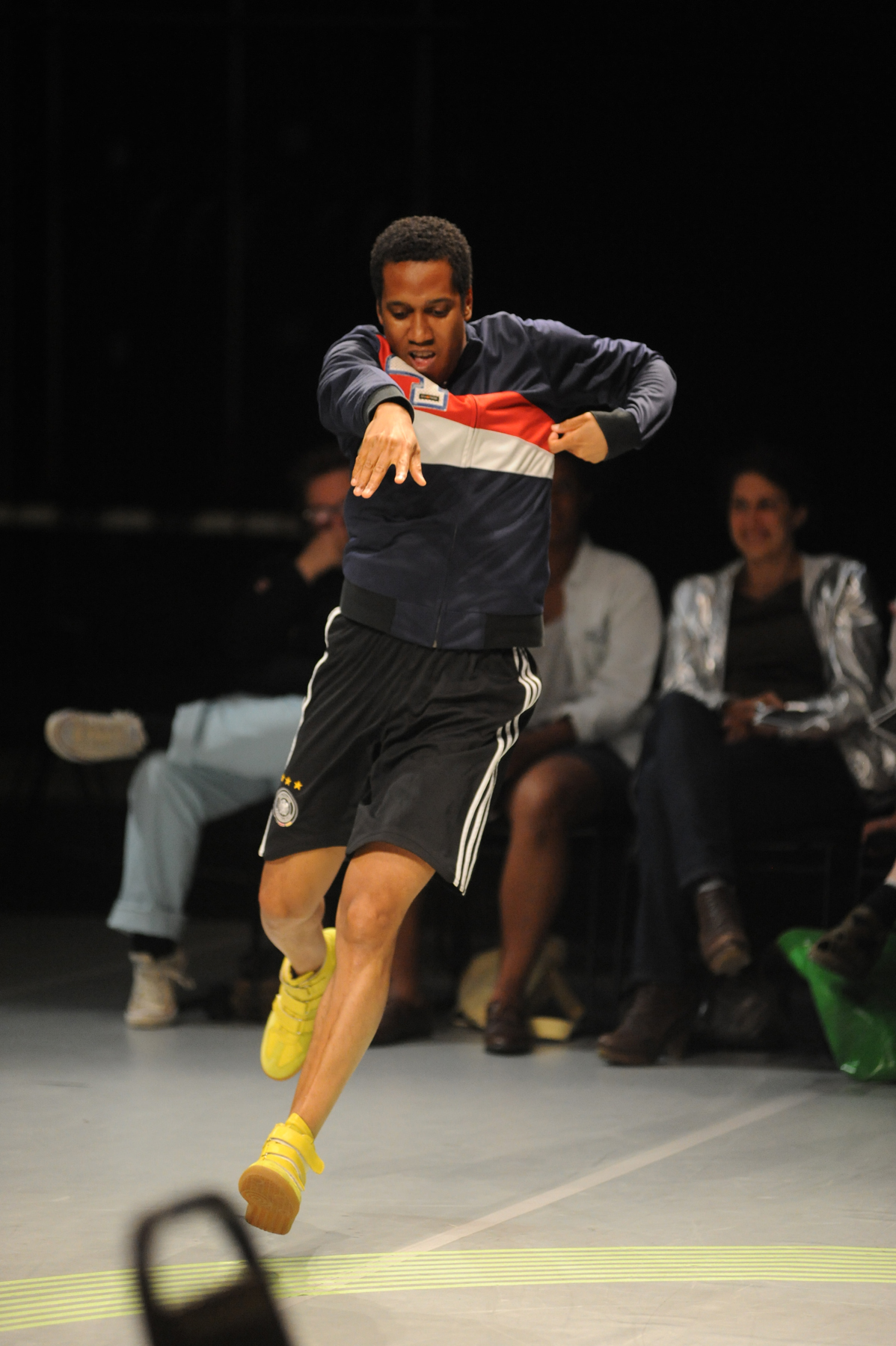 Trajal Harrell, Twenty Looks or Paris is Burning at The Judson Church (S), 2009. Performance at Bard College as part of the exhibition "Anti-Establishment," CCS Bard Galleries, 2012. Photo: Karl Rabe
And as the contemporary dance world currently celebrates 50 years of Judson Church's presentation of experimental dance since 1962, Harrell presents two separate works in October at Danspace as part of Danspace Project's Judson Now platform. Antigone Jr. and Judson Church is Ringing in Harlem are both installments in his best-known work, a seminal series titled: Twenty Looks or Paris is Burning at The Judson Church. A project that he began over 10 years ago, this series looks at the relationship between the voguing dance tradition that originated in the Harlem balls and the establishment of early postmodern dance at Judson Church around the same time in New York in 1963. Harrell recently described his own position in the historical reimagination that he constructs: "Though I am African-American, I am not a voguer from Harlem, nor anywhere else. I am Ivy League-educated, Rem Koolhaas-referencing (S, M, L, XL) and the self-proclaimed baby boy born from the union of Yvonne Rainer and Lucinda Childs who grew up to have a crush on Steve Paxton... By problematizing this location and the space I occupy within it, there begins the auto-fictional presence of Twenty Looks or Paris is Burning at The Judson Church (S)" (from "Anti-Establishment" Exhibition Guide/Curatorial Statement by Johanna Burton, CCS Bard Galleries).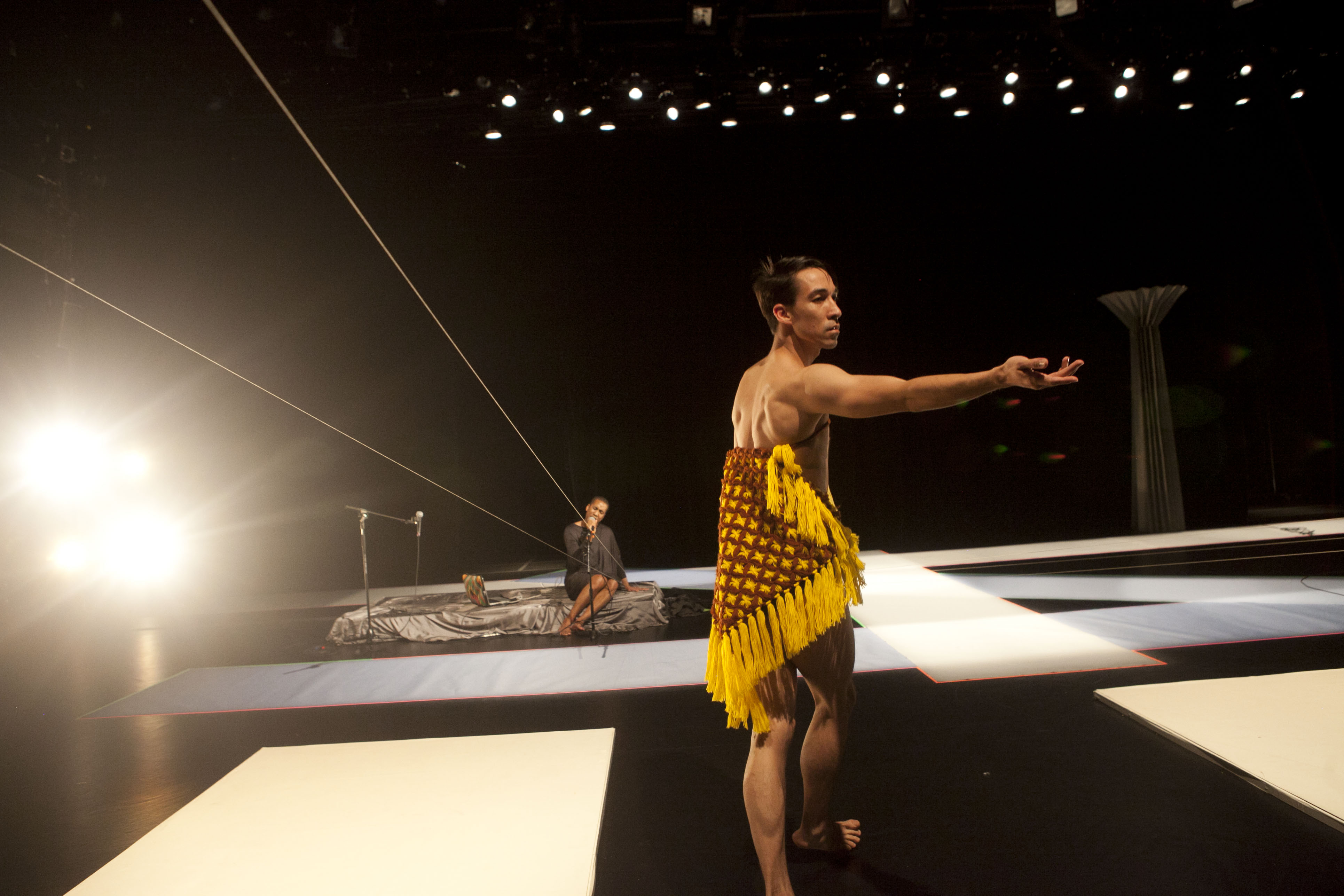 Trajal Harrell, Antigone Sr., 2012. Performance at New York Live Arts, 2012. Photo: Miana Jun
Note: This conversation took place in September of 2012. A longer version of this article appears at juliechaeprojects.com under the "Writings" tab.
Julie Chae: Your vision as an artist is singular and highly original. From the very beginning, you incorporated theater, visual arts, music, technology, literature, fashion, drama, high culture, pop culture and explored abstract concepts like psychology, time, emotion, etc. in your dance. Your work is difficult to categorize so that often it is discussed in terms of all the boundaries that it blurs. How would you describe your art?
Trajal Harrell: I am interested in art that confronts impossibilities. In general, I work with the historical imagination as a way to rethink both how we process and create history as truth and fiction. By activating this in performance, I hope together we see new possibilities for the future and perhaps possibilities once thought impossible.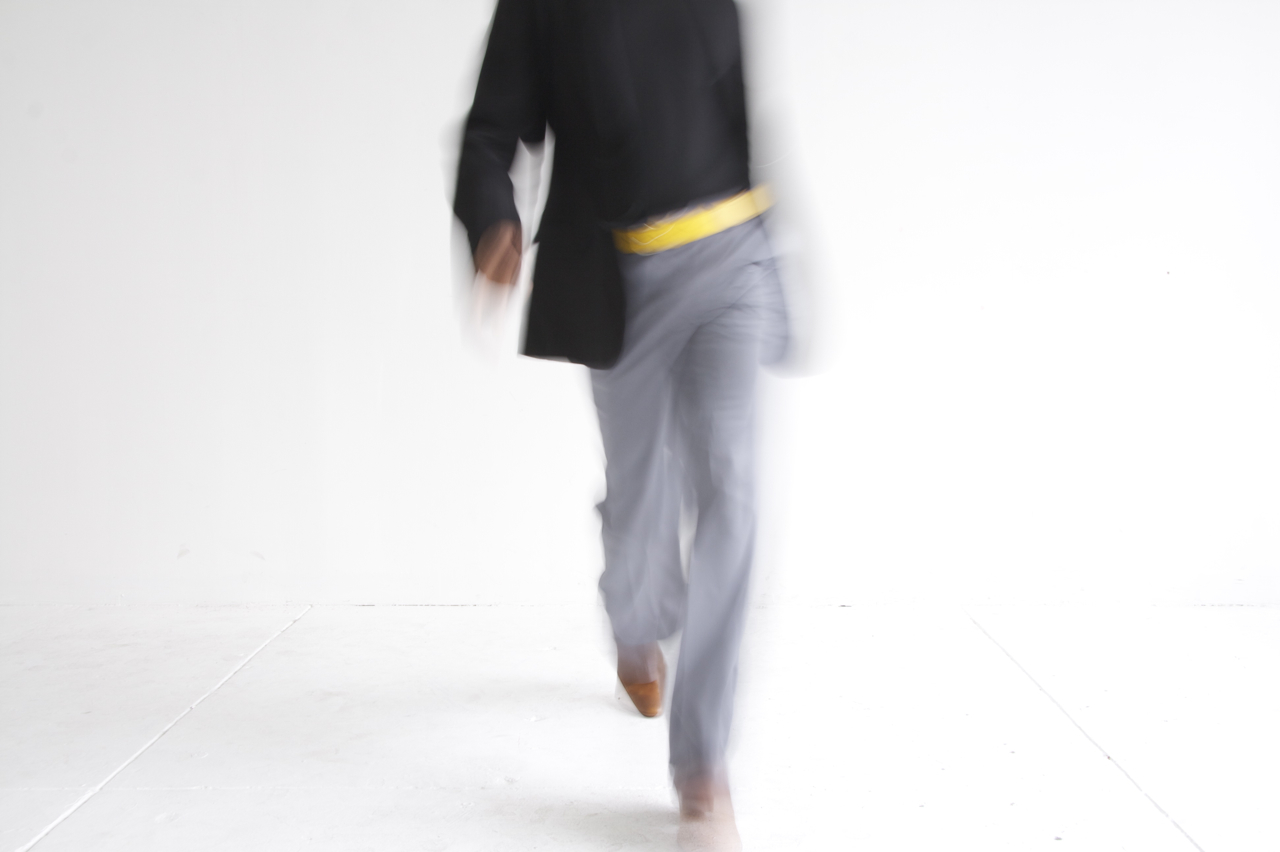 Trajal Harrell, Twenty Looks or Paris is Burning at The Judson Church (S), 2009. Performance at The New Museum of Contemporary Art, 2009 & 2010. Photo: Miana Jun
Julie: I think this element in your art of confronting impossibilities and pushing the boundaries of what is possible has led to your creating unconventional works which can be challenging for venues to present. You are currently one of the artists in a very interesting exhibition at CCS Bard called "Anti-Establishment." Curated by Johanna Burton, the exhibition examines institutions of art and, contrary to what the title may imply, explores how certain artists force or "cajole" these institutions into reconsidering their established or traditional roles in order to support their particular art. Can you discuss your experiences where you might have gotten institutions to enter new territory or break precedent in order to present your work?
Trajal: It is almost always difficult with both visual art and dance institutions in terms of breaking precedent; my work often has aspects which require a re-patterning of institutional habits -- e.g. immense darkness in some works; unconventional curtain times; unconventional seating -- to name a few. Usually, it gets worked out, but I have to say, The Kitchen in New York as a space that supports performing and visual arts, I have found to be the most supportive off the bat. They definitely look at the work first before looking at their institutional rules. It seems that they make the institutional rules from the artist's needs, and this is completely rare.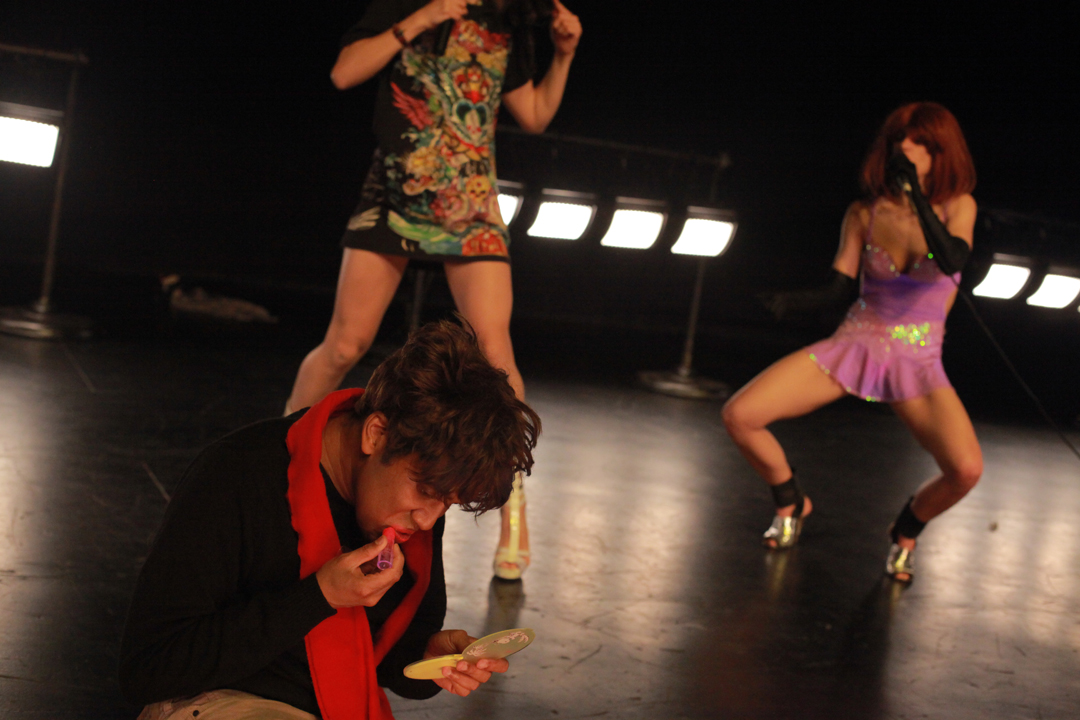 Trajal Harrell, Twenty Looks or Paris is Burning at The Judson Church (M) also known as (M)imosa, 2011. Performance at The Kitchen, 2011. Photo: Paula Court
Julie: You're really good at convincing producers/curators why your works' unconventional elements are intrinsic to the work and necessary for its proper presentation. Have some pieces, though, been particularly tough to work out with the institution or venue?
Trajal: In terms of new territories, I would say The Ambien Piece is the work of mine that probably caused the most stir. This is a piece where the performers sleep on the drug Ambien in a gallery. I proposed it after an invitation by a visual artist, Neil Goldberg, who was curating an evening of dance in a gallery in Chelsea. At first, all seemed fine. Then, the gallerist got completely nervous and called in lawyers and redefined the parameters of the piece -- where we could take the pills (outside), what time, etc. It really kinda ruined the piece because we couldn't do a full six to eight hours of sleep. But the piece became kind of notorious because of this little controversy and later was produced successfully in Berlin and Tokyo. And I think soon it will make its way back to New York. So look out for it!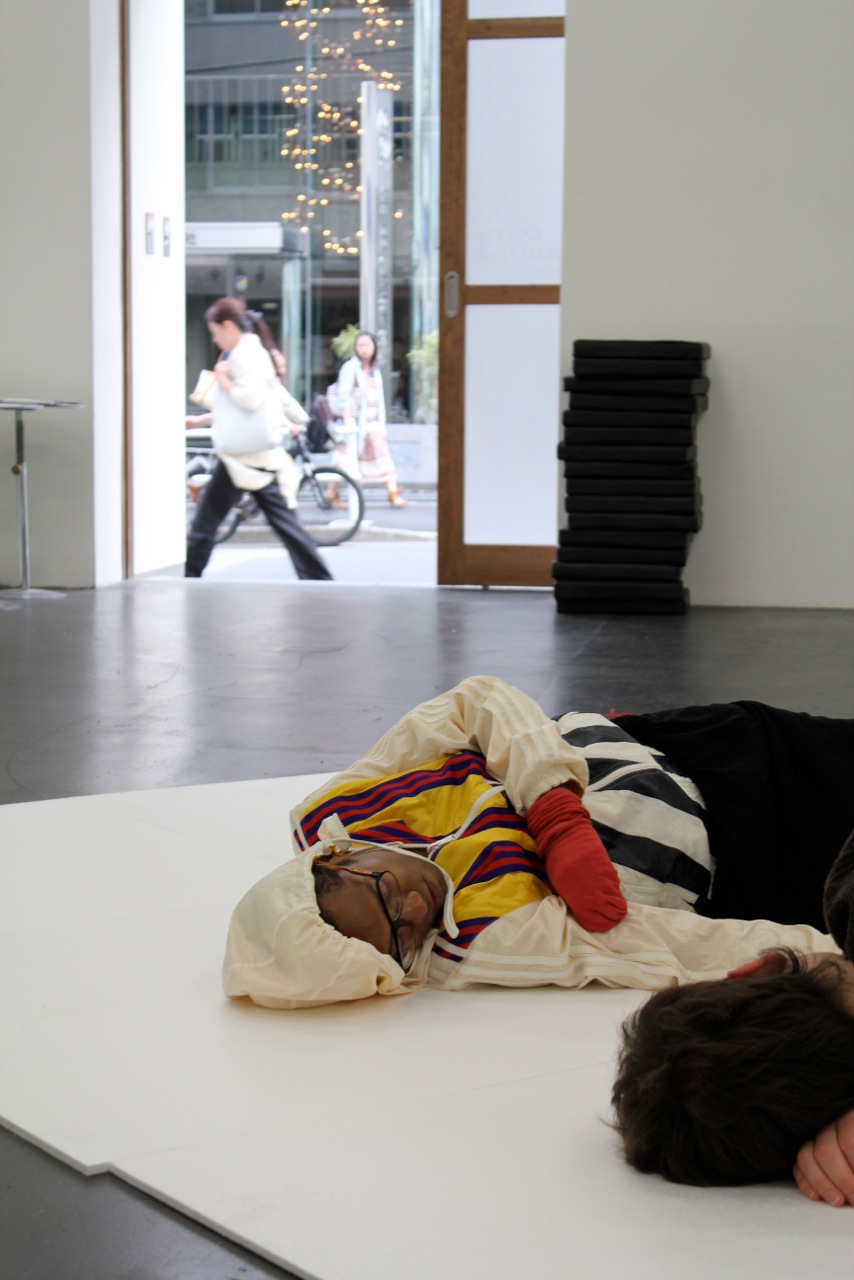 Trajal Harrell, The Ambien Piece, 2006. (Successful) performance at Gallery Objective Correlative as part of Whenever Wherever Festival, Tokyo, 2012, in collaboration with David Bergé. Photo: Kota Yamazaki
Julie: As part of CCS Bard's "Anti-Establishment" exhibition, you will present a performance called The Conspiracy of Performance on October 22. What can we expect to see?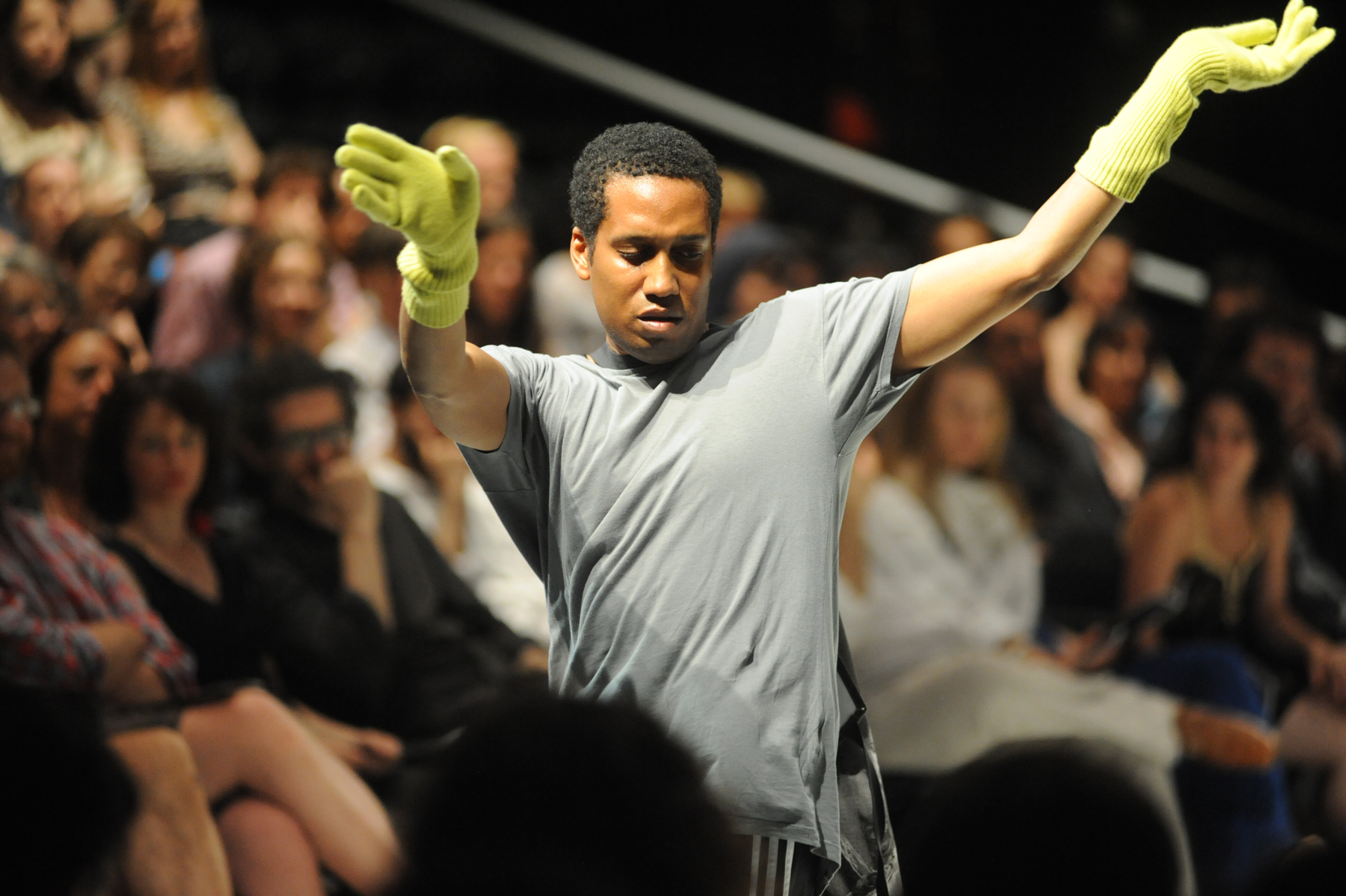 Trajal Harrell, Twenty Looks or Paris is Burning at The Judson Church (S), 2009. Performance at Bard College as part of the exhibition "Anti-Establishment," CCS Bard Galleries, 2012. Photo: Karl Rabe
Trajal: This is a performance by myself and the French actress Perle Palombe. It is an appropriation of a famous text by Jean Baudrillard called The Conspiracy of Art. I took the text and replaced the word "art" with "performance" and changed certain other terms, and the text then has a different significance, especially at this critical moment when the art world is very concerned with dance and performance.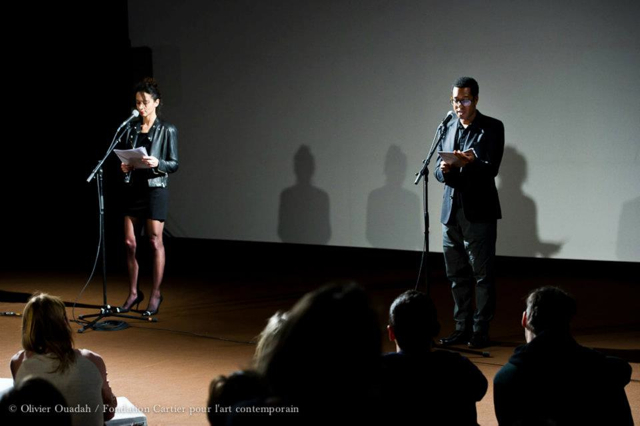 Trajal Harrell and Perle Palombe, The Conspiracy of Performance, 2010. Performance at Fondation Cartier, Paris, 2011. Photo: Olivier Ouadah
Julie: You also have two different works that will be performed in October at Danspace. What are you performing first?
Trajal: They are both in the series Twenty Looks or Paris is Burning at The Judson Church. On October 1, we reprise the piece we showed in Performa Biennial last November at Third Streaming Gallery. That work is called Antigone Jr. and it, along with the following piece I made for New York Live Arts this past April called Antigone Sr., looks at the relationship between the ancient Greek theater and the voguing dance tradition. After some research, I actually think the aesthetic strategies of these two were not so far apart and a voguing ball might be much closer to what the theater of antiquity was like than most of what we see today.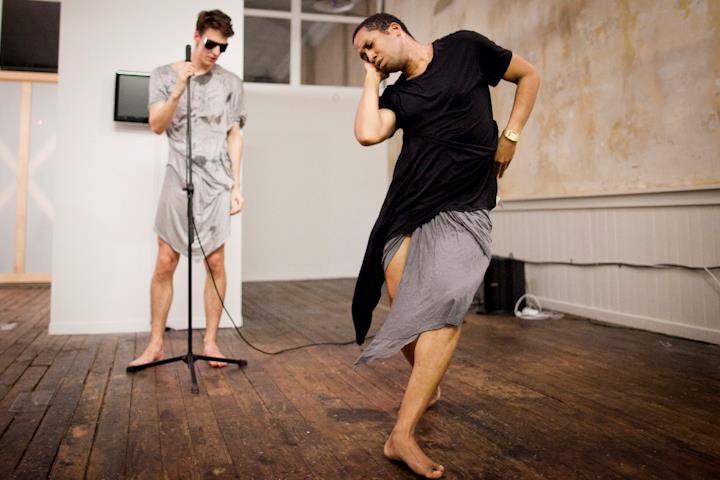 Trajal Harrell, Antigone Jr., 2011. Performance at Third Streaming Gallery as part of Performa 11: New Visual Art Performance Biennial, 2011. Photo: Whitney Browne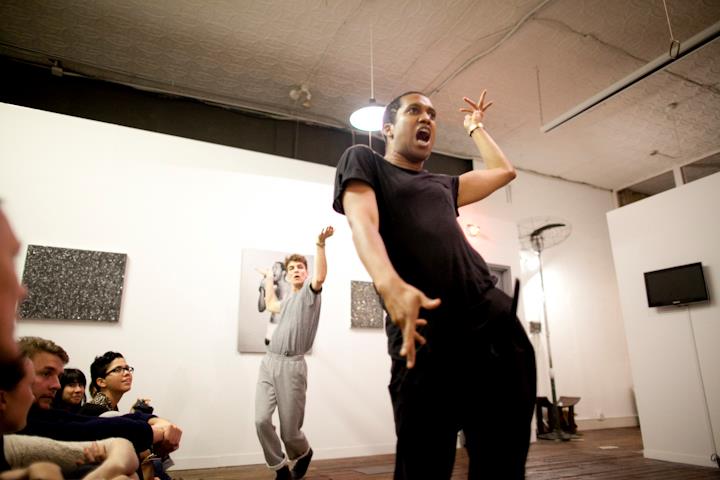 Trajal Harrell, Antigone Jr., 2011. Performance at Third Streaming Gallery as part of Performa 11: New Visual Art Performance Biennial, 2011. Photo: Whitney Browne
Julie: It's terrific more people will have an opportunity to see that work; it was such a triumph last November during Performa. Both performances at Third Streaming were completely sold out weeks in advance and the audiences were filled with VIPs from both the visual arts and dance worlds. And your second upcoming project at Danspace in October?
Trajal: On October 11-13, I premiere a new work in the series entitled Judson Church is Ringing in Harlem (Made-to-Measure)/Twenty Looks or Paris is Burning at The Judson Church (M2M). The works in the series come in seven sizes, from extra small (XS) to extra large (XL). They all share the same proposition: "What would have happened in 1963 if someone from the voguing ball scene in Harlem had come downtown to perform alongside the early postmoderns at Judson Church?" Only, in this made-to-measure size, the proposition is inverted and the question becomes, "What would have happened if one of the early postmoderns from Judson Church had gone uptown to perform in the voguing ballroom scene in Harlem."
Julie: Interesting... even today, lots of people don't automatically go up to Harlem, and in your piece we're talking 1963.
Trajal: So, it's quite a twist. And the twist is more about me. After imagining migrating to Judson downtown in the other five works of the series, to come back now to Harlem requires again problematizing my position. I am not coming back the same as when I supposedly left. And clearly I am a postmodern dancer, but I am also giving another kind of "realness" that comes from... where? That we will have to work out and see in the work. That's what makes this piece very difficult to perform and exciting to watch.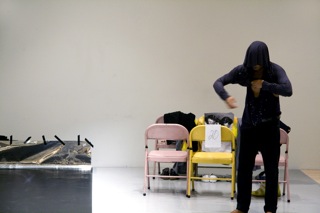 Trajal Harrell, Twenty Looks or Paris is Burning at The Judson Church (S), 2009. Set design by Franklin Evans and Trajal Harrell. Performance at The New Museum, 2009 & 2010. Photo: Miana Jun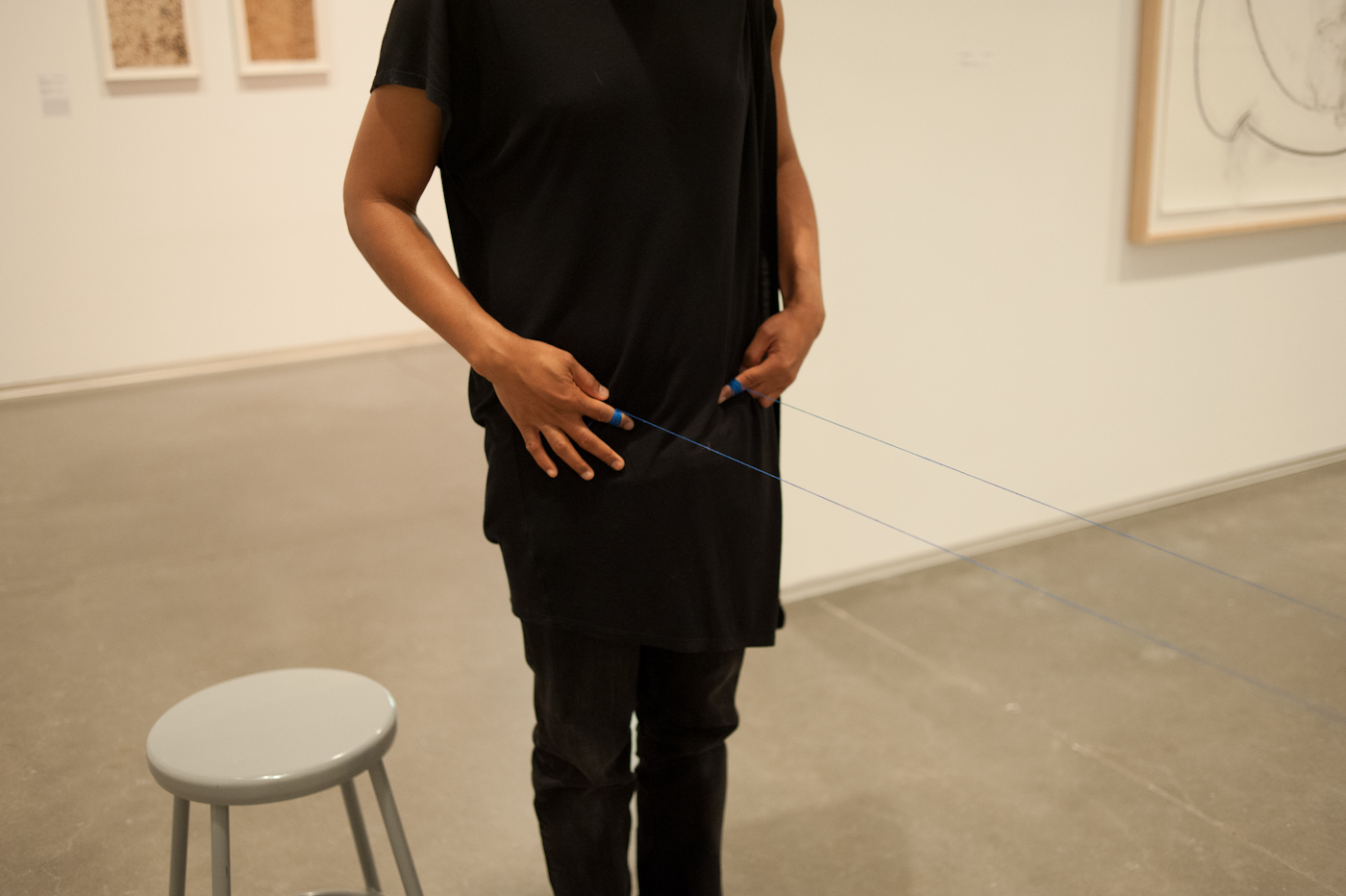 Trajal Harrell and Sarah Sze, The Untitled Still Life Collection, 2011. Performance at ICA Boston, 2011. Photo: Jaye R. Phillips
Julie Chae: What is like to be compared to a legend of dance like Martha Graham? Some of the things you did years and years ago, like when you first incorporated fashion runway movement in your dance, nobody knew what to think. And then eight to 10 years later, it was everywhere. Same with your explorations of the "cool" and voguing culture. Can we say your entire career has been about bringing dance into the 21st century?
Trajal Harrell: It is nothing less than an honor to be compared to Graham. She weathered the storm in her time and broke incredible ground. It's nice to hear that there is recognition now that I did similar things, because, yes, at first nobody knew what to think and it was stormy to say the least. But, I hung in there and, in some ways, yes, it feels now that I was ahead of the game and making important historical and innovative choices that people could not see at the time. In terms of my dance and the 21st century, it was Graham who said that an artist's expression is unique because there is only one of you in all of time. So, yes, here I am...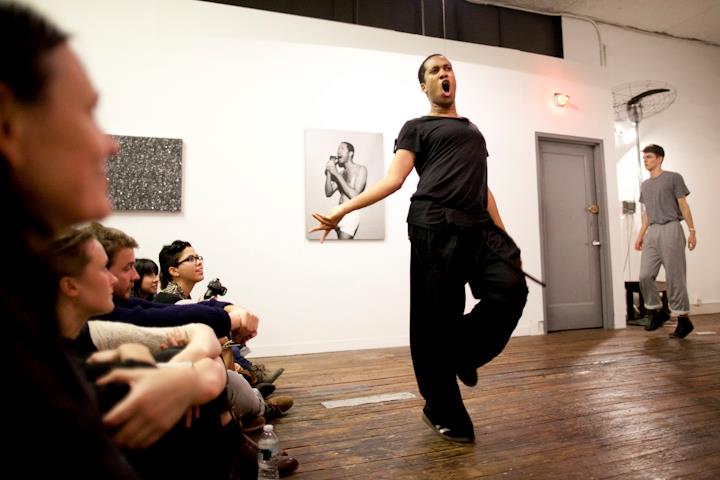 Trajal Harrell, Antigone Jr., 2011. Performance at Third Streaming Gallery as part of Performa 11: New Visual Art Performance Biennial, 2011. Photo: Whitney Browne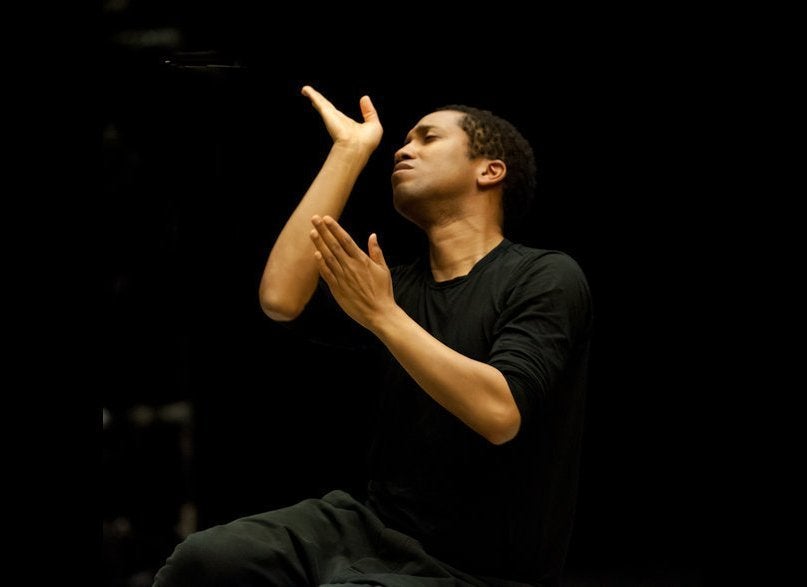 Next Martha Graham: Trajal Harrell
Support HuffPost
The Stakes Have Never Been Higher
Related
Popular in the Community