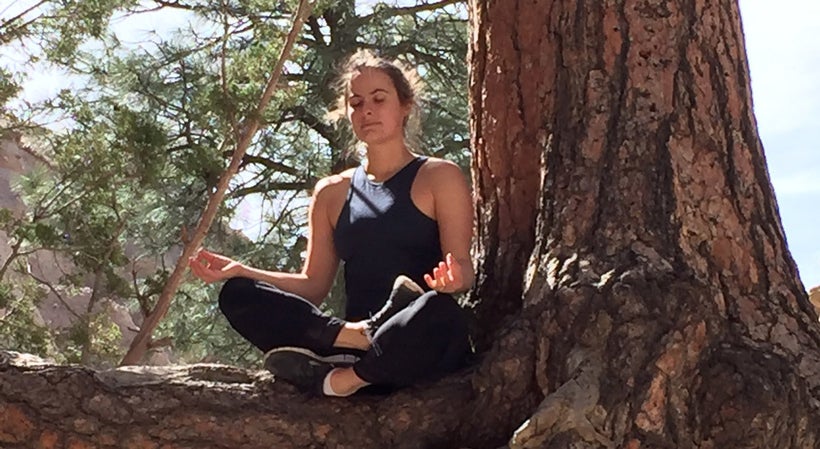 This is an interview with Kyla Pearce, who has been teaching yoga for people with traumatic brain injury (TBI) since May 2014 as part of the LoveYourBrain Foundation's Yoga Program.
"This program grew out of the need my now husband, Adam Pearce, saw for supporting his brother, Kevin Pearce, and others affected by TBI in their healing process. I vividly remember being at the end of my 200-hour teacher training in Dharamsala, India, and receiving an excited call from Adam--he described how Kevin was increasingly drawn to yoga and meditation, and that he was finding a sense of peace, accomplishment, and vitality that were unavailable elsewhere. He said, "Let's bring this feeling to everyone with a TBI! Can we? Should we?" Ever since that phone call, we have been working to do just that."
Some of the common consequences of TBI (e.g., poor balance, memory, concentration, and information processing) are being addressed by a TBI-focused gentle yoga and meditation curriculum based on the key factors that promote resilience. LoveYourBrain programs are now in Vermont, New Hampshire, Pennsylvania, Massachusetts, and Colorado in an effort to take them nationwide.
Rob: What are the scope and costs of TBI that you are trying to address through your yoga program?
Each year in the US, over 2.5 million people experience a TBI. TBI accounts for 30% of all injury-related deaths, and leads to $76.5 billion in medical costs (CDC, 2016). Tragically, the incidence is growing--the World Health Organization predicts TBI will become the third leading cause of death and disability in the world by 2020 (Popescu, 2015). TBI can lead to a cascade of physical, cognitive, and psychosocial challenges, including impaired coordination, attention, and memory, and heightened anxiety and depression. These challenges predispose people to unemployment, relationship strain, and social isolation that undermine quality of life (CDC, 2015). Despite the variety of poor outcomes, best practices for rehabilitation that effectively support people to meaningfully participate in their community are limited (CDC, 2015).
What originally motivated you to do this work, and what continues to motivate you?
Initially, my motivation stemmed from the transformation I saw in Kevin from his own practice. After a yoga class, Kev would share that, for the first time in a while, his mind felt calm and he was able to take a break from the race of trying to keep up. I also noticed that he thrived from the agency he felt from engaging with what he deemed was a fitting challenge (be it focusing the mind in meditation or holding a strength-building asana), instead of measuring his progress based on some external benchmark. When he practiced yoga, he no longer felt defined by his injury.
My motivation is reignited each time I witness similar transformations among students in my classes: such as feeling sensations in areas once numb, being able to sleep through the night, connecting with other TBI survivors for the first time since their injury. I am also continuously moved by the energy and enthusiasm of the yoga teachers who participate in our workshops to be able to bring our program to their own communities.
What is the most rewarding aspect of your teaching experience?
To counteract the disempowering and isolating nature of TBI, we include three components in our curriculum: asana, meditation, and group discussion. I love the story-sharing and cross-learning in the group discussion, which is where I see relationships being built that will last far longer than our time together on the mat. It is a privilege to be a part of the creation of community. Ultimately, for me, holding space in a way that enables people to find agency, feel accepted and understood, and experience the possibility--instead of the limitations--of their body and mind, is meaningful.
What are some of the things your students have taught you?
I've developed a deeper understanding of the human potential for resilience. TBI often leads to a lifelong process of adjustments, unlike when you break a bone where you can expect function to eventually return to its original level. TBI requires immense resilience, which my students reflect in myriad ways both in and out of the studio--from showing up to class with a positive attitude despite weakness or light sensitivity that makes movement challenging, to being willing to trust a new teacher when everything else in life feels uncertain, to letting go of resentment about their relationship failing because their partner didn't understand why they act differently, to finding acceptance for what is, when faced with tumultuous change. I have learned that struggle is our greatest teacher and that strength comes not from how little we feel, but instead from how much we feel.
As a yoga teacher, my students have taught me the true spirit of namaste--that our true selves are all the same, they transcend any injury or trauma, and deserve to be appreciated and acknowledged with compassion. I have learned that all of us, in one way or another, want to feel safe, satisfied, and connected (as coined by Rick Hanson), which is what we are trying to foster in our program.
In what ways do you think yoga addresses some of the societal factors at play in working with people recovering from Traumatic Brain Injury?
One of the major issues for the TBI community is the gap in ongoing care following inpatient and rehabilitation services. Great care exists upfront, and then people fall through the cracks when they return home. Because TBI is often an invisible injury, many people are also unaware that someone has TBI, and thus are not as accommodating as they might be. Yoga teachers can therefore offer important community-based rehabilitation, in particular because they support holistic--physical, emotional, social, and spiritual--healing. At its core, yoga is a practice of deep listening to--and honoring of--our inner experience without resisting or grasping. I believe this leads to authentic and compassionate self-expression and to regaining a sense of purpose, which are critical to any healing process.
What, in your mind, is the relationship between a practice of mindfulness and greater social change?
In my view, social change originates from a personal experience that reveals something unjust that you can't sit with. For me, this experience was Kevin's TBI and, since then, the thousands of stories of others affected by TBI who struggle to regain a sense of wellbeing and wholeness. Mindfulness enables us to become attuned to the reality of our own and others' challenges, and to act from a place of love and openness. Without mindfulness, it is easier to ignore the facts and maintain the status quo.
What are some of your ideas about, or hopes for, the future of service yoga in America in the next 10 years?
My hope is that yoga service organizations will pursue more rigorous research to evaluate the impact of their programs. If the yoga community can develop evidence-based practices, the medical establishment will be able to acknowledge yoga as a viable healing modality, and increasingly integrate it into the healthcare system. This way, people affected by TBI will experience a more seamless continuum of care, in which they can access ongoing support and actively participate in their community. In the meantime, I hope more yoga studios take on leadership roles in community service, and commit to partnering with LoveYourBrain and other yoga service organizations to make yoga more broadly accessible.
Are you a yoga instructor giving back to underserved populations? E-mail Executive Director Rob Schware if you're interested in being interviewed for this series. And thanks for all that you do in the name of service!
REAL LIFE. REAL NEWS. REAL VOICES.
Help us tell more of the stories that matter from voices that too often remain unheard.
This post was published on the now-closed HuffPost Contributor platform. Contributors control their own work and posted freely to our site. If you need to flag this entry as abusive,
send us an email
.