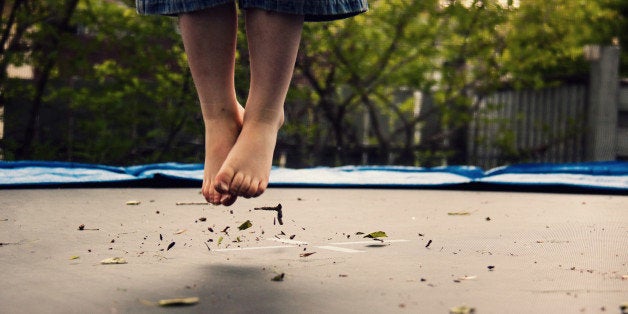 It's all fun and games until someone gets hurt -- and a new study shows trampolines are responsible for a lot of hurt.
More than 1 million people went to emergency departments for trampoline-related injuries between 2002 and 2011, with nearly 300,000 of those injuries involving broken bones, according to a new study.
And these injuries don't come cheap -- the Journal of Pediatric Orthopaedics study showed that the total emergency department expenses for them was $1 billion, and more than $400 million for fractures specifically.
Most trampoline-related fractures occurred in kids (92.7 percent occurred in people ages 16 and younger).
More than half of broken bones were in the upper extremities -- 59.9 percent -- while 35.7 percent were in the lower extremities. The most common upper extremity fractures were of the forearm (37 percent) and the elbow (19 percent), while the most common lower extremely injuries were of the tibia/fibula and in the lower leg (39.5 percent) and the ankle (31.5 percent).
Broken bones involving the spine were more rare (comprising 1 percent of the fractures), as were the skull or face (comprising 2.9 percent of the fractures) and the ribs or sternum (comprising 0.5 percent of the fractures).
Researchers also found that the average age of injury to the axial skeleton (which involves the spine, skull/face and ribs/sternum) was significantly higher than the average age of all injuries -- 16 years old, versus 9 years old.
"They're probably jumping higher, with more force," study researcher Dr. Randall T. Loder, M.D., chair of the IU School of Medicine Department of Orthopaedic Surgery, said in a statement. "And believe me, teenagers are risk takers. Younger kids may not understand potential outcomes of their actions, but they're not so much risk takers. Teenagers, they'll just push the limit."
Most of the fractures (95.1 percent) occurred at home -- which is notable because the American Academy of Pediatrics in 2012 issued a warning against home trampoline use. The AAP said in its statement that pediatricians should "advise parents and children against recreational trampoline use."
"This is not a toy. It's a piece of equipment," Dr. Michele LaBotz, who was the lead author of the AAP statement, told NBC News. "We recommend that you not provide it for your family or your neighbors to use. But if you do use one, you need to be aware of the risks."
Related