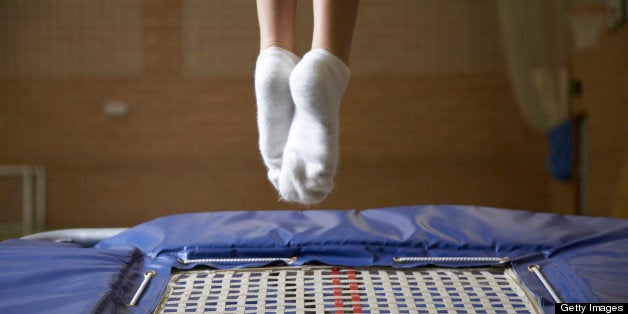 What We Tried: Trampoline Yoga
What We Did: An unusual (but nonetheless enjoyable) melding of modern dance, child-like play, pilates and vinyasa yoga, trampoline yoga goes through stretches, flowing movements and jumping sequences, all performed on a mini trampoline instead of a mat. The pulsing, undulating movements are accompanied by African drumbeats, which keep the energy high throughout the class, and breathing principles of Kundalini yoga -- long, deep abdominal breaths -- are incorporated into the various asanas.
What It Felt Like: Instructor and studio owner Bill Hedberg, who comes from a contemporary dance and martial arts background, calls the practice an "exploration of our physicality" -- and the description is absolutely fitting. There is a freedom of movement and sense of play similar to aerial yoga, and the spring of the trampoline allows for a much deeper stretch. On the trampoline, practitioners can explore traditional yoga movements in a completely different way (e.g., bouncing your way though a seated spinal twist), allowing the exploration of a greater range of motion.
The practice began with seated poses, stretching and bouncing on the trampoline, followed by a standing jumping sequence and ending with a sequence of deep shoulder stretches and inversions on the the studio's training apparatus. Hedberg led the class with warmth, a calming presence and a sense of humor, and invited students to explore bodily movement in whatever way felt natural and comfortable to them. Hedberg also wove in philosophical musings on the nature of consciousness and the mind-body connection ("What is a self?") as the class explored poses independently.
What It Helps With: Because of the play-like quality of the movements, the class is a great way to relieve stress, while the deep stretches help promote flexibility. If you have specific injuries or areas of tension, Hedberg -- who has years of experience using targeted bodywork and stretching to address health problems and injuries -- can help you find stretches and exercises to suit your needs.
What Fitness Level Is Required: The class is suitable for beginners, although it may be helpful to have a couple regular yoga classes under your belt. One word of advice for prospective trampoline yogis: Don't take yourself too seriously. You will be bouncing, swaying and stretching yourself out in all kinds of unusual ways atop a mini trampoline, and it will probably feel weird at first, if not for your whole first class. But the practice is meant to have an element of play and light-heartedness, and you'll find yourself truly getting out of your head and enjoying yourself if you let go of worrying what you look like while you're doing it. And reserve early: Classes are currently booked nearly a month in advance.
What's It Cost: $17 for a one-hour class (which tend to run 15-20 minutes over), or $80 for a five-class card.
Would We Go Back: Although I prefer the flow of traditional yoga, I would definitely attend another class at Shen Tao. I appreciated the deep stretching, attention to individual students, and urban zen feel of the Park Avenue studio -- it's pretty tough to stay stressed when you're bouncing on a trampoline surrounded by new age music and waterfalls.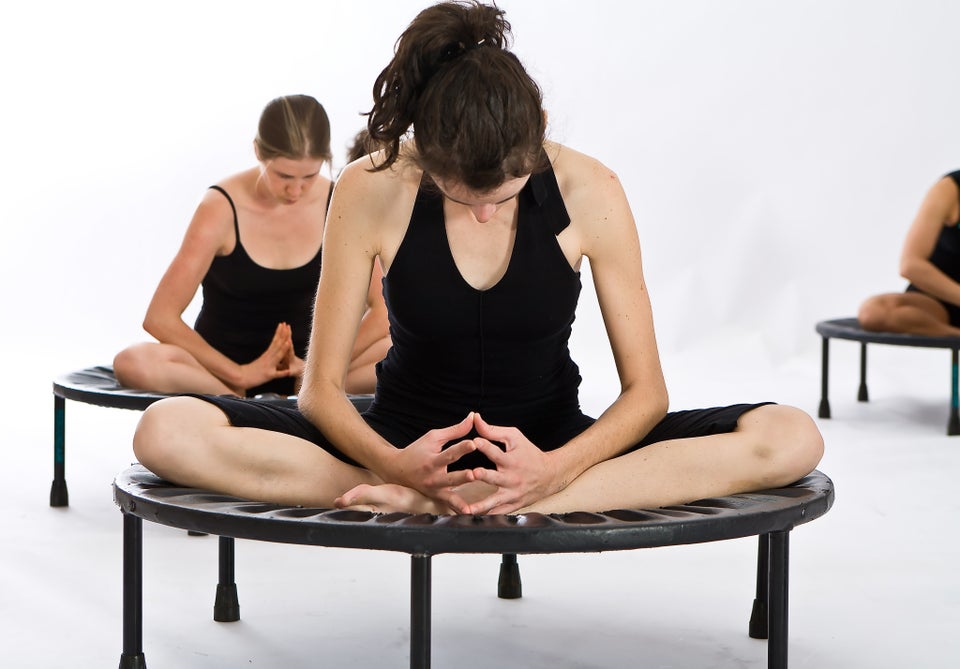 Trampoline Yoga at Shen Tao Studio
Related