In October 2015, while I was in Turkey to work on a project involving environmental rights defenders in eastern Turkey, I traveled to Ankara to attend a hearing in the re-trial of Buse Kilickaya, a trans LGBTI rights defender with Pembe Hayat (Pink Life). Buse had previously been found guilty for "resisting public officials and preventing them from performing their duty" when she and two other trans activists had challenged police who had stopped their vehicle without cause. Following an appeal, the sentence had been vacated, but the prosecutors brought charges against Buse again.
At the court, about 20 members of the LGBTI community in Ankara were gathered outside the courtroom, waiting to be allowed in to support Buse. Court officials were not keen on letting everyone in the room, despite having no basis for denial. Eventually we crammed into the courtroom and the judge instructed everyone to be quiet. Within minutes we were back in the hallway, and everyone was celebrating – the charges had been dismissed and Buse's 5-year ordeal was finally over. A victory for the LGBTI community and especially for the trans community. We gathered outside to take a group photo with the rainbow flag.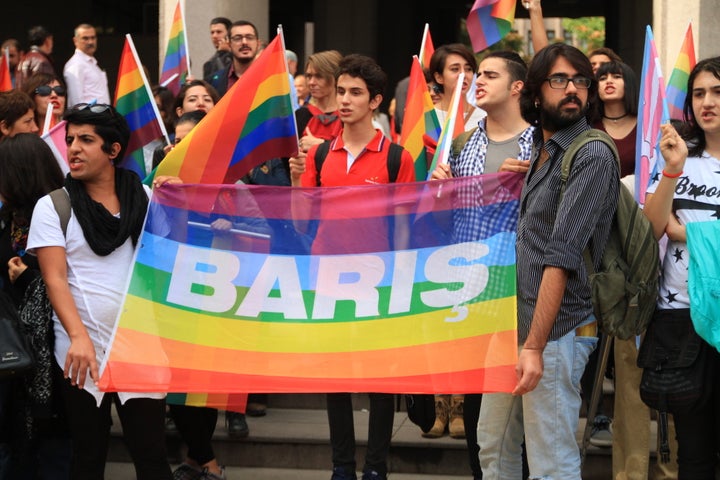 Back at Pembe Hayat's offices, the human rights defenders (HRDs) talked about the state of trans activism and risk facing the trans community in Turkey. What I heard from the HRDs was a mix of personal and activist struggle to survive, persevere and change Turkish society. Most of the trans activists worked or had worked in the sex industry, commodifying their bodies when they were unable to find or keep other jobs due to transphobic discrimination. Most had faced rejection from family and friends, and all had found a new home in the activist community.
It was this community that organized and founded Pembe Hayat in 2006, to defend and advance the rights of LGBTI people, especially the trans people, in Turkey. Today the organization has networks of activists around the country and has won important rights and respect for the LGBTI and trans community in Turkey.
Despite their collective victories, every person I interviewed also talked about being physically attacked or verbally abused. They spoke about regular harassment, and trans friends who had been killed. Attacks on the trans community are not unique to Turkey, and around the world it is common to hear that their sex work, not their gender identity, is what put them at risk. In Turkey as elsewhere, some of the most vulnerable people in society are treated as expendable, simply for being who they are.
On August 12, the body of Hande Kader, a 23-year old transgender woman and LGBTI rights defender, was found mutilated and burnt on the side of a road in an upscale Istanbul neighborhood. Hande was widely known for her activism, particularly after she confronted police at last year's Istanbul Pride, when the authorities used rubber bullets and tear gas to break up the parade. At a time when tens of thousands of people are being rounded up in Turkey following the attempted coup in July, when terrorist bomb attacks in major cities are becoming the norm, and when a whole section of the country is under martial law and military operations as the government's policy to deal with the Kurdish question, the killing of a trans activist could easily be overlooked. But on Sunday, August 21, protesters took to the streets to call for justice and accountability for Hande. Many prominent people in Turkish society are now calling on the government to punish this crime.
Hande's killing has connected people in Turkey, in a way that seem unique given the alienation many feel from chaotic political events. Hande's visible struggle for basic rights resonates in a way that extends beyond the LGBTI community. Her marginalized status in society is now something many others also feel, albeit for different reasons. Perhaps this killing can be a turning point.
Popular in the Community