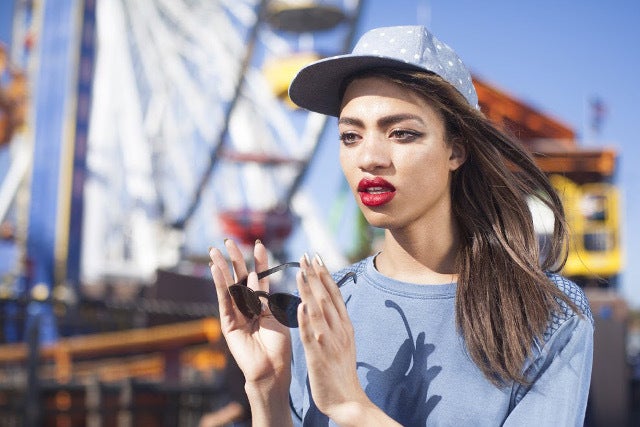 Arisce Wanzer represents a new era of transgender people in the media. She's a model (seen on Strut on Oxygen) and doesn't act bashful about having been in Vogue. She won't fake humility to make you feel comfortable.
She'll tell you that she's beautiful; it's not said aggressively or as if she's trying to prove it to herself. She says it like it's a fact. Because it is one.
In talking to Arisce, I found that she's fiercely protective of herself and the transgender community. Her proclamations might seem vain, but are her way of celebrating how far she–and all transgender women–have come. In our talk, Arisce and I discuss the trans models who paved the way for her, on-going stigmas she faces working in the fashion industry, and why the industry needs to expand to include more diverse women.
JM: Was it a big decision for you to be open in your career about being transgender?
AW: In modeling, a lot of people in the past have had you sign gag releases that you're not going to disclose your gender identity or your previous life to anyone because they think it'll deter you from getting jobs. In the past, that was the case, but now everybody's opening their eyes and being a lot more accepting.
When you sign that, you're basically telling people that you're an imposter. We're not out to fool anyone, which is why I'm so firm on my stance and my identity. I am a transgender woman and I can sell woman's clothes just as fine as anyone else. I fit the sample size, so why aren't I getting the job?
JM: Not to over-simplify things, but looking at a picture, a pretty face is a pretty face.
AW: Thank you. Agreed. I don't get it. We're not curing cancer. We're selling clothes.
JM: If you flip through a magazine and try to find the trans woman, you can't.
AW: No, you can't and you won't. And you shouldn't be looking anyway. You should be looking for new shorts. Your shorts are terrible.
JM: It's like the story of Tracey "Africa" Norman. It came out that she was trans and she lost everything.
AW: They blacklisted her. The same thing happened to Tula Cossey and Lauren Foster. These are trans models of the past who paved the way for girls like me. I really appreciate their struggle because I didn't have to go through that. I got to say, "No. I'm coming out as trans." And they said, "Oh, well it's going to deter you from getting jobs," and I just had to be deterred for years and years and years.
Casting directors will tell you to your face, "You're great. You're gorgeous, but we're not really doing the trans thing this season, but maybe next season it'll be trendier and we'd love to have you back."
Being trans, every day there's a fight. And this relates to cisgender people, everybody: you just want to love yourself. You should like everything about yourself. Not always the way you dress, everybody can fix that, but you just want to love yourself and be seen for who you are. I worked way too hard to not love myself or to be someone's secret, to be ashamed of what I look like, to be ashamed of how I present myself. Absolutely not. This was a lot of work, a lot of paperwork. I'm not here for the shame or the gilt or to try to fit some box. If you're going to conform and be like everybody else, you're a freaking coward.
JM: So how do you juggle loving yourself and what you look like, while also knowing that this is where the industry is at today and wanting to work more?
AW: The industry needs to change. I will be the face of change for this industry if I have to be, the big nosed face of change. I do not care. I'm not going to back down. I've been modeling for 12 years, as both male and female, so I know I'm beautiful. It says so on several contracts. I have proof.
JM: I'm glad you're open about not being on hormones because it seems like the modern narrative is that a person comes out as transgender and then goes on hormones and then gets gender confirmation surgery, but not every trans person has access to that or wants it.
AW: Not everyone wants it. I'm perfectly fine with the way I look, and the thing is, you shouldn't want to look like me either. What do you want for yourself? When I was a 14-year-old trans kid and I saw the Victoria Secret Fashion Show, I was like, "God, they look like they're so happy. That must be so much fun. I want to do that. I want to be pretty for a living." I didn't realize it's a lot of work. I don't get to eat white food because I'm old now.
You don't realize how much work it is, but it's fine. This is what I wanted for myself. I got myself to who I wanted to be and what I wanted to look like, and I think everybody should be able to do that.
This interview has been edited and condensed. The full LGBTQ&A interview is available on iTunes or YouTube.
Calling all HuffPost superfans!
Sign up for membership to become a founding member and help shape HuffPost's next chapter