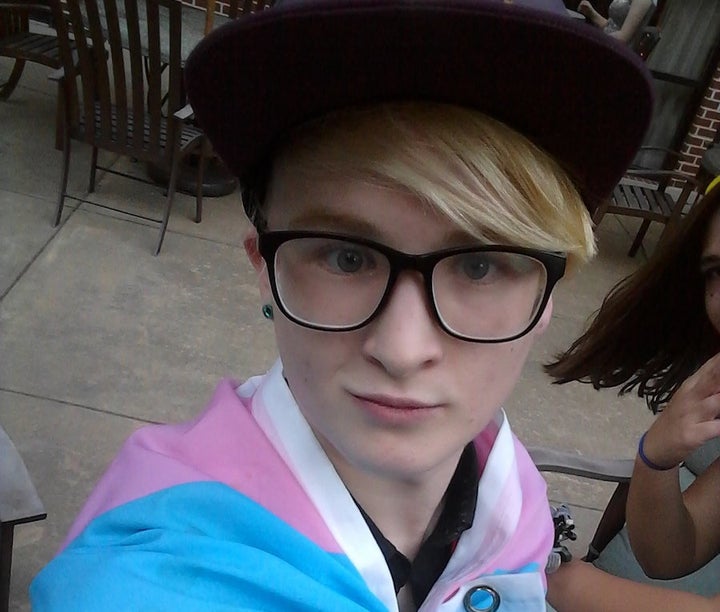 North Carolina has become a flashpoint for transgender rights, and Rory Philbrick is one of the faces working behind the scenes of this community's struggle for acceptance and inclusion.
Philbrick, 19, who identifies as a trans man, is a budding activist who works primarily with Youth OutRight, a nonprofit organization based in Asheville that serves as a resource for LGBTQ youth. The group, which hosts regular support sessions and community activities, sends Philbrick and others as representatives to events in Asheville and surrounding counties.
The teen's work comes at a time when North Carolina is grappling with the legacy of House Bill 2, a state law enacted in 2016 that prevented local governments from passing LGBTQ anti-discrimination policies and banned trans people from using the public bathroom that corresponds to their gender identity. HB 2 was a costly disaster for the state and was overturned in 2017 ― but LGBTQ advocates say the so-called "compromise" that replaced it, HB 142, allows the same kind of discrimination against trans people as the original law.
Nearly 60 percent of trans people in America say they have avoided using public bathrooms for fear of harassment or violence, according to a landmark survey conducted before the passage of HB 2 and published last year. What's more, HB 2 paved the way for states across the country to consider a host of discriminatory "bathroom bills."
In his four years with Youth OutRight, Philbrick has worked to build a safe, tolerant community for queer youth, even as they come of age in a society that guarantees them neither safety nor tolerance. It's basically a second job that doesn't pay ― he also works part-time as a cashier at a grocery store and, after dropping out of high school because of bullying, is taking online courses for a General Educational Development diploma.
Philbrick is just getting started as an activist, he says. HuffPost sat down with him to talk about what drives his work and what he wants the future to look like for trans people.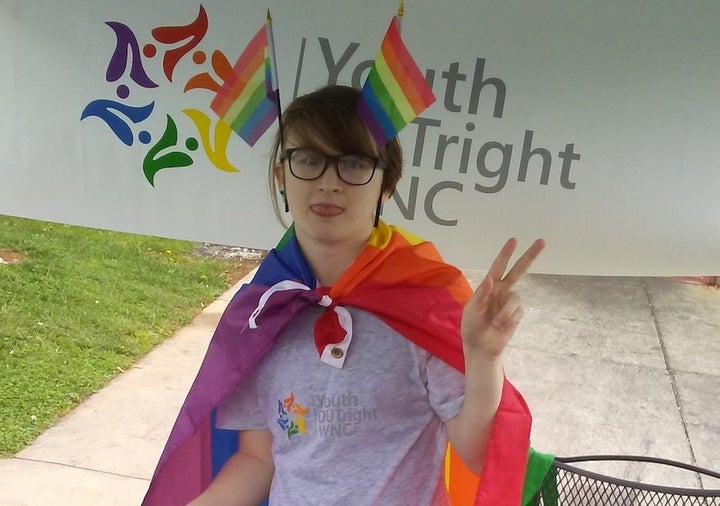 Why are groups like Youth OutRight important for LGBTQ kids in your area?
It's so youth don't feel alone, and they can hang out and meet people like them. So they're like, "I'm not weird, there's actually other people like me. I'm not alone in this."
How did you find this group?
I was in freshman year of high school, and my friend's friend invited them to go to this little queer group, and they invited me. So we both went. A lot of stuff happened that year, and it kind of became my family. They helped me through a lot.
How would you describe your activism work with Youth OutRight?
A lot of my friends call me the mascot of Youth OutRight, because I do everything. I go to a lot of conferences in North Carolina. Youth OutRight has support groups in different counties, and I go there. If there's a youth speaking event, I'm normally in it.
I'm really close with the board members. I'm co-president of the youth advisory board ― we're a new thing, but the actual board tries to get advice from us. They want youth to be more involved in decision-making and plans, people who join the board, the volunteers. Also, there is this a big event Youth OutRight puts on every year called Young Voices, where people who donate to our group can meet the youth and actually know who they're donating to, so it's not faceless. This year will be the fourth one I've been to.
You've also helped Youth OutRight organize several LGBTQ proms for teens in the Asheville area. Why is that important to you?
YouthOutright had proms before I started organizing them. I just helped volunteer to make it happen. We wanted a space where queer people can be safe and wasn't just heteronormative, and they could have fun and party.
How did HB 2, North Carolina's "bathroom bill," affect your life?
I never really used the public bathrooms, because of me being trans. HB2 made me more nervous, though, going into bathrooms.
The availability of public bathrooms is something a lot of people take for granted, especially cisgender people, whose identity corresponds with the gender assigned at their birth. Could you explain why you, as a trans man, would be nervous using a public men's room ― even if a law were to protect your right to do so?
I'm kind of feminine, so being in a bathroom with cisgender guys is nerve-wracking. You never know what's going to happen. You never know if someone's gonna hurt you or not, especially if you're alone in a bathroom and you're small, like I am.
I've trained my body to not use restrooms for up to 10 hours.
What do you do if you're in a long line at, say, the Department of Motor Vehicles, and you really need a restroom?
Luckily, our DMV is right next to the Goodwill. So if I have to go, I just go to the Goodwill. I used to work there. They're nice to trans people. And it's not a government building. I won't use the restroom in a government building unless there's a family bathroom.
Have you dealt with this at your grocery store cashier job too?
My bosses seem cool. I'm not entirely sure, since I'm pretty new. We use an all-gender bathroom in the back. I know a lot of my co-workers are really cool.
You used to bus tables at a burger restaurant, where employees and customers shared the same bathroom. What was it like there?
The bosses were really accepting. If I really needed to use the restroom, they let me use the men's restroom. But it was very nerve-wracking. There were a lot of churchgoers on Sundays, a lot of older people who are ignorant.
I kind of pass as a male ― my friends say I do ― but I get misgendered a lot. Most people are just confused about what I identify as. I did used to wear a "he/him/his" button. That worked. A lot of the customers weren't really into that. Some assumed my button was talking about God.
Voters in North Carolina are sharply divided between Republican and Democratic politics. While the city of Asheville is a firmly progressive city, rural areas tend to be conservative. Since you travel around the state as part of your activism work, how often do you find yourself in places that might not be friendly toward trans people?
Asheville is pretty accepting, but there's still people out there who are not. About once a month ― or a few times a month ― I volunteer with Youth OutRight to go to support groups in different counties. Most of the counties are in the middle of nowhere.
How do you prepare for visits to areas where you know you won't feel safe?
I've been in like five different self-defense classes. I know how to fight.
You said you want to be a professional activist eventually. What kinds of issues will you campaign for?
I want to do human rights activism. Not just for queer people ― for people of color, anybody who's not a cis, straight, heterosexual, white male. I hope the world gets better. But you have to fight for that.
Is there anything else you want to share with people so that they understand the work you're doing?
Trans people are actual people. We actually exist. We're not just mythical creatures, and we're not just on TV or the news. We just want basic human rights. And not being nervous about going out at night would be nice.
This interview has been edited for length and clarity.
Popular in the Community