I have never prepared myself for a journey as much as I had for my trip on the Trans-Siberian Railway. The name itself had long ago conjured up images of an exotic trip of epic proportions. Why? Because I would be traveling the world's longest railway in a restored train to some of the least known cities and hamlets on the map.
I had traveled to Russia and China years ago, those trips had been made by plane exclusively, and I was only privy to what was happening in just three of the largest cities there: Moscow, St. Petersburg and Beijing.
As a delegate to the 1995 United Nations Women's Conference, I had admired China's hospitality and its warm reception to thousands of women attending from all over the world. Because of my vivid recollections of Beijing then, and the recent viewing of the Beijing Olympics, I knew I would be experiencing a new city -- a city much grander than I saw in 1995.
Moscow on the other hand in 1998 was adjusting to a new regime and its hospitality industry was just beginning to wake up to the exigencies of the coming 21st century cultural tourism boom. But most of the recent reading material heralded Moscow as 'the New Moscow" so I was excited about the possibilities that would mean to a returning visitor like me.
The visit to Mongolia encouraged me to do as much reading as I could find on contemporary Mongolia. But frankly there is not as much written about this intriguing country as there is about Russia and China. But suffice it to say that the knowledge I gained has convinced me that while the capital Ulaan Bator is moving full speed ahead into the 21st century, the rest of the country is proceeding at a much slower space. And that was good. I wanted to get a taste of both the urban and rural Mongolia.
So there I was, heavy bags packed to accommodate enough clothing to comfortably adjust to moderately warm to cooler temperatures in September. A packet of guides and "how to survive" materials on the famous railroad itinerary contributed to plenty of excitement about the opportunities to observe topography and the people who inhabit cities and hamlets spread out over 6,000 miles running from the cosmopolitan heartbeat of the new Moscow, to the famous steppes of Siberia, to the shores of the worlds' deepest Lake Baikal, to the sandy planes of the Gobi Desert, and finally to that giant gathering spot that is called Tiananman Square in Beijing.
The train's first stop Moscow. This capital city was much brighter and stylish than I had remembered. The ultra thin Moscow young women looked so absolutely chic in their stilettos, mini skirts and flowing blond tresses, that I could have been in Paris. I had to focus long and hard to find Babushka ladies, but find them I did, their facial expressions still set in another time period. But their head scarves did seem a wee bit more colorful this time around. They smiled. And I smiled back.
The Kremlin buildings appeared dressed up in bright paint and the landscaping was fresh and colorful, and as far as I could determine there was very little evidence of a security presence as we meandered down the walkways and into the welcoming churches on site. The new Kremlin is indeed inviting. Nearby St. Basel's is still as stunning was ever, with long lines of visitors still anxious to get those up close shots of this whimsical church. Some things don't change.
Since our time before departing on the train was so limited in Moscow, we only had time to take a short detour to the fabulous Moscow Subway to marvel again at impressive installations of sculpture, ceramics and art deco embellishments. But it was wonderful to see this most famous of underground transportation modes on the world still as elegant and spotless as ever.
We were welcomed aboard the Zarengold Train by very polite and accommodating female attendants who assisted us with the hand luggage and escorted us to our cabins. Our journey began as 21 cars pulled quietly out of the Kazan station and into the countryside of the Russian Federation. I sat quietly on my couch/bed and focused on my picture window as the train pulled out of the station. We were off.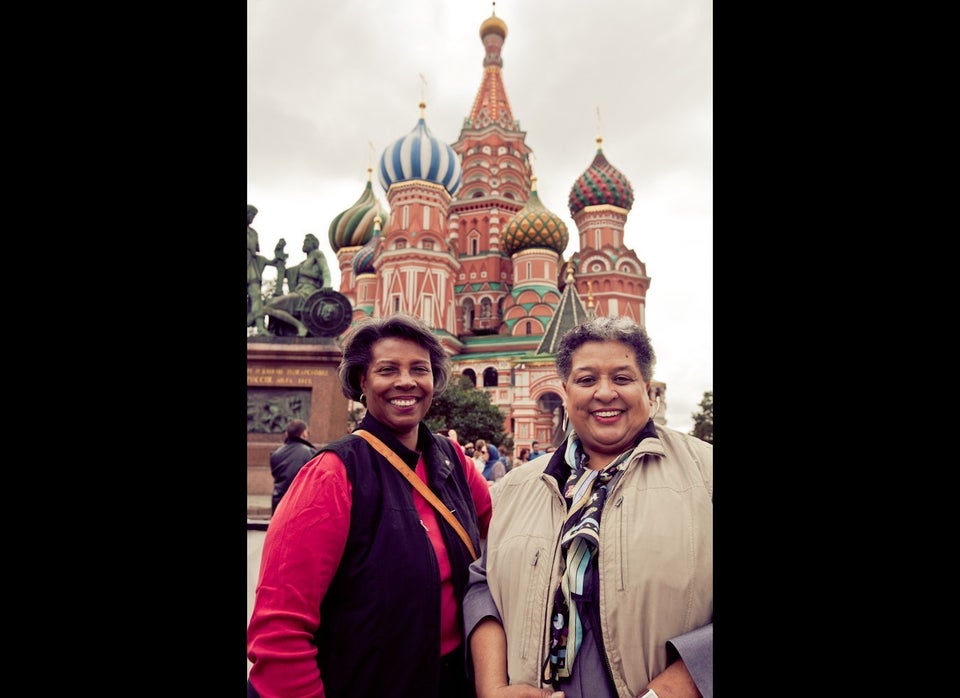 Grannies on Safari - Behind the Scenes on the Trans-Siberia Railway