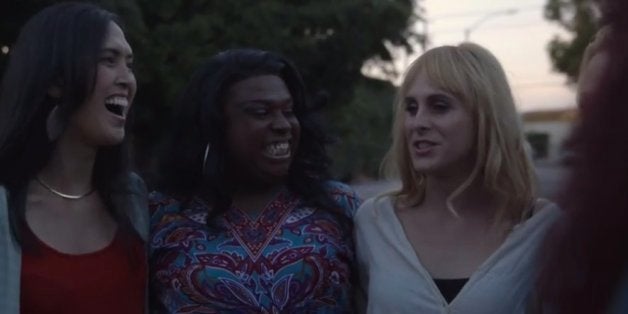 Sisterhood is a revolutionary act for all women.
A new documentary series called "This Is Me," created by WifeyTV with the help of executive producer Jill Soloway, explores the issues trans and gender non-conforming people face everyday. In the most recent episode called "And My Sisters," artist/actor Van Barnes, performance artist Miss Barbie-Q and artist/filmmaker Zackary Drucker sit down to discuss their friendships and the daily threat of violence they experience as trans women.
"Trans women are born witty, thank God. It's part of our survival," Barnes says at the beginning of the video. In the video, the three women sit around a table creating "prayer pumps" to memorialize a sister of theirs who was recently murdered for being trans.
"It's a revolutionary act to be an out, visible trans person," Drucker says, to which Barnes added: "It's a revolutionary act just to walk down the street [as a trans person]."
"I feel like I have to walk around with my fists up again," Miss Barbie-Q says. She goes on to recount a time two months prior when she was assaulted by a man on the subway, simply for the way she expresses her identity.
"I have to gauge people because if they're staring at me for too long, I think 'Do I have to watch my back when I walk away from this person?' Because violence can go from zero to 90 in a heartbeat," Barnes says.
She also tells the other women about a time she was assaulted by five men on the street: "One of [the men] put his arm out and clotheslined me, right at the neck... He grabbed me, picked me up, body slammed me. Every single one of those guys took a turn body slamming me," Barnes said. "Every time I was getting lifted into the air I thought, 'I hope they don't paralyze me.' And nobody came to my rescue."
"How many trans people are going to have to die on the street before change happens?" Miss Barbie-Q asks the other women in the video. In January and February of 2015 alone, seven trans women were murdered in the U.S.
A sentiment towards the end of the video sums up how important these women's friendships really are: "These relationships give me a sense of stability, they give me a sense that things are possible, they give a sense of wholeness."
Head over to WifeyTV to watch more of the "This Is Me" series.

Calling all HuffPost superfans!
Sign up for membership to become a founding member and help shape HuffPost's next chapter
BEFORE YOU GO
PHOTO GALLERY
Iconic Transgender Moments