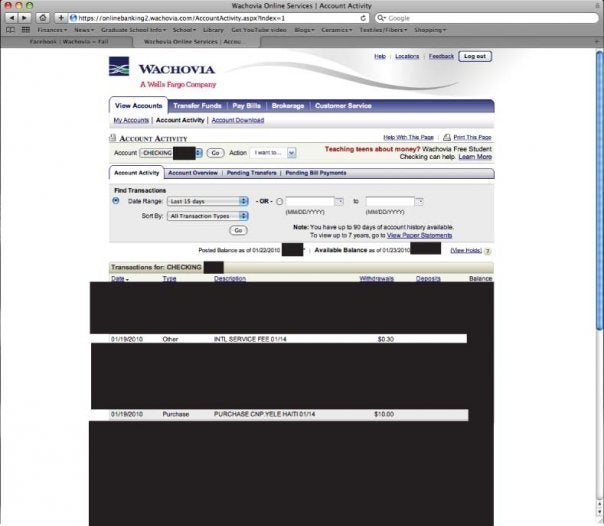 Several days after 21-year-old Heather Lynn used her Wachovia debit card to donate $10 to Yele Haiti's earthquake fund, she noticed on her online billing statement that the bank had deducted a 3% "international service fee" from the donated amount. Since the four major credit card companies had waived their transaction fees on donations to Haiti, Lynn says, she assumed that Wells Fargo, Wachovia's parent company, had done the same.

"I called customer service to ask if they were waiving fees like Visa and Mastercard did for Haiti relief funds, but the unsympathetic customer service representative said 'No,'" Lynn told HuffPost. "I just don't understand how a bank can make a profit from a tragedy, let alone get away with it."
Lynn, an art major at Old Dominion University in Norfolk, Va., immediately moved all her money to the Bank of Hampton Roads, a local community bank, and created a Facebook page to raise awareness of Wachovia's policy. The page, called "Wachovia = Fail," attracted more than 200 "fans" in a week and a slew of comments from people who are angry over Wachovia's ways of business.
"I was really surprised at the response," said Lynn. "People seem really pissed off about it."
Michael Klosterman, a spokesman for Wells Fargo, defended the bank's response to the Haiti disaster, saying the money it donated to Haiti more than makes up for their transaction fees.
"We have given $100,000 to the American Red Cross, and on January 19 we pledged an additional $250,000 to support the non-profits in Florida that are mobilizing the relief efforts," Klosterman said. "We decided that donating a sum of money would be quicker and more beneficial than waiving transaction fees because the funds would get to the people quicker. It would take the equivalent of $35 million in transactions to raise the amount of money we actually donated."
Regardless, the bank may still lose some customers. Judging by the response to Lynn's "Wachovia = Fail" Facebook page, a lot of people are frustrated with the bank for reasons having nothing to do with Haiti.
"I left 11 dollars in their bank," commented one angry Facebooker. "Now they want to bill me for 40 bucks more for leaving it. I'm not surprised they are trying to cash in on Haiti donations. SCUM!"
Related
Popular in the Community