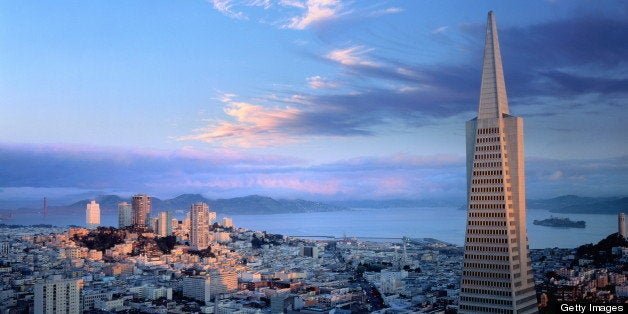 The Transamerica pyramid is likely the single most iconic piece of the San Francisco skyline (as long as you don't count a certain orange bridge that shall remain nameless).
While everyone knows what the pointy tip of the 850 foot tall structure looks like from the outside, catching a glimpse of what it looks like from the inside--not to mention the breathtaking vistas of the city below that the privileged perch provides--is something rare indeed.
A seismologist by profession, haightor got to venture up into the structure when he was there doing seismic monitoring.
"The tower was not like I expected," he told HuffPost in an email. "I was surprised to see that the top of the tower is an aluminum facade and is actually hollow. It's backlit during the night to make it appear as if the whole building is solid."
He noted that, inside the pyramid, there's a guestbook that everyone who visits gets to sign. As a testament to how few people actually get to go up there--the highest point in the entire city--the last signature was from two years prior.
Constructed in 1972 and designed by architect William Pereira, the Transamerica building boasts 48 stories of retail and office space. In its early years, the building was derided by many San Franciscans as an eyesore, earning the nickname "Pereira's Prick." But, like a whole host of things in San Francisco, everyone got used to it and now, over four decades later, most residents can barely imagine the city without it.
While it's no longer the headquarters of the insurance and investment firm Transamerica, the building still retains its association with the company for which it was created.
Check out this slideshow of photos:
PHOTO GALLERY
Transamerica Pyramid Photos
REAL LIFE. REAL NEWS. REAL VOICES.
Help us tell more of the stories that matter from voices that too often remain unheard.
BEFORE YOU GO