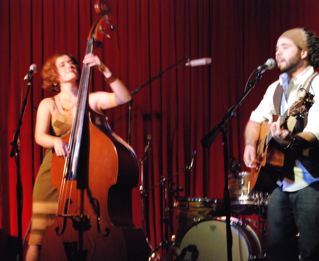 Coyote Grace, the up-and-coming Sonoma County-based acoustic duo, joined their Northampton, MA pal Chris Pureka for both separate and combined sets at the Hotel Cafe in Hollywood on Wednesday night.
Hailing not from our cultural capitals, but from backroad country and college towns, these three 20-something singer-songwriter-musicians are reinventing traditional Americana for a gender-unbound Facebook generation. They are "self-made" in ways even our most ruggedly independent forebears could not imagine. Coyote Grace's hunky, bearded Joe Stevens is a transman; and lissome, soft-butch Pureka is genderqueer. Their adoring fans transcend the usual boundaries, too, as straight women openly confess to crushes on cleavage-bearing, hip-swaying femme Ingrid Elizabeth.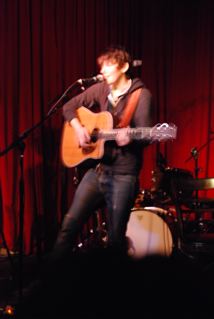 There's a yearning, freight-train-hopping, propulsive energy to many of their songs that suggests not only an indie-band road tour, but the road to one's true identity, a destination on a map still being written. These youthful travelers depend on the kindness of strangers and of lovers, and on their journey they've experienced enough joy and heartbreak to last a lifetime.
Stevens and Elizabeth, the two halves of Coyote Grace, met in Seattle and have been performing together for the past five years. He plays guitar and banjo, she plucks and dances with her upright bass, tapping out sensuous heartbeats on its curvy torso; the singers share a soulful sexiness and an intimate connection with each other and their audience.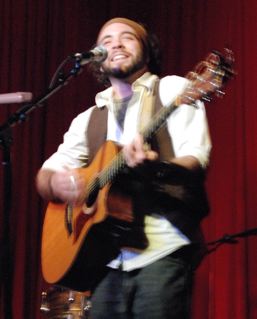 Musically speaking, they're far less dour and angry than some of my own alt-folk favorites of the 1980s and 90s. Instead, warm harmonies, playful humor, and an ebullient sense of gratitude prevail. While firmly planted in the realities of daily life and love, these artists seem unencumbered by the controversies raging around them, including this very week in a federal courthouse here in California, where the right of LGBT people to affirm our relationships through civil marriage is (still, and again) at stake.
If wholeness and grace are forms of political power, Stevens, Elizabeth, and Pureka are wielding it with quiet intensity, in a growing community of kindred spirits. An army of lovers cannot fail.
Chris Pureka's month-long residency at the Hotel Cafe continues through January, Wednesdays at 8:00 p.m. Coyote Grace returns to Los Angeles Friday, March 5, for a 9:00 p.m. show at The Mint celebrating the release of their newest CD.

Photographs by Sylvia Sukop.
Popular in the Community