So many men who are attracted to transwomen can be douchebags... I should know, I was one of them.
The amount of straight men attracted to trans women is far greater than you can imagine. The amount of men who openly love these beautiful women is staggeringly sad, few and far between.
For me, in the late 1980's, after several humiliating experiences of not being able to "perform" with cisgender girls, meeting, kissing and sleeping with my first trans woman was the most freeing, joyous moment of my young 18 years, immediately followed by soul-crushing guilt and shame. Such shame, that the only way I could deal with my truth, in my small, predominantly Italian-American town of East Haven, Connecticut, was to create an alter ego (but we'll get to that in a bit). Was I "gay?" I didn't feel gay, but in the era before the internet, there wasn't much information and it seemed like there were only two choices: gay or straight. The moments I shared that night with the trans girl of my unspoken dreams didn't feel very "straight."
When I came home that night, my dad, a rough and tumble, street-tough kind of guy, asked me how my night went. I certainly couldn't tell him the truth. Hell, I couldn't even tell myself the truth. As I went into my bedroom, closed the door, I knew Wayne Mahon couldn't love transgender women, so, I became someone else, I became Vogue Moran.
Does an entire identity change seem extreme in today's day and age? Maybe? But after growing up bullied by kids at school, laughed and pitied at by so many cisgendered girls when I couldn't achieve an erection in the back seat of my 1979 Grand Lemans, and escaping into the fantasy of masculine comic book superheroes, it was time for me to become the "ultimate man." A month later, Vogue Moran jumped on a plane and moved to LA.
In Connecticut, there was one trans girl. In the City of Dreams, there were countless beautiful trans women of every shape, size, and ethnicity. I became a fixture in the transgender nightlife scene and I had lots of life-changing sex, lots of it. Only it didn't change my life, I still suffered from guilt and shame at the end of every encounter. During sex, I would tell a trans girl she was the most beautiful woman I'd ever seen; she was precious; she deserved to be treated like a princess; but as soon as it ended, I'd be overcome with self-disgust and coldly, simply say, through gritted teeth, "Elevator's across the hall." As the morning came, I needed all proof of what just happened to disappear, so I could go back to my "normal" life. Though, in retrospect, I'm hard pressed to find anything normal about the person I was. In fact, I'm pretty sure I was psychotic.
Like so many men I met in the "scene," I felt I could go to the clubs at night and get everything I needed from trans women, but I didn't have to bear their crosses during the day. I didn't need to deal with what they had to deal with: the stares, the slurs, the constant threat of violence. I had no transgender friends. I never took a transgender girl on a date. I only liked them in the safety of the shadows of the clubs where no one would judge me or expose my secret. I left them alone in the sunlight with no one to love. Though, let's be honest, no girl was looking to be loved by the mess of a human I was.
Besides denying myself any intimate relationships, I denied myself from seeing the true beauty of trans women; the strength to be true to themselves in a world filled that hated them for being brave enough to be themselves. For almost 20 lonely years, I used Vogue Moran to blind myself from the truth. As my 30s ended and my 40s began, I asked myself, "If the Universe created these remarkably beautiful women, wouldn't it create men (or women or other transgender individuals) to love and honor them?" "Wasn't I one of those men?" "Wasn't I lucky to be one of those men?"
In many great stories, a man goes on a hero's journey of redemption to be worthy of a woman he loves. I began a journey to prove myself worthy of every trans woman.
The famed writer/director, Stephen Chbosky (The Perks of Being a Wallflower), believed my journey was a story that should be told. He became the executive producer of what became my documentary Leaving Vogue Moran. With brutal honesty, I examined my life, my past, interviewed trans women and the men who were attracted to them. I traveled back to Connecticut to tell my dad the truth. Regardless of his response, I chose to become a new man. I became Wayne Mahon, a man who knows the responsibility that comes with being lucky enough to love trans women; to stand beside them in their struggles; speak up for them; protect them; treat them the way they deserved to be treated, like the strong, radiant, loving women they are. Hear them, hold them, see them, love them.
My journey continues as I work behind the scenes and in front of the camera to advocate for positive representations of trans women in all forms of media. I produced two pro-trans documentaries (one for Oprah Winfrey), teamed up with the producers of American Idol to try to bring a positive transgender docuseries to television and, if I have my way, create a transgender female superhero for mainstream comic books.
I'm now dating a beautiful, light-filled trans woman and, lucky for me, she doesn't think I'm a douchebag.
My brand new documentary, Leaving Vogue Moran, is available to rent or buy right now at Vimeo here.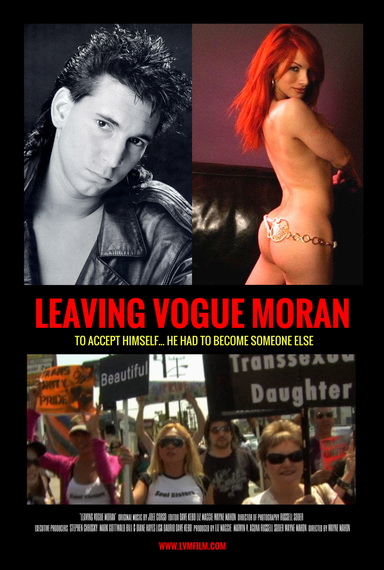 REAL LIFE. REAL NEWS. REAL VOICES.
Help us tell more of the stories that matter from voices that too often remain unheard.