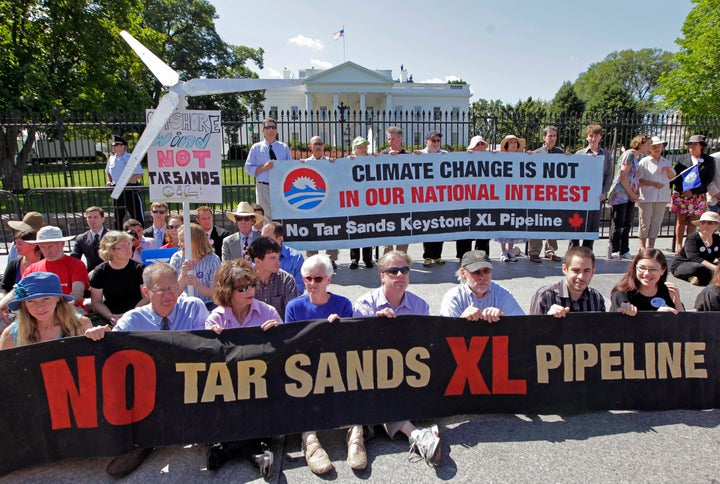 WASHINGTON -- The debate over the Keystone XL oil pipeline reached a fever pitch this week as activists led by author and environmentalist Bill McKibben called on Barack Obama to deny presidential approval to the TransCanada project, which would stretch from tar sands in Canada to oil refineries in south Texas. Tuesday marked the fifth day of protests as well as the arrival of dozens of Gulf Coast residents to sit-ins before the White House.
The protests, slated to run through Sept. 3, have drawn a geographically diverse group of activists from as far away as California and Montana. As of Wednesday morning, 275 had been arrested by the U.S. Park Police. Hundreds more are on their way to Washington.
HuffPost spoke with some recent arrivals about who they are and why they came.
"Our Gulf Coast is very fragile, and to keep polluting and doing the things they're doing and dumping on our Gulf Coast needs to come to an end there. We can't go back and repair it, we can't go back and rebuild it, once they destroy it," said Paul Nelson, a commercial fisherman from Alabama. "That's why I'm here."
Nelson had a simple answer to those who suggest the Keystone XL will bring jobs and economic development to the Gulf Coast. "If the public believes that," Nelson said, "I'll sell them some ocean-side property in Arizona."
Other activists came to Washington to protest what they describe as the devastating health effects of oil refining and processing in Gulf Coast communities. "The communities that I grew up in and that we've been organizing and fighting for are lined along the Houston ship channel, where we have 15 to 20 miles of petrochemical plants," said Bryan Parras, co-founder of Texas Environmental Justice Advocacy Services, "and we've seen how that has affected the health of the community."
"In fact," Parras continued, "there was a study done that said if you live within two miles of the Houston ship channel, that you have a 50 percent higher chance of contracting childhood leukemia." He said he fears these adverse health effects will only intensify if this pipeline reaches the Gulf Coast in Texas.
Michael Greenberg, a 17-year-old from Potomac, Md., said he came because he felt the proposed pipeline project, which would add an additional 700,000 barrels of heavy crude per day pumping across the Canadian-U.S. border in Montana, poses a long-term environmental threat to the planet.
"There's just so much carbon locked up in Canada's boreal forests, and if this pipeline goes through, so large an area will be clear-cut that billions of tons of carbon dioxide will be released into the air," said Greenberg, president of the Charles E. Smith Jewish Day School environmental club. "I'm just really fearful about what that could mean for me and my generation."
Ann-Elizabeth Barnes, a writer from Massachusetts, said she came so that others could stay home.
"I'm at a time in my life when I have the time and the money to come and protest, and there are a lot of people who are affected by the pipeline all the way from Alberta down through North Dakota, South Dakota and all the way to the Gulf of Mexico, and they don't necessarily have the time and the money," said Barnes, who was one of around 50 people arrested in front of the White House on Tuesday. "For the rest of my life I want to be protesting and making people's voices heard."
Organizers say more than 2,000 people have signed up to travel to Washington and protest the pipeline. Many wore campaign buttons indicating they had supported President Obama in 2008, but organizers were quick to emphasize that opposition to the pipeline does not break along party lines.
At Monday's sit-ins, an anti-pipeline message from Nebraska landowner Randy Thompson was read aloud to activists. Thompson, who is fighting to keep the pipeline from running through land which has been in his family's hands for generations, said the protests were not just about protecting the nation's land and water, but also about preserving a collective heritage.
Thompson is not the only one concerned about having an expanded pipeline with the capacity to carry 1.3 million barrels of crude a day running through his backyard. At a town hall meeting in Abilene, Kan., David Daniel of east Texas said pipeline officials tried to coerce him to accept an offer of $2,440 for the rights to install an easement on his property. Daniel accepted a final offer of $13,970 rather than trying to fight TransCanada over the pipeline, which would split his property in half.
"They make me feel like a lab rat on my own property," he told the Salina Journal's Tim Unruh.
The efforts of people like Daniel, who's collaborating with two other Texans and one Nebraskan on a cross-country speaking tour scheduled to conclude in front of the White House early next week, have taken an issue that was once considered regional onto the national stage.
But with the president on vacation and the media focused on developments in Libya, it remains to be seen whether the sit-ins can command the spotlight. There's been no coverage yet from cable networks or broadcast TV.
Protesters, for their part, are more concerned about getting the attention of the White House.
"TransCanada, the mega-corporation that wants to build this $7 billion dirty pipeline, they need a presidential permit to build that pipeline across our border," Mike Tidwell, founder of the Chesapeake Climate Action Network, told a crowd of protesters gathered at the White House on Monday, "and President Obama has the ability to say yes or no."
McKibben concedes it won't be easy politically for Obama to block the pipeline.
"It's not like there's not going to be enormous pressure on Obama to approve this pipeline: There will be," McKibben told HuffPost on Monday. "The oil industry is the most powerful lobby in the world," he added. "What we want to show is that there will also be enormous support and jubilation if he does the right thing."
The White House says it expects the State Department to reach a decision on the pipeline by the year's end, following the release of an environmental impact statement later this month and a planned additional public comment period.
"We consider the input and feedback from the public an important part of the determination process, which is why in the near future we will begin an additional public comment period following the release of the Environmental Impact Statement," a State Department spokesperson told HuffPost in a statement on Tuesday.
Proponents of the pipeline have touted it as an engine for job growth and the further development of North American energy resources, while critics cite concerns over greenhouse gas emissions, with NASA climate scientist Dr. James Hansen going as far as to call any significant effort to tap the tar sands "game over" for efforts to curb carbon emissions.
An existing TransCanada oil pipeline known as Keystone 1 leaked 12 times in its first year of operation, according to Friends of the Earth. In the most recent spill in May, hundreds of barrels of oil leaked at a pump station in North Dakota.