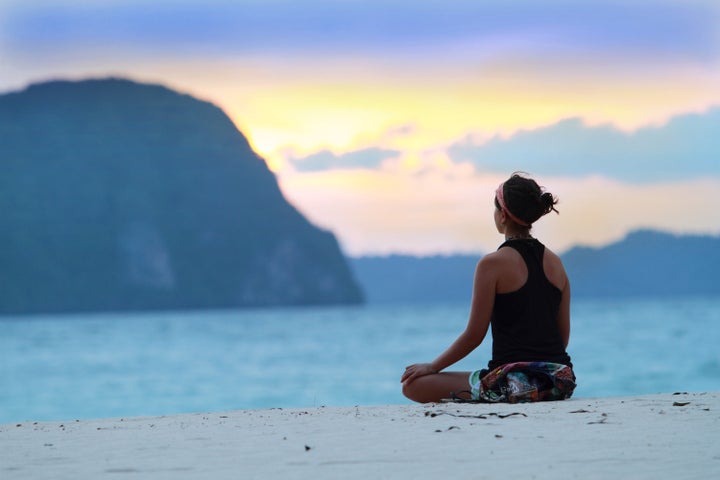 Medicare and Medicare are unsustainable due to rising medical expenses. Why is this happening? As management expert W. Edwards Deming explained: "Every system is perfectly designed to achieve the results it gets." Then, is our medical system "perfectly designed" to produce the high and rising health care expenditures, variable quality, too many medical errors, and negative medication side effects? How can we change the system to increase efficiency and decrease costs when the legislative branch of the federal government is gridlocked and almost nonfunctional?
Chronic Stress Pushes Health Care Costs Higher
Because chronic stress is a leading driver of high medical expenses, if Medicare and Medicaid started covering the most effective stress-reduction method, the Transcendental Meditation (TM) technique, it may be possible to greatly reduce skyrocketing health care expenditures and rescue these programs without cutting benefits or our raising taxes.
More than 240 articles have been published in peer-reviewed scientific journals showing that the TM technique improves mental and physical health. Many of these studies were randomized clinical trials and meta-analyses. Several randomized clinical trials were funded by the National Institutes of Health to examine the impact of TM on cardiovascular health.
TM Practice: The Biggest Bang for the Buck
The largest and quickest reductions in medical costs could be achieved by providing the TM program to consistent high-cost people. The chart below shows a 28 percent reduction in doctors' bills over five years from baseline for persistent high-cost people who practiced the TM technique.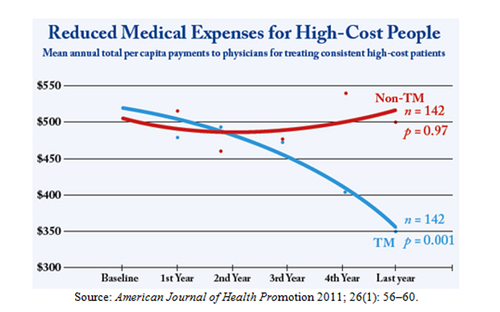 Consistent High-Cost People
A small fraction of people incur the majority of health care costs. The highest spending 10 percent in the general population incurred 60 percent to 70 percent of total medical expenditures annually. In the Medicare population, the highest spending 5 percent incurred 43 percent of total Medicare costs, and the highest spending 25 percent of seniors accounted for 85 percent of total expenses. Medicaid is similar. Many of these highest-spending people have elevated medical bills over many years.
Consistent high-cost people typically have poor health with five or more chronic conditions, which are affected by excessive stress. Chronic stress can weaken the immune system, which can increase vulnerability to most diseases. Stress also degrades other physiological systems. This ongoing damage can cause, aggravate, or contribute to a wide range of physical and mental disorders. Prolonged stress also contributes to the unhealthy lifestyles that cause most chronic conditions, which account for approximately 80 percent of national medical expenditures. Obviously, stress reduction could help reduce high medical costs.
I conducted the study that was published in the American Journal of Health Promotion (2011; 26(1): 56-60). The results indicated that people with consistently high doctors' bills experienced a 28 percent cumulative decrease in physician fees after an average of five years of TM practice. After the first year of meditation, the TM group's physicians' bills declined 11 percent.
In 2009, the highest-spending 5 percent of the population averaged $16,336 or more per person in medical expenses annually. The tuition for starting the life-long TM program is $1,500. If the TM technique were taught to these people and their health care expenses decreased by 11 percent in the first year, then the payback period for TM would be less than one year. Since numerous studies show that the medical expenses of almost all TM practitioners continue to decline for over five years, the savings to Medicare and Medicaid would persist for many years and generate a substantial return on investment.
The distinctive stress-reducing and health-enhancing properties of TM practice have major policy implications. When considering the above study in the context of all the published research on the benefits of TM practice for mental and physical health, it is clear that if the TM program was provided to consistent high-cost people, then it would be possible to leverage great reductions in health care expenditures and thus help save Medicare and Medicaid without the government's cutting benefits, raising taxes, or borrowing money. Just add a TM benefit.
For more health news, click here.
Popular in the Community