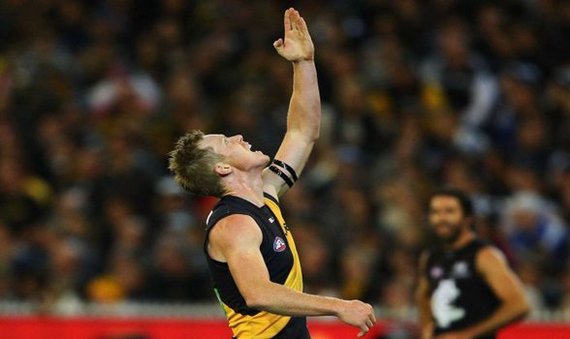 David Packman recounts how a chance meeting ultimately led to a poignant reminder of our own humanity - as two AFL footballers pay homage to a family member.
On a sunny midweek morning about eighteen months ago, I sat down alone in a café in Port Melbourne and before long struck up a lively conversation with the person at the table next to me, who introduced herself simply as "Maddie."
I can't recall how it came up, but it became clear we had something in common. The odds are something like 1 in 200,000 in my case, but this effervescent young lady and I revealed to each other that we were both managing very rare blood disorders.
A lively and at times humorous dialogue followed in which we laughed about many things, including the fact that her blood platelet count was too low and mine too high. Perhaps we could somehow combine them for a perfect count?
As she stood to say goodbye it suddenly dawned on me that this was Madeleine Riewoldt. I had read about her condition some time ago and, given my own situation, I had of course taken an interest in her somewhat public journey.
Maddie's brother is the high-profile captain of Australian Rules football club, St Kilda, and one of the modern greats. An inspirational leader, Nick Riewoldt is admired for his actions even more than his words.
In addition, her cousin Jack Riewoldt is the charismatic Richmond full forward - again, a prolific figure in the game. In direct contrast to Nick, he is renowned for his raw emotion as much as his football skill.
All that aside, I left the café with a more confident stride, buoyed by the fact this young lady, some twenty years my junior, was so courageous in her ongoing battle against the odds and that she somehow seemed to wear her burden so lightly. She had survived not just one, but two bone marrow transplants and many other ups and downs - much more than I had ever had to endure. It was incredibly uplifting and gave me every reason to deal with my own health issues with renewed vigor and optimism.
On Tuesday, February 24 this year, Maddie, at 26, succumbed to her illness, aplastic anemia. I remember a great sadness washing over me when I heard the news. Of course, I had only spent a very short amount of time in her company, but it had been quite a profound experience.
My thoughts quickly turned to her brother Nick and cousin Jack. Having lost my own younger sister way too soon, I could not begin to imagine how that would translate for these two men - both high profile professional athletes - with their personal grief and anguish to undoubtedly play out in the public eye.
As it turned out, the media respectfully gave them space during the off-season, but as the beginning of the regular season approached - not even six weeks later - I wondered how each would handle the overwhelming emotion attached to their first game since Maddie's passing.
These were not the same men who last plied their trade in front of tens of thousands in the stands and many more on live television. They had been ripped asunder, no doubt moving through their own stages of grief at their own pace and in their own way.
Jack was first to play. After an inauspicious start in front of 80,000+ screaming fans at the MCG on Thursday night, he willed himself upon the game and finished as one of his team's most influential on the night, with four goals to his credit in a memorable win for the Tigers over arch rivals Carlton.
Jack had previously discussed just how much it would mean to him to play well that night and after his first goal, he kissed his hand and thrust it skywards in an emotional and touching tribute to his cousin. When the match was over, he left the ground with tears in his eyes and collapsed into his father's arms in the Richmond rooms.
It was Nick's turn later that weekend. His coach Alan Richardson had said during the build-up that the proud St Kilda captain - after an immediate leave of absence - had done everything that had been asked of him in the pre-season, the only discernible difference being that his "voice had not been quite as loud" among the playing group. After my sister's death, I struggled for some time to simply remember to breathe, let alone lead a group of impressionable young men on a national stage.
When the Saints finally met the Giants on Sunday afternoon at Etihad Stadium, Nick played his usual role, working tirelessly all day to anchor his team. All eyes were on him when he marked the ball within range in the second quarter, and in true Saint Nick fashion, he steered the ball through for a goal with a quiet calmness. No animated gestures like his feisty cousin, but printed on his famous boots - which have ultimately always done the talking - the hashtag #FIGHTLIKEMADDIE. Nothing could have been more fitting.
Unfortunately, after a serviceable 18 disposals, Nick's day ended with Giant Tom Bugg clattering awkwardly and somewhat contentiously into his back early in the last quarter, forcing him from the field where he was unable to return. The Saints ultimately went down to the Giants, with Nick sent to hospital for scans. The reassuring news was that he was cleared of major damage and will return to the field next week.
The outcome of the game was clearly not what he was hoping for, but his commanding presence on the field - Nick doing what he always does - could not have been a more appropriate way for him to honor his courageous sister's life.
For my part, I'll always remember Maddie as the captivating young lady who so quickly made such a lasting impression on me. To Nick and Jack Riewoldt - who allowed all of us to witness them pay tribute to Maddie in their own individual ways - goes my utmost respect. Not only have they shown their bravery in performing on the field under remarkably testing circumstances, they have shared with us an intimate part of themselves, reminding us - through sport - just what it means to be human.
Follow The Good Men Project Sports Facebook page, here.
Photo Credit: Associated Press /File
REAL LIFE. REAL NEWS. REAL VOICES.
Help us tell more of the stories that matter from voices that too often remain unheard.