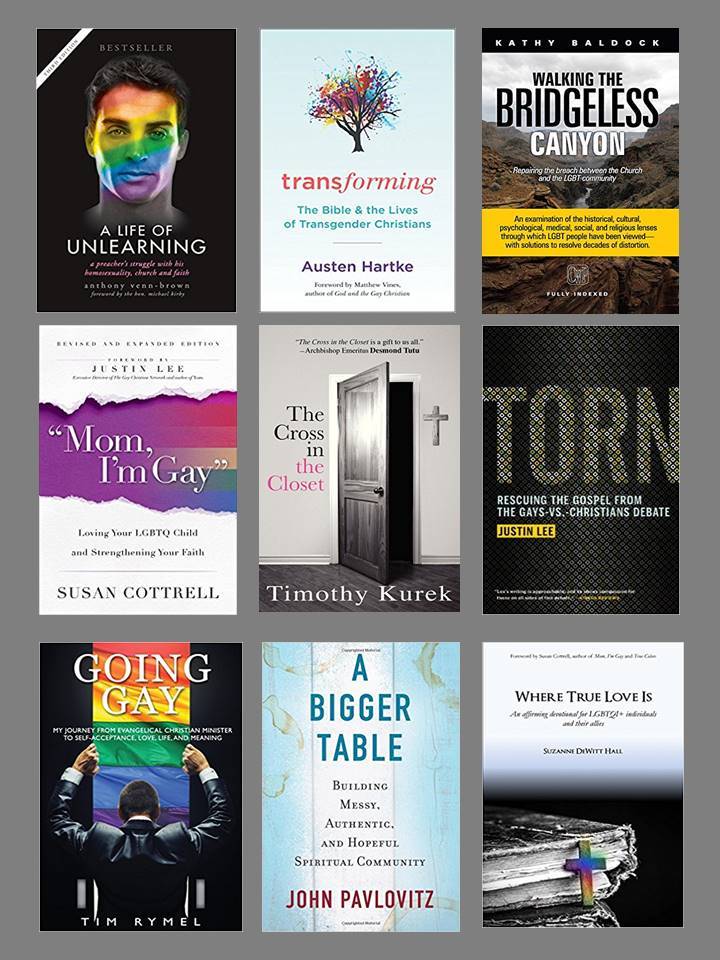 The darkness shrouding our nation can only dispelled by light. At Christmas, you can battle the darkness by giving books which help shine the light of Christ's love. Here are a selection of titles designed to do just that. For each book, I asked the authors to answer three questions. I'll start with my own.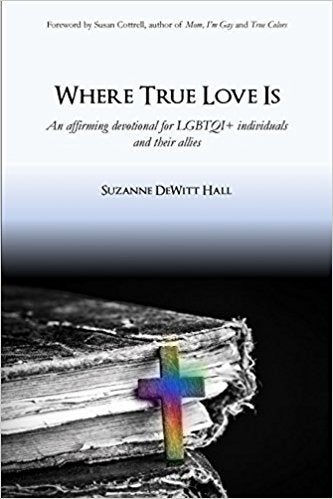 So many people are hurting, and even dying, because of rejection by their families and faith communities. Young people are turning away from Christianity because they see it as a religion of persecution. As a former socially conservative Christian who ended up marrying a woman, I had to analyze the scriptures to figure out what God was doing, and what he wanted from me in response. This book is the result.
It's for those who have been hurt by people who wield the Bible like a hammer, demanding that LGBTQI+ people can't be faithful followers of Jesus. It's for the kind-hearted, well-meaning Christians who earnestly fear their LGBTQI+loved ones are going to hell. And it's for churches in discernment about whether God is calling them to be affirming and inclusive.
What do you hope the reader will take away from it?
I hope readers revel in the understanding that God is so much bigger than a Bible-sized box, and that his love, compassion, and mercy are for all who seek him earnestly. I hope they are able to push back against the idea that scripture is the enemy of LGBTQI+ people, and are equipped to offer a Bible-based defense for the hope that is in them.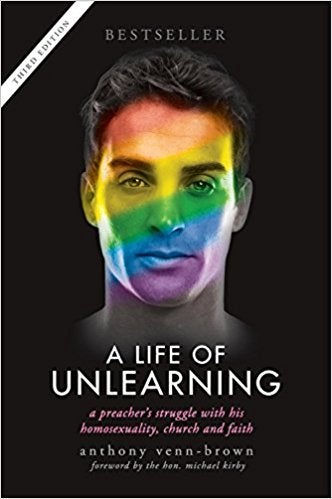 I was told to. I was at a conference next to the great Mayan pyramid at Chichén Itzá having a conversation with someone about life and spirituality. My thoughts were suddenly interrupted. It was one of the closest experiences I've ever had to hearing an audible voice. It came through loud and clear "Tell your story. Be completely honest. It will help many people." I came back to Australia and began writing. I did, I was, it has.
I'd always felt A Life of Unlearning was not just a gay/religious story but for anyone who has to break free of conditioning and others expectations in order to be true to themselves. I do get emails from straight. non-religious people who say how much they related to the story. I think the people who get the most are those whose journey includes faith/sexuality conflict as well as straight people wanting greater understanding.
What do you hope the reader will take away from it?
That's a great question. People have so many needs and I get such a variety of responses from readers who email me. From what many of them tell me they have had a profound, life changing experience reading A Life of Unlearning. For many it's resolution, for some inspiration and others a sense of empowerment. What more could an author ask for?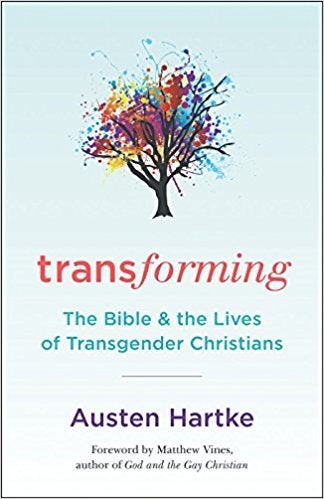 THIS BOOK IS AVAILABLE FOR PRE-ORDER. RELEASE DATE IS APRIL 2018.
Honestly, I think a part of me wrote Transforming "because it's the book I wish I'd had when I was younger! When I was first coming to understand my gender identity I spent a lot of time googling and searching bookshelves, and I was having a really hard time finding any books that were 1) centered and grounded in scripture, 2) trans-affirming, and 3) written by transgender people themselves. The few influential works we do have are now largely out of print. Even though I'll be forever grateful for the older resources I found, I needed something that wove the modern stories of transgender Christians living today together with stories from gender-diverse people in the Bible--and there are more of both than you might think! 
First and foremost, this book is for the trans, nonbinary, or genderqueer person who is wondering how it's possible to hold on to their faith and their sense of self at the same time. This is a book from and for people like you. But of course it's also a book for friends, family, and community members who have questions like, "Do transgender Christians think God made a mistake?" or "What about that verse in Deuteronomy about wearing women's clothes?" or "How can my church support our transgender youth now that we've gotten beyond the basics?" 
What do you hope the reader will take away from it?
If you're a friend or family member of a trans person, or if you're just curious about what trans theology looks like, I hope you'll be as surprised and excited by the stories in this book as I was! You'll get the chance to meet nonbinary folks becoming pastors, trans people of color lighting a prophetic fire in our pulpits, and genderqueer folks wandering in the wilderness two thousand years ago, and after all that you'll get to see the incredible hope we have for the future. Those are all gifts worth sharing in this world.
Most of all, I hope that, if you're a trans person reading this book, you'll come away with the assurance that the love God has for you incorporates all that you are--gender identity included. I hope that you'll know that you're not alone.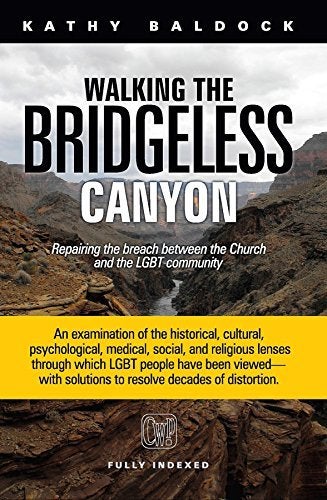 In conversations with moderate Christians, I kept hitting a wall when we discussed Bible passages referring to same-sex behavior. They typically read the verses literally and not in context. The same scenario kept happening over and over; was frustrating. So I took all the objections that I repeatedly heard and asked foundational questions about the objections. I kept tracing each objections back in time, or to its source. This resulted in a historical timeline of beliefs about the roles of men and women (patriarchy), the slow progression to understanding human sexuality, sexual orientation, and gender, and the unholy merger of conservative religion and politics beginning in the late 1970s, and the history of the LGBTQ rights movement in and out of the church. All these factors were interwoven into our current atmosphere of discrimination and exclusion of LGBTQ Christians in many churches. What I could not say in fifteen minute conversations needed to be clearly presented in a book, so, I wrote one.
I wrote Walking the Bridgeless Canyon with a conservative Christian in mind as the most resistant reader. The book is a fair and balanced view of all the influences and interweaving of each of them. I worked to keep judgment out of the book so that readers could just go along with me on the journey to discovery. I intentionally did not address Scripture until the tenth chapter. I wanted to build a firm and well researched foundation on which to challenge the third rail of scriptural interpretation of verses referring to same-sex behavior. I believe I succeeded. 
After nine chapters of cutting our flawed beliefs and replacing them with truth and historical information, the reader is ready to risk considering another point of view. The concluding chapters bring the human side of the issue and introduce the voices and stories of LGBTQ people and families that have been impacted by historical discrimination. Their voices also share the joy of inclusion.
What do you hope the reader will take away from it?
I want readers to ultimately value and respect the importance of reading ancient texts in ancient contexts. I hope the gracious and well-researched non-judgmental style of the book invites them to reconsider many of their unfounded beliefs and views. There is also  great value for fully affirming LGBTQ people and allies. They will understand the tangled mess that has evolved to today's charged conversations and policies. When you understand how you arrived at a place, you can better engage in conversation to undo the damage.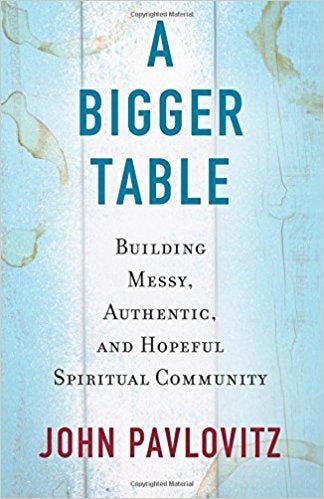 I've been a Christian most of my life, and a pastor in the local church for twenty years. During that time I've seen beautiful things, but I've seen a lot that grieved me too; racism, homo/transphobia, nationalism, misogyny. Christianity, especially in America has grown increasingly violent and fearful. I wanted to try and excavate Jesus from the ugly stuff that he is trapped in; to see if it was possible to create redemptive spiritual community that lifts up the inherent worth of all people.
It's for people who want to be part of creating communities that aren't marked by exclusion and bigotry, regardless of their faith tradition. It's for Christians who may no longer feel comfortable in organized Christianity and wonder if they still fit somewhere. It's for anyone who feels any affinity for the kind of life Jesus talked about; one of compassion, peace, goodness.
What do you hope the reader will take away from it?
I want people to feel a sense of hope: that there is a way of being Christian that doesn't have to do damage; that diverse community is possible, that there is a place where they are received without caveat or condition. I want them to ask how they can expand their own tables of hospitality.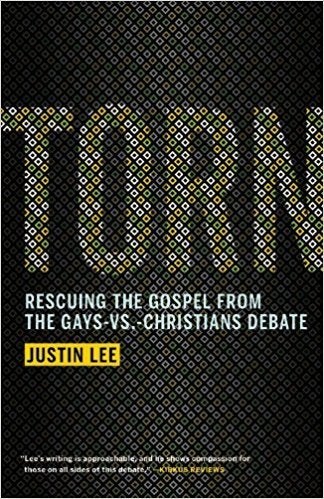 I grew up in a devoutly evangelical home, and when I came out, my Christian family and friends had a hard time accepting me as gay. Since then, I've done more than 20 years of LGBT-affirming work in Christian spaces, and over those years, I kept hearing one question: "Can you recommend a good resource for my conservative Christian parents/friend/pastor, to help them understand me?" Often, I didn't know what to recommend; there just weren't many LGBT-affirming resources that spoke the language of conservative Christians.
So I decided to create one. I used my personal story as a backdrop for exploring everything from what the Bible says to why conversion therapy doesn't work, written in language that would truly resonate with conservative Christians and help them identify with LGBT folks instead of seeing us as the enemy.
I wrote it for anyone who cares about the subject, but especially for the Christian parents out there who are struggling to accept their LGBT kids. I wanted my friends to have a book that they could give to their parents and say, "Read this, and then let's talk." And I've heard from a lot of parents (as well as pastors and others) who tell me it truly did change their minds!
I've also heard from a lot of other folks, including LGBT Christians who tell me that it was helpful in their own personal and faith journeys, which absolutely thrills me.
What do you hope the reader will take away from it?
For LGBT Christians, I want them to know that they're not alone, to reassure them that God really does love them as they are, and that other people know what it's like to feel like you're living in two different worlds at times.
For Christians who aren't LGBT, I want them to see why the old church approach to these issues hasn't worked, and why it's so important (and biblical) for them to support LGBT folks.
And for non-Christians, I'd just love to give them some insight into what this journey feels like for some of us, and why these conversations still matter.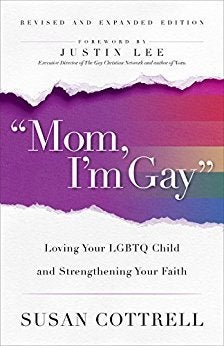 When my daughter came out as queer, we had no one to talk to; and church was not safe or affirming for us. I wrote this book so I can walk this road with parents—so they don't have to be alone with their fears about their LGBTQ child. I talk people down from the ledge, calm their fears, and give them solid wisdom from the trenches!
This is for parents, grandparents, or anyone with an LGBT loved one. I sit and hold their hand, walk through their concerns, explain those 6 Bible verses. We address the core issues and answer the tough questions.
What do you hope the reader will take away from it?
Readers find renew love for their family, see that all really is well, and look to the light on the horizon! They walk away restored, with a renewed hope, able to love their child more fully and freely and fearlessly. Readers walk away embracing their LGBTQ kids because of their faith, not in spite of it!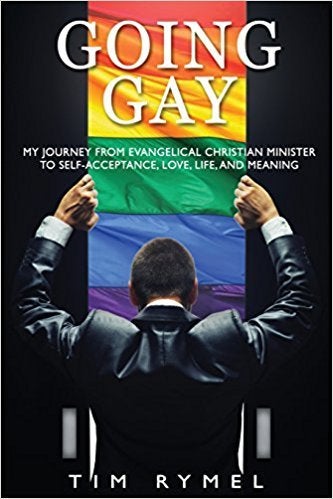 I wrote Going Gay to help conservative Christians understand the intense struggle between deeply held convictions and unwanted same sex attractions. The book allows people to hear what I was thinking while going through conversion therapy, working as an "ex-gay" minister, getting married, and eventually coming to terms with myself, my faith, and my sexual orientation.
The book is for fellow ultra-conservative evangelical Christians who either struggle with same-sex attraction, or are pastors or family members trying to reconcile the issue of homosexuality and faith.
What do you hope the reader will take away from it?
Mostly, I hope readers walk away with compassion. Compassion allows us to step out of black and white and walk in the gray where human beings actually live. I want people to step away from the certainty they think they know, and discover a God that is much bigger than can be contained in the pages a single book.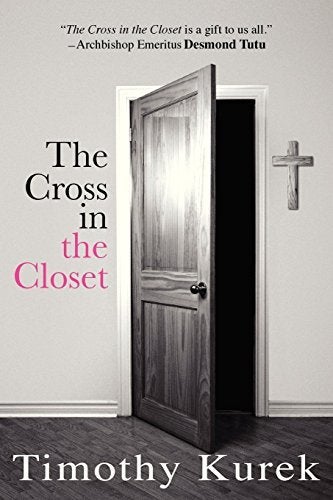 I wrote The Cross in the Closet to lend a mustard seed of hope to my lgbtq brothers and sisters, to show that even the most ardent, anti-gay conservative Christians can change their beliefs.
The book is for anyone willing to give up their bias and prejudice long enough to hear a story. For conservative Christians with LGBTQ friends/family/co-workers and my LGBTQ brothers and sisters that have been hurt by the church.
What do you hope the reader will take away from it?
I hope the book is a mirror for anyone that reads it, and that it inspires empathy and forgiveness. My experiences changed my life, and I hope it helps others change theirs as well.
Calling all HuffPost superfans!
Sign up for membership to become a founding member and help shape HuffPost's next chapter
This post was published on the now-closed HuffPost Contributor platform. Contributors control their own work and posted freely to our site. If you need to flag this entry as abusive,
send us an email
.