Here at Sunset we hear from people all the time who say they'd love to try camping but don't know where to start. In my mind, a good breakfast is one of the surest ways to turn a wannabe camper into a true believer.
Take my urban-loving sister, who definitely didn't inherit the camping gene I seem to have gotten in spades.
"What am I going to make for breakfast?" Nancy asked me. "I haven't been camping since I was 10."
We were planning a reunion at Mt. Lassen in northern California with the über-outdoorsy side of our family to celebrate our uncle's 82nd birthday. Our cousins would be there with fancy kitchen kits in tow, setting their usual high bar for camp cooking.
"I guess I could bring cereal, but that seems so pathetic," Nancy said.
"What about Eggs in Jail?" I answered. "You know, the idea I got from that cool Outerlands restaurant in San Francisco near you guys? It's basically eggs in a frame, but they do a fancy version of it."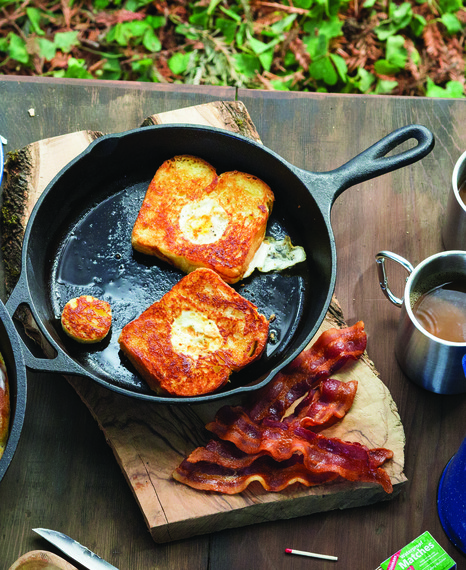 "What's eggs in a frame?"
"Weren't you a Girl Scout?"
"Yes, but I never made it past Brownies."
"Well you took home ec," I said. "Everybody made eggs in a frame in home ec."
"Remember I got an F for the stupid Holly Hobbie apron that I cut out upside down?" she reminded me.
"Oh yeah. Well, anyway," I said, not wanting to dwell on a dark moment from junior high. "The recipe's really easy. You just get a nice loaf of brioche bread or challah and cut thick slices, slather them with butter, and cut out holes with a biscuit cutter. Then you toast the bread in a frying pan and crack an egg into the middle of each piece."
"I don't have a biscuit cutter," Nancy noted.
"Well, then you can cut out a hole with a little knife. And you serve it with bacon--really good applewood smoked bacon," I added.
"I love applewood smoked bacon," she said, brightening. "What about coffee?"
"Oh, you've gotta have good coffee. I've got this great gizmo you can use to make lattes."
"I can have a latte for breakfast when we're camping?" Nancy asked.
"Sure," I said. "Just make your Peet's coffee with a cone and filter. Then heat up milk on the stove and stick this battery-powered frother in it. The milk foams up in a few seconds, and you've got a latte" (Find Sunset's 49 best camping gear products here).

After our breakfast chat, Nancy was looking significantly more cheerful.
"Now, what about the bears?"
Want to be a better camper? Check out more ideas at sunset.com/campfood. And enter our Camp Sunset contest! Two sets of readers will be our VIP guests (most expenses paid) for an awesome weekend of camping in Northern California this fall. Deadline is July 15.