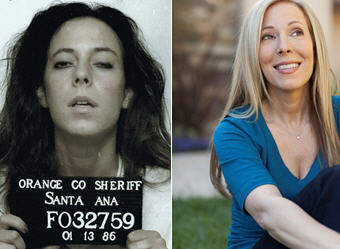 When she was a girl, Lauri Burns was regularly abused by her dad. One afternoon her father hadn't realized she had a girlfriend visiting. That friend ended up accidentally witnessing the horror of Lauri being abused. Knowing that he was about to be exposed, this highly regarded member of their Long Island community then turned the tables on Lauri. He called the police, claiming she had stolen his gun and was intending to kill him. She was deemed mentally ill and thrown in a psychiatric ward. Thus began her horrific spiral through the mental health and penal systems.
When not in a mental hospital or prison Lauri was in group homes until she aged out of foster care. Drug addiction took the edge off the pain through those years and when homeless, prostitution allowed her to support herself, her habit and, eventually, for a time, her baby. She was in and out of jail, and soon unable to keep her own baby out of foster care. But even that wasn't rock bottom.

One night, nearly beaten to death in the woods by two gunmen, Lauri was left for dead. The kindness of a stranger brought her to a safe place. She received counseling, ended her addiction, and got on the swift road to completely transforming herself and her life. She was encouraged to apply for a grant to get an education in computer programming. Applying for the grant was not easy, but she won it and immediately started learning as much and as quickly as she could. Her internal programming fire was lit! She was on the road that led to an extraordinary career at Northrop Grumman, a job she left only two months ago to devote herself full time to The Teen Project.
Lauri started The Teen Project to give kids what she wishes she had been given upon exiting the foster care system: proper guidance to get on the road to success, or as Lauri calls it "parenting for the parentless." Transitional aged youth (18 through 24), who missed being properly parented, don't know how to turn their lives around. Once they hit 18 and are released from the foster care system, their families are no longer being paid and either cannot afford them, or are no longer motivated to help them. And, worse, when addicted to drugs as many homeless kids are, they do not have easy (or in some cases, any) access to free rehab.
The Teen Project's first order of business is to deal with the addictions, so the kids are in a state of mind and body where they can learn and move forward with ease. Six months ago they opened FREEHAB (free-rehab) Life Transformational Center combines free residential drug treatment, counseling and education to move them beyond addiction into a life of success.
Lauri's own meteoric rise in the world of programming inspires many of the kids who are also naturally drawn to the tech world. Because of tech education's popularity, Freehab is about to have a very exciting Los Angeles fundraiser to build an onsite technical school in the 12,000 square foot warehouse right next door to their 100 bed facility. Kids will be able to walk from rehab right into school for web development/design, media arts, etc.
Lauri doesn't just want her kids off the streets and off drugs. She wants them to feel loved and valued as vital contributing citizens. She finds out what they need and want out of life and gives them full access and guidance to have them reach their goals. If a young woman wants to have a career in fashion, Lauri paves the way to get her enrolled in the Fashion Institute of Design & Merchandising. One of her kids who dreamed of becoming a doctor is now three years away from fulfilling that dream.
Lauri is on a mission to address the needs of all the displaced kids who never got the right parenting to give them a solid start in life. Until she has more resources in place to physically support more homeless kids, she has also developed two other extraordinary resources that have already helped thousands of kids, that are worth passing on to any kid you may know in need, whether in Los Angeles or beyond:
The P.A.D. -- A drop-in center at Venice Beach which serves as a hub for the largest population of homeless youth in Los Angeles. Kids can safely and comfortably come here to find the resources they need to get on their feet.
Text "Shelter" -- With a couple of genius computer friends, Lauri developed an App which allows kids -- not just in Los Angeles but all over the U.S. -- to simply text SHELTER and their ZIP CODE (i.e., SHELTER 90210) to the phone number 99000 to find the nearest available shelter.
How many superheroes didn't have proper parenting? How many went through life-threatening, excruciating circumstances to come into their full super powers? And how many paid it forward with their resulting extraordinary strengths? Lauri Burns is certainly a superhero. She brings opportunities for transformation along with her own inspirational spark to each and every kid she meets. This is what the mightiest of superheroes offer: a chance at transformation.
NOTE: This post has been updated to clarify the nature of abuse mentioned in the first paragraph.