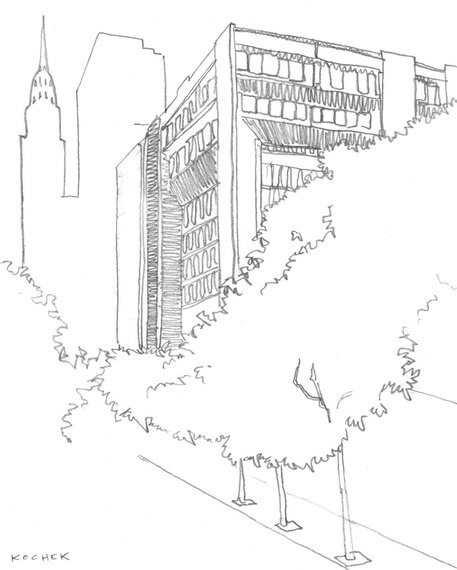 To think about the Ford Foundation's home in New York City is to think about our history, since the two are inextricably intertwined.
As some of you know, when Edsel Ford established the Ford Foundation in 1936, he headed a small, Detroit-based institution. This changed when both Edsel and his father, the great industrialist Henry Ford, passed away in the 1940s. The bequest of their tremendous wealth transformed the foundation almost overnight into the world's largest philanthropy.
When Edsel's eldest son, Henry Ford II, assumed the foundation's presidency, he understood that this dramatic change in resources was an opportunity to examine and enlarge the foundation's ambition. He sought the advice of hundreds of leading citizens across America, including Dwight Eisenhower, Walt Disney, and Eleanor Roosevelt. The report that resulted from this inquiry, the Gaither Report, recommended that the Ford Foundation broaden its perspective and widen its geographic reach internationally -- that it embrace and serve a mission "to advance human welfare." Guided by the report's recommendations, in 1953 the trustees moved the foundation from Detroit to New York.
The reasoning was clear: New York City was a global capital, a gateway to the world. As an American foundation with an international outlook, the city was the most sensible place for the Ford Foundation to pursue its mission.
Henry II commissioned Kevin Roche, a talented young architect who had worked with Eero Saarinen, to design a modern masterpiece. More than 200 landmark designs later, Roche has earned his place among 20th century America's most influential architects. The Ford Foundation building opened in 1967 to critical acclaim, and Roche went on the win the Pritzker Prize, the most prestigious honor in architecture.
The building, which was designated a New York City landmark in 1997, has become a signature of our identity.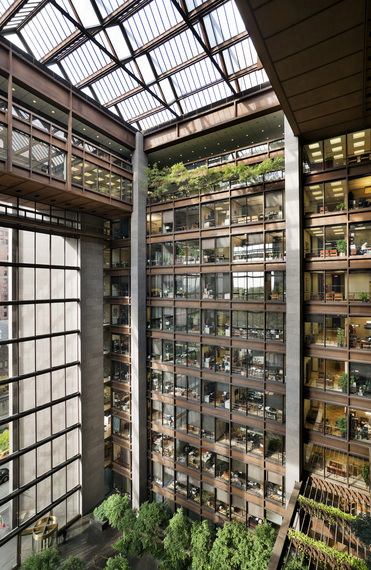 We love this building. Kevin Roche designed a soaring, inspiring space--one that expresses the high aspirations of Ford's social justice mission. At its best, it is a place that lifts the spirits and ambitions of all who spend time within it.
At the same time, in many ways the building reflects the culture of the time when it was built. It was constructed for the exclusive use of Ford staff and trustees. Like many corporate headquarters of the era, the facility is organized hierarchically, and includes vestigial features both out of date with technology and out of step with the times.
You might be surprised to learn, for example, that the building's design included both an executive dining room and a private president's dining room (we've done away with them). Offices are numerous and large, with layouts that are barriers to collaboration and integration. As a former grantee, I remember visiting the building for the first time and feeling intimidated. Simply put, many of us feel that our building does not sufficiently contribute to the values and culture represented by FordForward, the foundation's strategy for renewal.
Over the years, we have updated the space repeatedly, retrofitting it as best we can. The staff auditorium is used as a theater where we host documentary films and public programs. The former private dining room is now a meeting space used by grantees and, on a limited basis, we make staff conference rooms available for grantee use, as well. Not surprisingly, we see far more demand for our space than ever, and certainly more than we can supply. We are inundated with requests for conference venues from the organizations we support, from our colleagues at the UN, and from across civil society.
Most relevant, we know that if built today, the building would not meet current NYC building code, and we have no choice but to update it before 2019. For the safety of our staff and guests, we must improve fire response--from sprinklers to alarms--as well as access for people with disabilities (I'm ashamed to say that the Ford building does not provide the benefits required of new buildings under the Americans with Disabilities Act). What's more, the aging facility's current environmental footprint is larger than it should be given our contemporary understanding of sustainability.
From my perspective, the convergence of what appear to be significant challenges actually represents an opportunity to align our 20th century building with our 21st century mission. And so, with the enthusiastic endorsement of our trustees, the foundation will undertake an extensive renovation that will transform our facility into a global center for philanthropy and civil society.
I believe there could be no better time to commence this work than during our larger FordForward renewal. We see--and are seizing--this moment as yet another opportunity to better serve our public mission. This is a chance to remake our landmark space into an open, inviting, welcoming place--a gathering place for the individuals, institutions, and ideas that are broadening the frontiers of social change.
Before proceeding, I want to be transparent about the cost of renewing our building: $190 million, the great majority of which is required just to meet the requirements of city code. Although this expenditure will have no impact on our grantmaking budget, it is obviously a significant cost. And we did not come to the decision lightly.
Indeed, at the very beginning of our thinking and planning, we considered selling the building and moving to another site. The Ford trustees and leadership team wrestled with a series of questions and deliberated for many months. The first issue was: Do we need to remain in New York?
As a global foundation, this was a topic ripe for consideration. When the board of trustees moved the foundation to Manhattan in 1953, it was because this island was--as it still is--a crossroads of the world. People and organizations gravitate here from every community and country on earth. They coalesce here to lead social change everywhere. With all the millions of people from around the world who visit this city each year, with the UN at our doorstep and Grand Central Station just two blocks away, the Ford Foundation has become a unique gathering place for those involved in the enterprise of social innovation and social justice. Given the opportunities for global convening and leadership that this city presents, and which our mission demands, we felt it essential for the foundation to continue to operate from New York.
To be sure, there are plenty of other buildings in the city, and staying in New York would not require staying in our current space. So our second question was simply: Do we need to remain in the same building?
Again, it is easy to imagine the alternative--sell, pack up, and move elsewhere. Some may reasonably wonder why we would spend money on renovating the building if we could just sell and relocate nearby at lower long-term cost. Cost is something we contemplated very seriously, but rigorous analysis by our real estate consultants and advisors found that we would not generate savings by selling and then buying, leasing or building anew. These experts in fact reaffirmed something we've long understood: The value of this unique building and location is more than just financial.
With no financial advantage for us to sell the foundation's home, and a renewed sense of its value to our mission, we have chosen to embrace our dual roles as a grantmaking organization and steward of an important architectural landmark.
But more than just deciding to stay, we have decided to renew and reinvigorate the mission of this building -- to ensure it works for far more people, is open to the public, and serves as an uplifting and energizing space for the social sector.
When the renovation is completed in 2018, our new, mission-driven interior will break down hierarchies. It will not only meet city code for safety and accessibility, it will also be a contemporary workspace that is collaborative, open, and green.
Our new layout will make it easier for staff to work together, while opening two full floors of office space for other nonprofits and foundations. Our own office footprint in the building will be reduced by nearly one-third, and we will nearly double the space available for non-profit conferences and convening. The renewed space will even include a public visitor center and exhibition galleries, in the hope that the wider community will feel at home here while ensuring that the building is a cultural destination worthy of the city that encompasses it. Finally, we will strive to make the renovated building more environmentally sustainable, and will be pursuing LEED Gold certification.
All told, our investment in the care and stewardship of this unique facility will, we hope, produce a remarkable new asset for the philanthropic and non-profit sector. The Ford Foundation building will be, more than ever, a welcoming and inspiring hub for social good and the courageous people who devote their lives to achieving it -- an international anchor for civil society just a staircase away from the UN.
For 50 years, the Ford Foundation building on the east side of Manhattan has welcomed generations of those seeking to advance human welfare. Today, as the world faces new challenges and strives for new solutions, we need a building fitted for a new era.
Already we have renewed our program strategy, and every day we are working to improve our culture. As we leverage all the foundation's assets, I am confident that this building will embody our shared mission and inspire all those who work and gather inside it.
Related
Popular in the Community