Most of us have heard of post-traumatic stress, but few of us are aware that there's such a thing as post-traumatic growth. Survivors and experts have increasingly begun to explore how we can use both the experience of descent and the lessons we learn after trauma, to provide not only greater good in our own lives, but in the larger world.
Highlighting strategies that trauma survivors have used to benefit from pain and adversity, Michaela Haas shows in her latest book, Bouncing Forward, how those who've experienced severe loss, illness, or violence not only rose to these challenges, but emerged stronger, more spiritual, and wiser.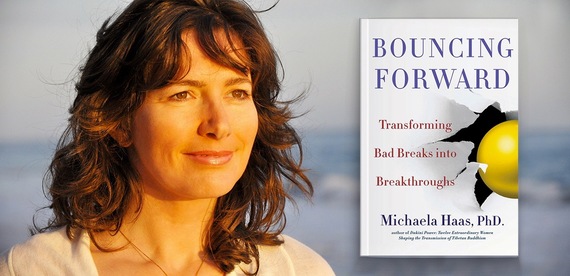 Haas reveals how as many as 90 percent of survivors report at least one aspect of post-traumatic growth, such as a renewed appreciation for life or a deeper connection to their heart's purpose.
She opens our eyes to surprising possibilities and offers readers perspective on pain and a renewed sense of optimism. A resilient mindset, we learn, not only fortifies us in challenging times, it also keeps us afloat in our everyday lives. Ideally, says Haas, if we cultivate resilience while the proverbial waters are smooth, it can save us when the seas get rough.
This book isn't just for people who have experienced great trauma, Haas' aim is to also help people going through divorce, job loss or bereavement which can be devastating for those experiencing it.
The people Haas interviews include one of the last interviews with the late Dr. Maya Angelou, as well as Temple Grandin and jazz legend Coco Schumann (who played for his life in Auschwitz) and paraplegic surfer Jesse Billauer.

In 1996, aged 17, Billauer was surfing on Zuma Beach, Malibu at Sunrise with friends. The crest of a wave hit Billauer in the back and smashed him headfirst into a shallow sandbar.
Haas explains, "I was so impressed with Jesse. When such an accident happens at 17, people think their life is over. There was nothing Jesse could do to change his physical handicap but there's so much he does with it. He has a gorgeous wife and they are trying for a baby. He still surfs and skates."
A common tool for all trauma survivors is to help others less fortunate than you.
While 30 percent of people are naturally resilient, Haas discovered that mindfulness meditation is also recommended for dealing with trauma. Even soldiers are being taught to meditate.
Haas learned at an army boot camp that the army has changed it's rhetoric from soldiers being invincible to accepting that soldiers can only heal emotionally, and this goes for all of us, when we acknowledge pain and express it to at least one other person.
"In the army, it's no longer the invincible Rambo hero, it's OK to say I am afraid and I am depressed. Now soldiers are meditating in boot camp. That surprised me the most while writing the book. To witness mindfulness and compassion being taught in the army," said Haas.

Haas also learned that sometimes it's the least resilient people who grow the most. There's a great message of hope in the book, that even if you're not genetically resilient and didn't grow up with the best parenting, there are things you can do to grow from a setback.
"Everyone I spoke to thought their life was over, that they could never be happy again but there are things we can do. It depends on our mindset. If we think it's the end of the world, it will be the end of the world. It's been proven that if we believe we can create a new life after trauma, we can." said Haas.
Bouncing Forward: Transforming Bad Breaks into Breakthroughs by Michaela Haas, Ph.D. is published by Atria Books.
REAL LIFE. REAL NEWS. REAL VOICES.
Help us tell more of the stories that matter from voices that too often remain unheard.