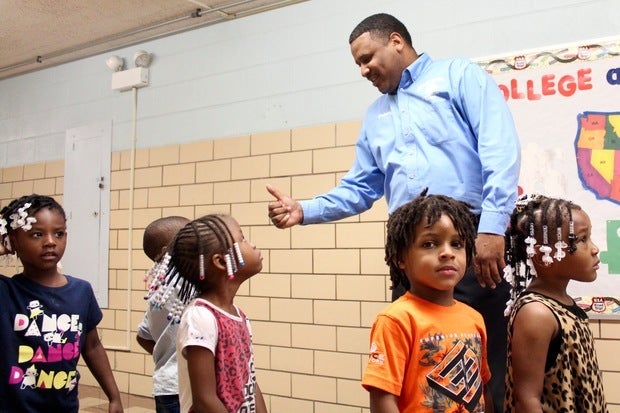 Derrick Orr, principal of Manierre Elementary School in the Cabrini-Green neighborhood of Chicago, shows deep commitment to his community by ensuring his students realize their potential. In recent years, his neighborhood has undergone major redevelopment, and many families have elected to send their students to magnet or charter schools in other community. In the face of so much change principal Orr has remained steadfast in serving the children of the neighborhood. Inspired by his dedication to his students. I spoke with Derrick Orr to learn about his hard work and experiences.
Cabrini -Green has quite the history, and a lot of it isn't necessarily good. Even when the Swedish and Irish were the primary residents back in the late 1800s, it was labeled "Little Hell". How can schools be a beacon of hope for students living in challenging environments?
The entire Chicago area has been given a negative hit over the last few years, especially with the crime rate, shootings and killings. I have established several programs to keep my students interested in education and off the streets, and I have connected my middle school students with mentors from different colleges around the United States. This gives them hope that there is another life outside of their violent neighborhoods. We also have teamed up with programs like Green City Market that work with our students on community gardens. This teaches them culinary skills and helps them prepare what they grew for family dinners. We also keep our gym and computer labs open late so students are not on the streets.
The last building of Cabrini-Green was finally demolished in 2011 and the neighborhood redeveloped by mixing public housing with commercial and other residential buildings. Have these physical changes to the environment impacted the day-to-day realities for your students?
The physical changes have changed the environment drastically. Most of the families have been moved to smaller federal housing developments like the Marshall Field Gardens in the heart of Lincoln Park. Most families struggle to feel they have a true voice and purpose because they are surrounded, on both sides of the street, by million dollar homes and condos. The majority of the families struggle each day to put food on the table. My students' families struggle financially, but when they look around they see that other families, who don't look like them, are doing extremely well.
You've mentioned the importance of bringing younger students onto college campuses to plant the seed that they too can graduate and go to college. What impact have you seen on graduation and matriculation because of those visits?
The battle started five years ago when I received a report from the local high school concerning the dropout rate of students at Manierre. I was told that college tours were conducted during their junior and senior years, like they are at many schools. The problem we were facing was that the majority of our students were dropping out before they became juniors. This is when I took it upon myself to create a yearly trip where my students could visit different universities around the country, and talk to individuals that came out of situations just like them. This showed them they could achieve whatever dream they wanted. The problem was coming up with money to make the trip a reality. I put in over $5,000 out of my own pocket the first two years. I would ask anyone I could for donations. Students now look forward to the annual trip, and not only reading about a particular college, but seeing it in person. Students now believe they have a chance to get out of the neighborhoods they live in and have better lives.
In your experience what would you say is the right age to intervene before we lose kids from the k-12 to college pipeline?
I would say the right age would be 11-13 (6th-8th grade). This is a prime time, in which students are learning about what high school they want to attend. They should also be looking at what college would be a good choice. Students are easily driven to the streets. We must be ready to give them a positive alternative and keep them on track. Many students in the inner city couldn't tell you what college they wanted to attend in the 7th grade, but they could list at least ten friends who are either in a gang or have been locked up. For every negative situation we must replace it with something positive. We must give children a chance to dream and to think big. I have parents that have huge kindergarten graduation parties. I asked one parent, "Why have such a huge event?" She told me it's because most parents don't expect their children to pass 8th grade. They set their goals very low.
Your choice to return to work after you had retired demonstrates an incredible commitment to public service. What inspires you to keep going?
I think about my son, who was murdered in 2008. He was so gifted, and when I looked in his eyes each day they were full of hope and dreams. I want the kids of Manierre Elementary School to have the same look. Every year I think is my last one, I get rejuvenated when one of my students tells me that they actually believe now that they can become whatever they put their minds to. Most of the students in this neighborhood come from single parent homes with no positive male role model. So I think all the time that God put me here for a reason, and only when He tells me to hang it up is when I will finally consider it.
Orr's belief in empowering youth to succeed is a basic goal that we have at GlobalMindED. By connecting leaders in education, we can work to alleviate the many intersecting variables that prevent our youth from reaching their full potential. Our world is only as good as the generation we raise. GlobalMindED thanks Derrick Orr for his compassion and dedication. Please, if you have the ability, we encourage you to support Manierre Elementary School's GoFundMe account.
Calling all HuffPost superfans!
Sign up for membership to become a founding member and help shape HuffPost's next chapter
This post was published on the now-closed HuffPost Contributor platform. Contributors control their own work and posted freely to our site. If you need to flag this entry as abusive,
send us an email
.