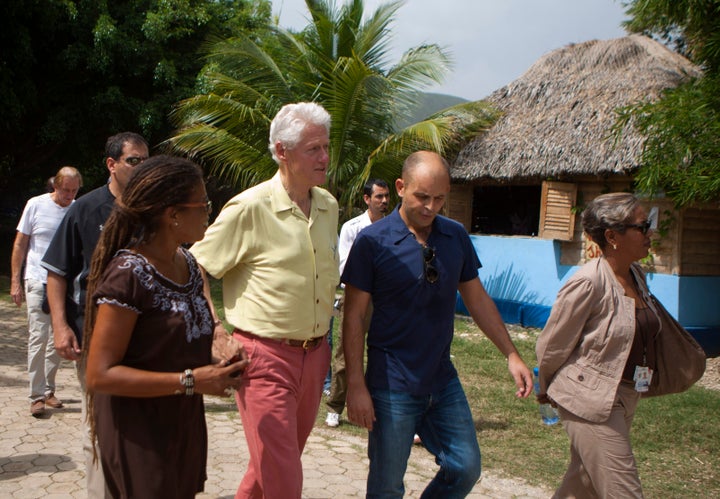 The Reverend Deacon Leroy S. Close's passion for Haiti began early. At age 16, Buck (Close's nickname that he continues to go by today) was introduced to the Salesian Sisters of Haiti by his mother. Close's family had helped the nuns build schools and orphanages in the Haitian capital of Port-au-Prince to service needy children. The experience was life-changing for Buck and sparked his desire to help the struggling country, which is the poorest country in the Western Western Hemisphere.
Sharing a love for Haiti with his wife Lucy, the couple has traveled there countless times over the past 40 years. They witnessed slow progress with governmental regime changes, continued violence and technical delays. In 2008, the Closes had dinner with renowned Partners in Health co-founder, Dr. Paul Farmer. Farmer, like Buck and Lucy, had a deep connection to Haiti and gained fame by building rural health clinics there, which became a healthcare assistance model for developing countries.
"The three of us came up with the idea for 1000jobsHaiti because we saw that job creation was the most important thing we could do in Haiti," Buck says. "Dr. Farmer's organization has made huge strides in health care and education in the Central Plateau of Haiti and 1000jobsHaiti's goal is to make similar progress, over time, in the field of economic opportunity."
1000jobsHaiti fights poverty by providing sustainable jobs to Haitians at just wages. The organization doesn't function like a traditional top-down charity; it partners with motivated Haitians on the ground that are anxious to improve their lives with their own efforts and creativity.
The nonprofit first empowered small women's groups with employment in the production of artisanal goods like embroidered or knitted table linens, bed linens and tote bags. 1000jobsHaiti trains the groups, ranging in size from seven to 45 Haitian women, and supports them by selling and merchandising their products in the U.S.
"We were in the midst of building our sales and merchandising initiative so that we could increase sales and employment for the groups when the earthquake struck in January 2010," recalls Bucks. "We spent six months using all of our resources to bring emergency aid to our employees."
At the end of that period, 1000jobsHaiti embarked on its most ambitious project yet -- it formed a company to manufacture material for the new wave of construction sweeping Haiti. Employing 25 men with fair wages, it currently produces both concrete and earthen blocks used in the rebuilding effort.
"Our projects change lives in a pretty direct way," Buck says. "They give someone without income a way to earn a living and do it by creating, over time, sustainable business models that can carry on without an outside charity being involved."
1000jobsHaiti's day-to-day operations are twofold. In Haiti, the organization has a Haitian management team that oversees all the employees and operations for both the women's groups and the construction blocks business. These responsibilities include order intake, quality control, product development and shipping for the women's groups. For the construction business, they manage the work site, quality control, human relations, sales and transportation of raw materials/finished construction blocks. In the U.S., the organization has a marketing operation that mostly serves the women's groups in sales and product design, which is vital to the success of the program since the women wouldn't have work without the sales demand at home.
Before embarking on an endeavor, Buck says it is essential to select the right Haitian leaders to champion and implement the project successfully. 1000jobsHaiti expands cautiously because demand spurts can be temporary, and it's important that employees can depend on their job even when demand dips.
Since 1000jobsHaiti essentially builds businesses in a foreign country, its aid strategy can be difficult to initially implement. However, the organization is making progress daily with patience and persistence.
"It is of particular importance in Haiti not to be overwhelmed by the enormity of need, but rather to measure success by the changes in the faces and attitudes of the Haitian people with whom work with us," Lucy says. "Their eyes are brighter, their faces plumper and they are willing and eager to work."
1000jobsHaiti's next goal is to grow construction business. Although it doesn't currently meet its budget, it have a present opportunity to purchase equipment that would double its capacity and increase its margins at the same time. Currently, it is selling more blocks than it can manufacture, and sales opportunities are lost daily without the equipment investment. Therefore, the Closes are focusing their efforts in the U.S. to raise enough money to purchase the $60,000 equipment, which would double their employment in Domond, the small rural town where their concrete blocks are made.
Though there are inevitable ups and downs to their progress, the Closes remain undeterred: "This is not work for people who want overnight success," Buck says. "However, I'm confident our chosen strategy will be embraced."
To offer financial support, purchase products or learn more about 1000jobsHaiti, visit 1000jobsHaiti. You can read more DoGooder Spotlights at TheDoGooder.com
Related
Popular in the Community