Over 60 percent of Africans live in rural areas, far from any health facility or hospital. Most of them will never see a doctor in their lifetime. Instead, they depend on the care of community health workers, nurses, traditional birth attendants and midwives, if they are lucky enough to have one who lives nearby and is qualified to deliver effective health care.
That's why eLearning and mobile learning are transforming health delivery in developing countries, offering new skills to so many more health workers, mostly female, in remote, hard-to-reach places where the majority of African populations reside.
First of all, what exactly do we mean by eLearning? Essentially 'electronic learning' means using electronic media/technology - computers, telephones, mobile devices etc., in learning and teaching. It is very different from the traditional form of classroom learning where students come to a physical building to be taught by an onsite teacher.
eLearning or distance learning, has grown tremendously in developing countries, where most students either cannot afford to leave their homes to attend school in urban areas, or they simply cannot take time off of work for an education. eLearning does both: Brings the education to the student in hard-to-reach communities and allows the student to continue working while they are studying. This is especially important for nurses or midwives in remote communities, where health workers are few and their absence would have a significant impact on the local population.
Technology has been one of the key elements in expanding Africa's health workforce. Seven years ago in Kenya for instance, 22,000 nurses sought to upgrade their skills from certificate to diploma level. But there were only four existing nursing schools in Kenya whose enrollment absorbed a mere 100 students per year. At that rate, using traditional classroom methods, it would have taken these nurses more than 200 years to graduate.
To tackle that challenge, AMREF, Accenture, Kenya's Ministry of Health, the Nursing Council of Kenya, Kenya Medical Training Colleges, and a handful of private and faith-based nursing schools partnered in 2005 to create an eLearning program, which as of 2012 has graduated a total of 7,000 Kenyan nurses.
At first, the eLearning program was viewed with a great deal of apprehension and skepticism by stakeholders in the nursing industry, as the challenges seemed overwhelming. How do you even set up electronic learning when less than 30 percent of Africans have access to electricity and 98 percent of the targeted nurses had never used a computer before?
And how do you motivate a health worker in isolation - how do you support her? How to introduce nurses to infectious diseases like HIV/AIDS or the multiple mutations of malaria treatment, when none of that existed in their former training? What technology partners were willing to invest in these uncharted waters and how could the outcomes be beneficial to all stakeholders? With more nurses trained, would there be adequate clinical practice facilities? Could the newly certified nurses expect pay increases when they graduated? The questions were endless...
Today, however, the program is fully administered by the Nursing Council of Kenya and has grown phenomenally. Graduating students are dispersed across 34 schools with access to 105 learning centers in Kenya's eight provinces. With the schools enrolling an average of 1,300 students every year, access to training has increased by 1,400 percent. In fact, so inclusive and extensive is the program, reaching even the most rural and isolated places, that one of the eCenters is located in a hut in the remote Dadaab Refugee Camp in North Eastern Kenya.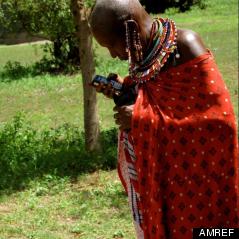 Mobile technology in Kenya reminds Maasai mothers to attend antenatal visits.
But the rapid growth of the program was not without challenges. Slowly, with research and determination, these challenges are being overcome. We have learned how important it is to involve all the partners early on and to make sure everyone understood their roles and responsibilities, expectations and the overall scope of the project. It was also key that each stakeholder defined its challenges, and expressed its fears and needs, so collectively we could outline reservations and concerns and deal with them productively.
Above all, the project had to be aligned with government policies, as in AMREF's long experience of working with various Ministries of Health, programs that support national health strategies will inevitably take priority. And, of course, it was also important to establish a clear governance structure with appropriate accountability among all partners.
Now considered an 'African' program, the success of this eLearning initiative is being replicated by the Ministries of Health in Rwanda, Tanzania, Zambia, Lesotho, Malawi, Senegal , Zanzibar and in Uganda to train midwives using mobile health.
The next frontier of course is mHealth, mobile technology for health using cell phones, which promises even deeper penetration in remote areas, ease of use and more avenues for success. This type of African ingenuity and our learnings from what has worked in the past, will drive our successes in 2015, 2030 and beyond, ideally leaving no one behind.
This post is part of a series produced by The Huffington Post and the NGO alliance InterAction around the United Nations General Assembly's 68th session and its general debate on the Millennium Development Goals (MDGs), "Post-2015 Development Agenda: Setting the Stage" (September 24-October 2, 2013). The session will feature world leaders discussing progress made on the MDGs and what should replace them when they expire in 2015. To read all the posts in the series, click here; to follow the conversation on Twitter, find the hashtag #No1Behind. For more information about InterAction, click here.
REAL LIFE. REAL NEWS. REAL VOICES.
Help us tell more of the stories that matter from voices that too often remain unheard.