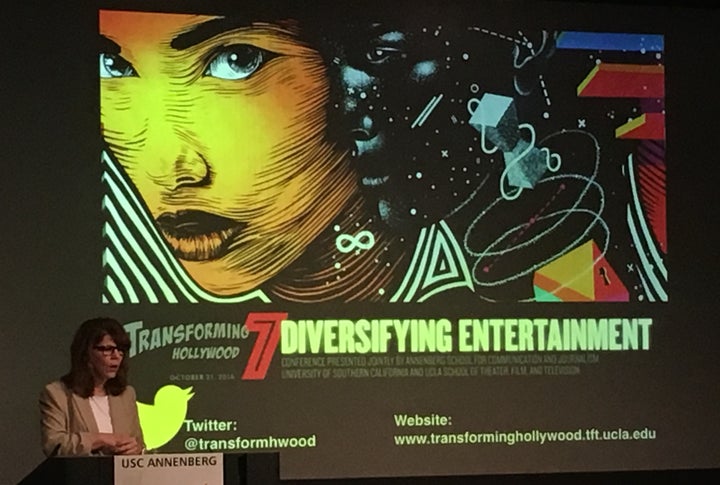 A group of industry and academic experts gathered at USC on Friday, October 21, for the "Transforming Hollywood" conference, now in its seventh year. This year's theme was "Diversifying Entertainment."
Professor Stacy L. Smith started the conference by outlining the state of diversity (gender, race/ethnicity, LGBT status) in Hollywood. She presented bleak statistics like women making up just 1/5 of Hollywood's top corporate executives. She also graded entertainment companies on how diverse they were on-screen and behind the camera—most failed, and the highest score was a C minus.
The Problem: Discrimination, Resistance and Societal Impact
Industry and community activists discussed ongoing discrimination within Hollywood. Actor Danny Woodburn described how casting directors do not provide physical accommodations for disabled actors—like holding auditions in older buildings with no elevator access. Panelists also described how male writers shut down female writers' pitches and later repackage them as their ideas. One USC film school graduate lamented that many of his classmates of color felt pressured to cast white actors in their films to "make their films more socially acceptable."
Panelists also unpacked Hollywood's resistance to dismantling discrimination. Panelist Melissa Goodman (ACLU) described how getting people to give up power is nearly impossible without sufficient motivation like monetary incentives. Yet, despite evidence that diverse projects are financially profitable both domestically and internationally, Hollywood relies on outdated beliefs that projects led by women and people of color will flop.
Other panelists offered psychological reasons for resistance. One panelist identified "white fragility" as the center of resistance to diversity in Hollywood. Similarly, Mo Ryan, Chief TV critic of Variety, remarked how white men in Hollywood get defensive when confronted with the message that they are the villains—not heroes—of inclusion.
The lack of diversity in Hollywood can also negatively affect society. Panelists and conference attendees discussed how the lack of positive images can hurt youth of color. Nakul Dev Mahajan, Choreographer of So You Think You Can Dance, lamented how the only role model he had growing up was 'Apu' from The Simpsons. Fanshen Cox Di Giovanni, the Head of Equity and Inclusion of Pearl Street Productions, described how police brutality victims are the dominant images her niece and nephew see of themselves. One mother from the audience expressed deep concern that Hollywood's criminalization of blacks heightened the threat of violence against black youth.
Solutions: Audience, Civil Rights and Industry
Besides identifying diversity problems within Hollywood, panelists also offered up various solutions.
Audiences can support diversity by consuming media by and about underrepresented groups. Phil Yu (Founder/Editor of Angry Asian Man) shared how he intentionally watches media not just featuring Asians but also other underrepresented groups.
Audiences can also boycott media that upholds the status quo. Professor Ebony Elizabeth Thomas (University of Pennsylvania) pointed out that the current generation—who already spends more time watching YouTube than traditional media—may opt out of Hollywood completely.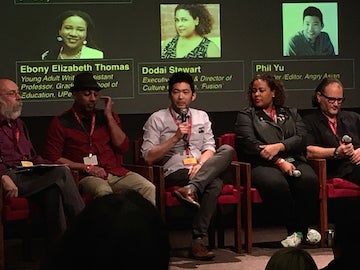 Melissa Goodman (ACLU) discussed how legal action can put pressure on Hollywood to diversify its ranks. The American Civil Liberties Union (ACLU) is currently investigating sexism in the Hollywood industry.
Industry creatives and executives shared their efforts to diversify Hollywood from the inside. Effie Brown, producer of Dear White People, said she intentionally tells stories about "The Other" to increase their visibility. Kathy Le Backes described resisting network pressures to not cast Latinos: "When we cast Latinos for East Los High, the network wanted us to cast other groups. We said no and now have five Emmy nominations."
Javier Grillo-Marxuach (writer/producer, The 100 and Xena: Warrior Princess) suggested that, to level the playing field, industry insiders openly share their knowledge on how to professionally navigate Hollywood.
Setting diversity targets was proposed by multiple panelists. Melissa Goodman argued that change comes when companies set specific diversity targets and review them on a regular basis. Mo Ryan cited an example of how one network successfully implemented this. In 2016, the FX Network, which had the worst track record for diversity, proactively turned that around in just 5 month's time. They managed to raise their percentage of women directors and directors of color from 11% to 51%. In the same year (as Mo Ryan writes) FX set a record for the number of Emmy nominations received by a basic-cable network.
At the end of the evening, Melissa Rosenberg (series creator/showrunner, Marvel's Jessica Jones) broke the news that she will hire all female directors for the second season of Jessica Jones.
As seen, setting diversity targets is achievable, effective and profitable.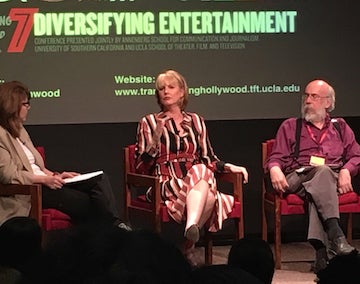 Industry insiders, activists and audiences came together to identify Hollywood's diversity problem and suggest solutions. While the behemoth of Hollywood often seems daunting, this group offered a spark of hope for a diverse future.
Support HuffPost
The Stakes Have Never Been Higher
Related
Popular in the Community