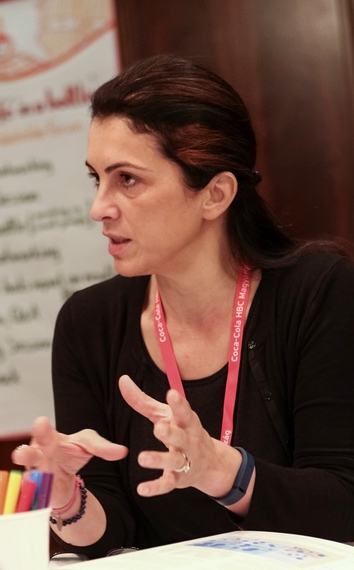 We belong to a world that is rapidly changing. There is amazing progress, yet we are also creating huge problems, especially in the area of migration. People are being driven out in all directions as a result of world conflicts, civil unrest, poverty, diseases and environmental disasters. The future of forced migrants in the UK and worldwide is constantly under threat and their journeys often have tragic consequences. Migrants not only face increasingly strict border controls and restrictive legislation, but they are also negatively tainted by the media and politicians.
A class of world outcasts is being created. We have to work towards painting a different, more realistic and positive picture. And that is what I do, with my work and the work of Chrysalis Family Futures. The idea might be small, but I'm committed to leading and empowering other people to stand up for the most marginalized. Whether I influence a person, a child, an adult or a community, I am creating change. In doing so, I will be recruiting other change makers.
My commitment is also personal, since I am a refugee and a migrant to the UK. I feel obliged to change the prevailing hostile anti-migrant era. In the age of austerity and economic insecurity, prejudice against migrants is dangerous and initiates hate, conflict and civil unrest. I'm faced with this hostility everyday through my work. I see children living in desperate situations. I see mothers who are being abused and exploited in many different ways. I see people who are frustrated with the hostility that is aimed at migrants.
My work and personal experiences have only enhanced and strengthened my commitment to support the most vulnerable. These are the same values I share and have adopted within the mission of my social enterprise, Chrysalis Family Futures. We are committed to protect and empower the human and socio-economic rights of all marginalized families. My personal experience connects me strongly to the rights of refugees and asylum seeking families and the issues of gender equality.
Chrysalis Family Futures is a business with a dual mission, one that aims to create profit and one that reinvests in projects that will empower refugees and migrant families. So I hope that in five to 10 years, I will be developing partnerships with stakeholders across Europe and the world that share similar values and commitments. I have met and worked with some incredible people in very difficult or traumatic situations. Rather than focus on their trauma or post-traumatic suffering, especially related to refugee experiences, I see the benefits of enabling post-traumatic growth and development.
I believe that with proper support and guidance, people can transform their lives -- and I have seen this in practice time and time again. I do the work I do because it enables me to assist people in renewing their strength, not only to go through difficult times, but also to grow from that experience. Small ideas are equally important. Your strength comes from you. Your own experience creates the necessary solutions. Whether your motivation is to change yourself, your community or the world, it's always important to think simple.
Of course, the work is not always easy. The biggest challenge for me personally was learning to be patient. Only just now I see the outcome of the work and time that I have invested during the past two years. For me, the key has been to remain committed to what I believe in and to learn through each experience. It is difficult to foresee, but I hope that the work of Chrysalis Family Futures will leave its mark by helping to create a more equitable and prosperous society.
Migration is a human right -- we should all be free to roam the earth and be were we choose to be. For now, Chrysalis Family Futures is developing projects both in the UK and abroad and connecting with the companies leading in corporate responsibility and supporting social entrepreneurs. There is nothing more exciting and fulfilling than seeing personal transformation in practice. I hope others will join us in our triple-quest in working with vulnerable families: to protect, to emerge and to grow.
Indira is a founder and director of Chrysalis Family Futures -- a social enterprise that stands for protection and empowering of human and socio-economic rights of vulnerable and marginalized families and children. Indira has 15-year experience in advice on welfare, housing and immigration rights and her expertise ranges on issues of forced migration and human rights. Her work with Chrysalis Family Futures has taken her to various countries in Africa, Europe and Latin America. Since completing her MA in Refugee Studies and her ground breaking research on austerity and welfare reforms, Indira has been invited to speak to various conferences and seminars in the UK and abroad.
Calling all HuffPost superfans!
Sign up for membership to become a founding member and help shape HuffPost's next chapter