With a community of over one billion people on Facebook, it is now possible for every local cause to become a global one -- and for every global cause to turn into a personal movement. We already know that Facebook is a place for people to connect with family, friends, and cause-focused organizations and in the last few years, we have seen many nonprofits use our platform to drive awareness, raise funds, and enable supporters to make a bigger impact than ever before.
For example, Justgiving -- a UK-based fundraising platform -- launched a Facebook Open Graph application last year that made it possible for people to share charitable giving activity with their friends. Through the Justgiving app, 1.8 million donors raised more than $53 million for charities in 2012. Justgiving estimated that each time a donation action was shared on Facebook, it was worth more than $8 to a nonprofit organization. Facebook-driven programs have also become an integral part of helping people affected by disasters -- whether it's delivering gifts to victims of Hurricane Sandy, raising money to help relocate families left homeless after tornadoes, or providing a place for sharing updates and information in the wake of a storm.
Historically, each of us has been able to give back to our favorite nonprofits by volunteering our time, raising awareness, and making a donation. With just two weeks left in 2013, holiday fundraising campaigns will bring total annual giving in the United States to over $315 billion -- greater than the value of the music ($68 billion), games ($82 billion), and movie ($87 billion) industries combined. While individual donations undoubtedly make a significant impact -- donating just $25 to Water.org, for example, can provide a person with clean and safe water for life -- simply writing a check to your nonprofit of choice is actually one of the greatest missed opportunities of all.
Every time you give to a nonprofit you care about, it should be easy for you to share that gift with your family and friends. Being able to share this giving activity is important: one study by Blackbaud found that people are 200 times more likely to donate to a cause when a friend asks for support.
Today, we are excited to announce a new feature called Donate, which we are beginning to roll out with a handful of partners. Donate makes it possible for anybody to give to a nonprofit through its Facebook Page.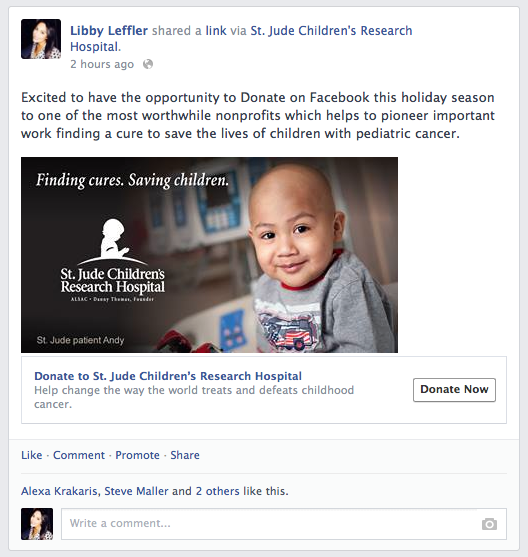 When you Donate on Facebook, you can select the amount that you want to give from the nonprofit's Facebook Page and, importantly, share your donation with friends from News Feed the moment you make it. Donate is result of a Hackathon project executed by a passionate team of Facebookers.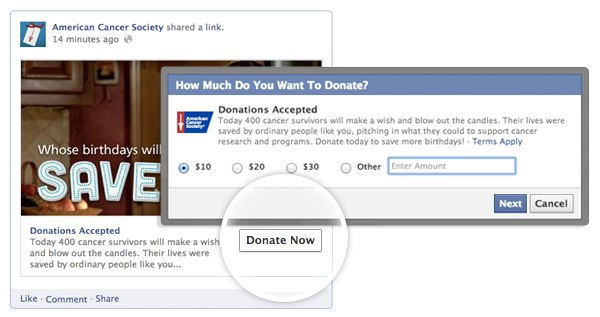 Causes have always been social: people naturally want to give back to the organizations that have made an impact on their lives, or whose work simply inspires them. Over 74% of nonprofits in the United States report that they are now using social networks to raise funds, with online giving now the number one preferred method for individuals.
As we start to test Donate, we have partnered with a few nonprofit organizations that have been using Facebook particularly effectively to engage supporters and inspire advocacy.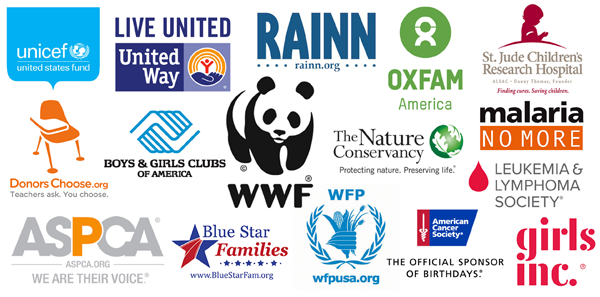 While Donate is available right now for US-based givers and our nonprofit launch partners, our goal is to further develop this feature so that people can give to any nonprofit organization on Facebook, anywhere in the world. The 2013 Millennial Impact report found that 98 percent of US nonprofits have a page on Facebook and we see Donate as an exciting opportunity for them to quickly, easily, and effectively collect individual contributions.
The power of one connection can lead to a movement. Nonprofits work to connect individuals with the causes, organizations, and people that are important to them and can now use Facebook to aid in that effort. Our hope is that the important work of our nonprofit partners is further amplified as individuals share their charitable giving activity on Facebook -- and discover new causes along the way.
Libby Leffler leads partnerships at Facebook focused on causes, nonprofits, influencers, world leaders, and elected officials. Libby is proud of the Hackathon team that came together to turn Donate from a dream into a reality -- making it possible for us to do all of our giving on Facebook this holiday season.
If you are interested in learning more about how your nonprofit can participate in Donate, reach out to us through our Donate interest form.
To stay up-to-date on the latest examples of nonprofit organizations doing important work on Facebook -- and making a real difference in the world -- check out our Nonprofits on Facebook page.