Sisterhood is a reward.
The sister relationship, above all other relationships, is the greatest of all.
I believe sisterhood requires more energy than parenting and more work than a marriage.

Sisterhood is a bond often threatened and is threatening all in the same breath.

When women get married, a union is formed.
When women have a family, a nation is built.
When women step into their purpose and empire is created.
But, when women get together the world changes.

Sisterhood, in my opinion, is not something that can be defined. It is an experience that must be had.

There was a time when I might have attempted to understand the term "sister" or "sisterhood" by looking outside myself for a definition. Today, however, as I am perhaps wiser and certainly more confident, I choose to rely on my own personal experience and observation. Although I don't have a sister by blood, I am well aware of the uniqueness of this relationship and the value it holds for me.

I had the pleasure of interviewing four ladies that I have been watching on Instagram for quite some time, and their movements are astounding. I call these four ladies "The Elements." They each bring something valuable to the society that they live, work and serve.

Their bond doesn't come from superficial commonalities, but a shared understanding of each other's experience and contribution to the world. Within this understanding, any differences can be embraced.
Meet Jasmine, Brittni, Meagan and Toni (The Elements)
Jasmine (Air), Brittni (Fire ), Meagan (Earth), and Toni (Water)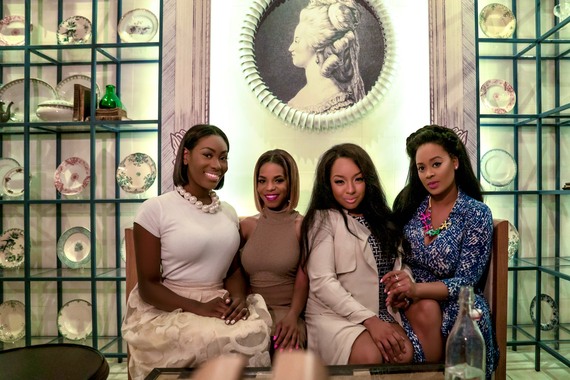 What is The Powerful Women movement and why is it so important to our economy?

The Powerful Women enhances womanhood in every way from faith, relationships, finances, wellness, health, sisterhood, professional and professional growth. We touch on every aspect of the woman, making her at her best and with that comes a powerful feeling of self. When women are at their best, the world is at it's best. ~ Meagan
What unique skills or talents do you all bring to the table?

When I think of the skills and talents that I bring to the table of The Powerful Women network I think of those things that flow naturally from me. Those skills and talents are in the ability to provide content, programming and memorable experiences that target the needs of our community. From what they learn, to how they feel and what they take with them, I am very intentional to ensure that our audience leaves with an empowering experience for their whole self.
I also bring the skill of exercising best practices within our working culture to maintain a positive sisterhood amongst the board that flows through our whole community of women. ~Toni
Who would play you, in a screen play of your life?

Actress Thandie Newton, she is a brilliant actress and could embody the variety of stages in my life I have lived. ~Toni
I think the talented brown beauty, Tika Sumpter would be well suited to play me. Over the past few years, she really has been showing range in her acting roles. Regardless of whichever character she portrays she exudes so much grace, which is a trait I feel I exude no matter the circumstance. ~Jasmine
I'm all about pushing the bar with power and grace, so if someone were to play me in a screen play of my life I would say Zendaya. Between her exercising her excellence in being an actress and singer, she brings it all to the table with no guilt. She dominates, but it's subtle because her presence and talent speaks for itself. ~Meagan
Hands down, Miss Taraji P. Henson. You give her role, she's going to nail it -no questions asked. She once said, "I'm a creative person, so I have to stay busy." It's how I live; I love a challenge and I love handling whatever is thrown at me. If I'm not working, I find work.
She embodies to me what a strong, powerful, headstrong and "Don't play with me!" woman represents;That's how I aim to identify myself as a woman currently. ~Brittni
What is one tip you can give to other women looking to start a movement?

The Powerful Women movement happened very organically, we started with just a small group of 30 local women in Detroit now we have supporters all over the world. Expanding has taught me so much about being resilient to challenge and change. When you're growing, you're put in uncomfortable challenges because it's new territory. ~Meagan

Is there a secret to working with other highly creative and high vibrational women?

My personal secret is a combination I use.
- Always love, I take into consideration that I am working with human beings that are not much different from me with our ying and yangs.
- From that place of love I can channel grace, assume best intentions, manage my own energy and choosing trust.
- Addressing an action, behavior or disagreement rather than attacking the person and their character is always the best team dynamic approach when challenges arise. This creates a safe space for solutions to occur rather than a piling heap of problems based on misunderstandings.
- Allow "girlhood" and "womanhood" meaning we are full of feelings and emotions and its okay to be emotional or feel any certain way but as we allow such we must be grown women and get business done too. So I believe in feel the emotion acknowledge it, communicate it but then move on, work with your sisters and get work done. ~Toni
How would you describe The Powerful Women campaign in three words?

Inspirational, Fierce and Purposeful! ~Jasmine

Name one mistake most women make when building a team?

I would say as a female building a team, we sometimes fail to examine and honestly learn the qualities and strengths of the women we are want apart of our teams. We sometimes just go off first impressions. Women often assume their team may be good at things we need them to fulfill, but we forget to understand the women. Having conversations of clarity with your team, understanding what they love, what they're passionate about and how they can apply it to the overall project is key. ~Brittni
What was the best business or personal advice ever offered to you?

The one thing that keeps me on my toes is," Stay ready, so you don't have to get ready". I know things will happen beyond my control, but the best thing is not to panic, to move on and think of the next plan. I try to have a plan A, B, C and D. I always, always make sure I keep my connects positive; always. You never know when they will come in handy! They are your saving grace at times. Always remember to return the favors as well. ~Brittni
What do you enjoy most about The Powerful Women movement/campaign?

Our sisterhood and the accountability among the group is definitely the top aspects that I love about The Powerful Women. The genuine supportive depth filled relationships fostered in this group is like none other. We connect and converse not only over business but also self care. This group of women keeps me on my toes, my sisters encourage my growth and with doing so they hold me accountable (and will certainly call me out if I'm not up to par), when it comes to both my personal and business goals. ~Jasmine

What's next for The Powerful Women?

The Powerful Women plan to expand globally into major cities and countries with networking groups and ambassadors. We plan on keeping our home base in Detroit and cultivating a brick and mortar location where other Powerful Women will have the resources and access to build a business, career or enhance their social networks. ~Meagan
Please connect with these ladies on IG.

@ThePowerfulWomen
@BeeBrownPR -Brittni
@MeaganVoguist -Meagan
@WifeComma - Toni Jones
@PearledShoeboxvintage -Jasmine