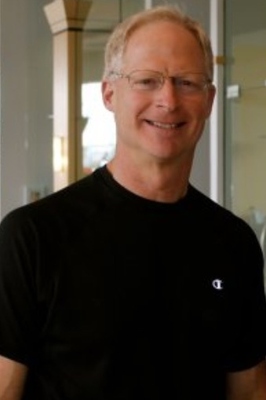 I met Mike Huggins a year ago at the Sedona Yoga Festival, over dinner, and heard some of his story; you will read the rest below. He started practicing yoga 12 years ago to help deal with chronic back pain. Along the way he started feeling better, both physically and mentally. In 2009 he embarked on a journey to discover who he really was, starting with a retreat at a Buddhist monastery. This introspection literally changed his life, as he left the corporate world and started a deep dive into the study of yoga with the goal of sharing its power with those less fortunate than himself. Out of this experience the Transformation Yoga Project was born in Philadelphia. Its mission is to use yoga and mindfulness as a tool for personal change in the lives of people in drug and alcohol rehabilitation facilities, the criminal justice system, and veterans in the VA hospital system. Mike is the founder and executive director of Transformation Yoga Project, and has been on the board of several non-profits.
Rob: What originally motivated you to bring yoga into a federal detention center?
Mike: Well, that's a bit of a story. I've had the unique 'opportunity' to experience firsthand what it's like to be in prison, and to experience the power of the practice from both sides -- as an instructor, and as an inmate. After being caught up in a corporate legal action, I was convicted of a misdemeanor resulting in a nine-month prison sentence. The day I was sentenced, I made a commitment to use this experience to explore and deepen my practice. At first yoga was a tool for survival: to find calmness amid chaos, to surrender to this situation while maintaining a sense of optimism.
In my cell, I practiced simple asana poses such as the warrior series and some Baptiste-influenced core work -- nothing crazy or 'weird.' Inmates soon approached me to learn about these "crazy martial arts exercises." They were attracted to the notion of getting a vigorous workout without equipment. Eventually, many of them came to understand that yoga could help strengthen their minds and develop disciplines for self-regulation. Thanks to a few sympathetic correctional officers, regular yoga classes started two weeks into my incarceration. This led to the introduction of guided meditations, which was a life-changing experience. You could literally see the lights go on for some of the inmates as they realized there could possibly be another way to live.
Eventually, I was transferred in shackles in an armed prison bus to a prison camp where my practice continued to grow. I worked as a tutor for inmates who had a 5th grade or lower educational level. There were big, tough guys. Many were previously in gangs and deep into drug dealing. Befriending the 'tough' guys gave me street credibility, and provided an opportunity to introduce yoga to a much wider group. The practice quickly expanded from a basic asana practice to a comprehensive program, which included yoga for beginners, yoga for the back, Taoist yoga, Yoga Nidra (deep relaxation meditation), and workshops on non-violent communication.
A dear friend mailed an article about James Fox and Prison Yoga Project, and I reached out to him. James sent a copy of his book, Yoga: A Path for Healing and Recovery, which I used religiously, especially for the meditation practice. The yoga program was so popular that I started a teacher training program, teaching several basic yoga principles. I was released in the summer of 2012, and I am happy to report that the yoga program continues to thrive there.
Upon my release I immediately reconnected with James Fox and attended a Prison Yoga Project training, where it became clear to me that I needed to try to bring yoga and mindfulness to disadvantaged populations.
The universe works in mystical ways. I had the opportunity to return to the federal detention center to teach yoga -- not as an inmate, but as a volunteer. As you can imagine, this has been such a rewarding experience on many levels.
What is the importance of mindfulness for developing impulse control? How does this help life inside a prison?
Most prisoners suffer from some form of complex trauma. Trauma may result from a lifetime of events including abandonment, domestic violence, sexual, drug and alcohol abuse. The effects are magnified when there are also other acute traumatic events, such as watching or participating in violent acts. Being in prison is itself a traumatic event! Unresolved trauma becomes the root cause of anger. What we resist persists. By opening a pathway for developing a mind/body connection, self-acceptance and self-worth, mindfulness becomes an essential tool for developing awareness of our feelings and emotions. This why mindfulness can provide courage for an inmate to stay out of a fight, to resist the urge to retaliate and to go inward.
I'm interested in knowing why we should be spending money on providing yoga to prisoners?
The criminal justice system fails to deal in any meaningful way with rehabilitation. The Judicial Council of California reports that approximately 65% of inmates will return to prison within the first three years of release. We need to do more to stop this destructive cycle. Inmates can themselves become agents for positive change, both inside the prison and upon their release. Many ex-offenders have turned their lives around through yoga, and by making a positive difference through work in their communities. It's hard to put a price on this activity, but we know that our communities are better for it.
Has the application and effectiveness of your program been evaluated? Is there an evidence base for them?
We have many testimonials from inmates who have continued their yoga practice after leaving prison. The prisons are happy with the emotional maturity of inmates who stick with the practice. On a macro level, many clinical studies have been done showing the benefits of mindfulness-based yoga in prisons. There is a long list of published studies listed on the Prison Yoga Project website.
What is the greatest obstacle to mindfulness-classes becoming a regular feature in prisons?
Interestingly, the challenge is not with getting buy-in from wardens, as there has been a positive shift in the thinking within the correctional system towards providing mind/body programs. The challenge is working through the bureaucracy of getting access into the prison. It takes perseverance to navigate the many hurdles for clearance. Funding is a challenge since the prisons don't pay for the classes, yet we need to make sure instructors are properly trained and able to travel to undesirable locations.
What advice would you give to anyone who would like to volunteer teaching a weekly class at a prison?
Our yoga instructors get as much, or more, out of teaching in prisons as the inmates do. It is an incredibly rewarding experience, and a way to 'pay it forward' through Seva. It is, however, essential that anyone who goes into the prison system be trained to teach yoga in prisons. You also need to check your ego at the door! We follow the Prison Yoga Project's proven mindfulness-based asana and meditation practice. There are instances in which otherwise good instructors teach yoga styles incompatible with trauma, with sadly negative results. It is imperative that yoga instructors take a trauma-informed approach to yoga, and get trained!
What should prison administrators know about the Prison Yoga Project?
While there are many excellent yoga teachers, most have not been specifically trained to address the triggers and logistics of dealing with people suffering from complex trauma and/or addiction. All of our instructors are yoga teachers who have received additional training and follow the Prison Yoga Project methodology, which has been proven over many years at San Quentin and numerous rehab centers. We work to make sure our classes are consistent with the participant's current treatment modality.
Popular in the Community