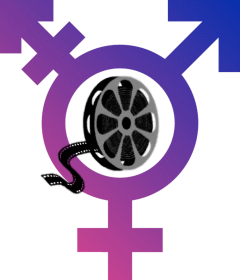 Ann Thomas is a force of nature. As the woman behind the world's premier Transgender Talent management company, Ann has popped up in the likes of USA Today, Rolling Stone, and The Advocate. On any given day, you might find her nurturing new actors, attending master classes with Jeffrey Tambor (Transparent), or submitting actors nationally for film, television, theater, and commercial work. You might just as easily find her chasing down show runners, Guild executives, and casting directors to acquaint them with the range of talent in the transgender acting community, a task at which she's clearly made in-roads: approximately 50% of trans actors that step in front of Los Angeles casting directors come from Ann's company.
I'm guessing Ann has lost count of the number of diversity panels she's attended or sat on, but on April 12, 2017, Ann and CBS made another kind of history by hosting a panel and networking event designed specifically for casting directors and transgender talent. The brainchild of Ann and Tiffany Smith-Anoa'i, Executive Vice President of Entertainment Diversity, Inclusion and Communications for CBS Entertainment, the event was orchestrated by Whitney Davis (Manager, CBS Entertainment Diversity), Raiza McDuffie (Coordinator, CBS Entertainment Diversity), and Nathan Wildes (CEO/Producer, Your Time Video). A division of Wilde Endeavors, Your Time produced the Transgender Talent PR video that launched an open discussion among the nine-person panel (credits below) about what it means and has meant over the years to be a transgender actor.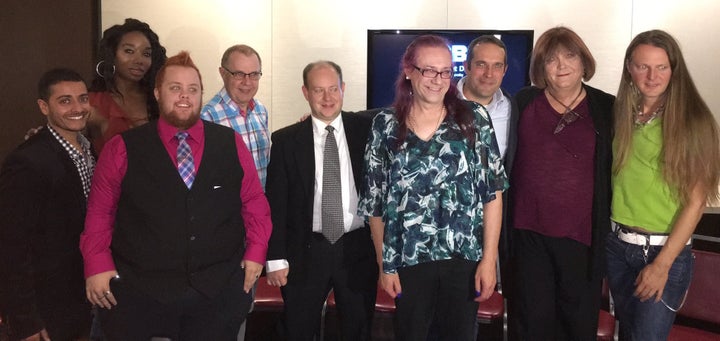 Moderated by actor and filmmaker Shaan Dasani, the event was a first of its kind for a major network, and while it provided some answers, it also made us aware just how many questions we still have on our way to fair representation in the media.
As actress, cartoonist, and professional storyteller Gillian Cameron expressed, "It took me 60 years to become cutting edge." The woman with a voice self-described as Harvey Fierstein channeling Bea Arthur, Gillian says, "I'm a woman who happens to be trans. I've got a lot of other things to worry about."
She's right, and when it comes to casting, one of the top concerns, according to Ann, is that for decades, the roles available to transgender actors—mostly sex workers and criminals—didn't allow them to build on their craft or see a viable future for themselves. Transgender actress and model Amira Gray put it in personal terms: "I wouldn't go for that walking down the street, so why would I go for it on film? In order for the general public to view us as everyday citizens, the media and entertainment world must portray us in the everyday roles we occupy: doctors, educators, parents, athletes and gainfully employed individuals."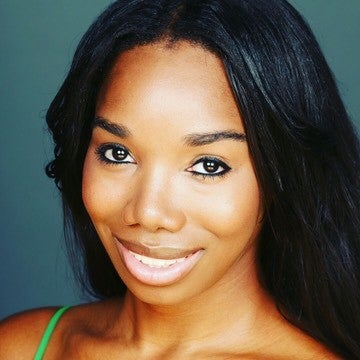 Initially, power players in the industry may rightfully ask: Why should I care about transgender actors? Why do I need to bring a transgender writer or director onboard? A recent article in USA Today about the controversial film The Assignment (Sigourney Weaver, Michelle Rodriguez) quoted director Walter Hill as saying that while they'd considered having a transgender actress play Rodriguez's MTF character, it was "a question of marketability. You have to cast these things with names that (producers) are willing to finance." Hill certainly isn't the first to use such reasoning, but accurate as it may be, rather than opening the doors of communication, it reeks of mansplaining, a condescending poke in the eye to people who aren't asking for handouts but instead want a place at the table so they can be part of the solution. This isn't about co-opting catchphrases or coddling intelligent, capable individuals who already understand this is show business.
Fortunately, industry staples such as Breakdown Services, one of the biggest resources in the world for casting directors to connect with talent and for talent to find work, is literally breaking down barriers for how transgender actors and casting directors get introduced. In a handout at the event, CEO and Founder Gary Marsh indicated that Breakdown Services wants to "empower the actor wherever possible, no matter where they are in their career, or what challenges they may face." To this end, professional casting directors can "use the [Breakdown Services] search option to research transgender and non-binary actors [when trying to fill roles]." They've also put together an explicit how-to video for those wishing to update their profile to include this information. Marsh was careful to point out that for privacy reasons, this category does not appear on the actor's public résumé but is only available, at the actor's discretion, to established casting directors and talent reps.
As we've seen most recently with CBS's 'Survivor: Game Changers'—which stirred up a hornet's nest of attention about the ethics, or lack, of outing a trans person—transgender actors must decide for themselves if the role or audition requires disclosure. In the case of Shaan Dasani, he has what he calls a "binary look," meaning he fits society's idea of what a man looks like, and says that as an actor, he finds himself "constantly negotiating when it's appropriate to disclose and when it doesn't matter." He stresses, "Just because someone transitions, it doesn't mean they have a binary look, which comes with its own privileges, and it doesn't mean that their history is all of a sudden erased and they're on a level playing field."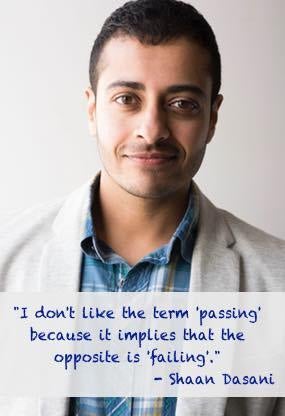 Casting Director and VP of Casting Society of America Russell Boast admitted that he, like many in the entertainment industry, had been "unconsciously biased against a whole population." Now he has his guard up: whenever he gets a call saying, "We're gonna make the character trans," he instinctively takes a step back to assess whether the role actually attempts a complex characterization or instead only offers a character "who would be dead within the first episode." As a result of such experiences, he emphasizes the importance of going beyond "making diversity the [whole] storyline." Casting Directors have helped pave the way regarding diversity in the media. As Boast says, "It is or duty to embrace the Trans Community and in turn inform and educate our Writers, Show Runners, Directors and Studio Executives."
As a word, "diversity" has certainly had its 15 minutes of fame. We've seen cross-referenced statistics stacked high, and while they can be incredibly useful—shining a klieg light on the lack of variation in all sorts of arenas—what these stats often don't tell us is: What exactly qualifies as diverse? Does it include sexual and gender identities, and if it doesn't, should it?
For years, Hollywood diversity initiatives dealt primarily with categories of race and ethnicity, as well as a more recent effort to increase the number of women. For the past two decades, SAG (now SAG-AFTRA) has offered a Diversity-in-Casting Incentive to low-budget feature films that met a threshold employment of seniors, people of color, people with disabilities, women, or some combination thereof. Recently it has been asked: should a category for LGBT people also be included? Further, should such a category be considered for the SAG-AFTRA Casting Report, filled out for every television show and film, which currently provides numbers on race, ethnicity, age, and sex?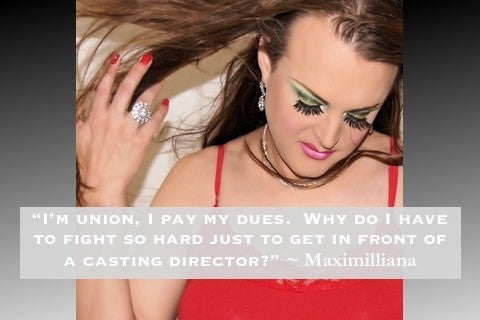 The problem is that diversity—like "outside the box" and "inclusive" before it—is quickly losing its meaning and perhaps with it, the ability to affect meaningful change. As a concept, it's taken a lot of heat—accused of everything from declining comic book sales to upsetting the U.S. presidential election—and while I don't want to imply it's an ideal whose time has passed, when we try to cram yet another "diverse" population into the definition, it begins to feel hollow, which begs the question: Wouldn't it be easier to limit the number of straight, white, cisgender men in hiring practices than to continue acting like they're the norm and everyone else is a deviation from it?
The truth, however, is that most people have met a straight, white, cisgender man, but more than 80% of the U.S. population has never knowingly met a transgender person, meaning that the majority of Americans get their ideas about our community through media representation. Considering that the impact of media portrayals on public perceptions has been well-documented and considering that 2016 was the deadliest year on record for transgender individuals, it is more important than ever that we include transgender actors as well as transgender writers, directors, and others behind the scenes in conversations that leave such a large imprint on daily lives. By doing so, we're not just impacting those who don't know a transgender person but also many who do. Often, as Ann Thomas shared, "we need to soften the hearts of parents to their own children."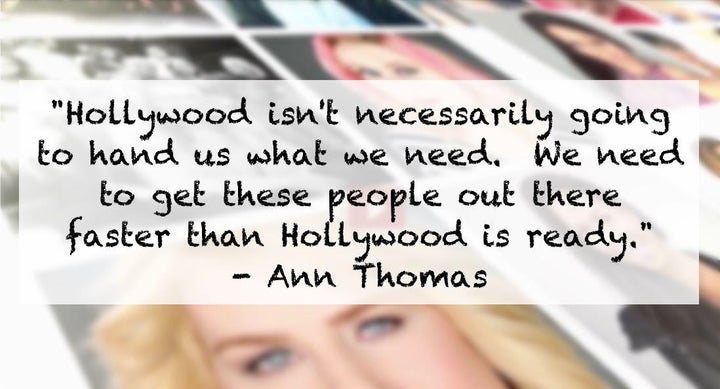 So where does transgender fit in when it comes to diversity? How do you count communities that have a different level of access to opportunity not because of who they are but because those who make the decisions tend not to see them as the well-qualified, well-rounded candidates they often are? These questions go right to the heart of those we're now facing as a society. Do we throw up the wall and only look out for our own interests, or instead do we reach out to understand the experiences of others? What stance should a business take in its mission, and beyond all that, what kind of person do you want to be?
These are conversations we need to keep having, and as moderator Shaan Dasani reminded us: "[This panel] was the first but hopefully not the last of these. We want to do more. We clearly need to do more."
Related
Popular in the Community