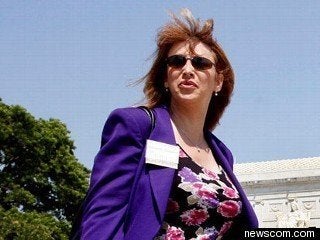 Amanda Simpson, who was named by President Obama to be senior technical adviser for the Commerce Department's Bureau of Industry and Security, has worked in the field for over 30 years. But prominent figures on the religious right are claiming that she was picked only as part of some transsexual agenda.
"Is there going to be a transgender quota now in the Obama administration?" asked Peter LaBarbera, president of the anti-gay group Americans for Truth. "How far does this politics of gay and transgender activism go? Clearly this is an administration that is pandering to the gay lobby."
"Simpson's nomination was forwarded through to President Obama by a gay activist group, making it appear that this appointment of a male-to-female 'transgender' activist to a high level Commerce Department position to be payback to his far-left base for their political support," a spokeswoman for Focus on the Family said in statement.
Matt Barber, associate dean at Jerry Fallwell's Liberty University, said the appointment "boggles the mind" and said that while African-Americans might deserve special treatment, transgender people don't.

"This isn't like appointing an African-American in order to try to provide diversity and right some kind of discriminatory wrong," he said. "This is about political correctness."
Simpson herself anticipated this reaction: "[There will be] questions like: Is this a token? Are you here to do a job or just to fill a quota or appease other people? In that regard it makes it a bit more difficult," she said. "I'm sure I will have to do and intend to do a far superior job than any other person. But I'm sure I will always be second-guessed."
David Brody at the Christian Broadcasting Network also predicted a right-wing backlash and argued that the right thing to do would be to not hire transsexuals, for that reason: "The transgender thing doesn't play well with millions of conservative Evangelicals. ... I understand President Obama won't be after die hard conservative Evangelicals in 2012 but let's remember that moves like this don't play well with the million of conservative Independent voters and Catholics who will be up for grabs again in 2012 as well."
Transgender rights supporters, however, are cheered that Obama didn't let fear of bigotry dictate his choice. "If you look at the job she's taking and at her résumé, this is not a quota appointee," Mara Keisling, of the National Center for Transgender Equality, told the New York Post. "She's unquestionably qualified for the job. The story is . . . not that [Obama] appointed one of us but that finally we have an administration for which that's not a deal breaker."