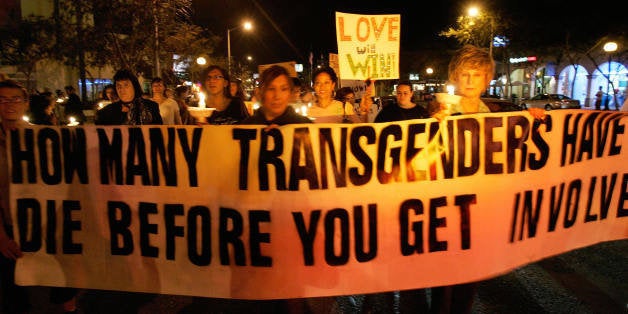 This month is the 15th anniversary of the death of Rita Hester, a young transgender woman of color who was murdered in her apartment in Allston, Mass. It was her death that led to the creation of the Transgender Day of Remembrance, which is held each year on Nov. 20.
Since Rita Hester's murder, hundreds of others have been murdered. This year more than 200 people have died at the hand of anti-transgender violence. Every two weeks, on average, someone is murdered in the United States in an act of anti-transgender violence. Internationally, you see these murders happening as a near-daily occurrence.
You'll note, I'm sure, that I talk of anti-transgender violence, and I want to tell you why I make this distinction. These are not simply the deaths of transgender men and women, and it is not their own identities as transgender men or women that led to their deaths. Rather, it is their killers who determined their gender identity and took the lives of transgender people because the killers felt that transgender people are somehow lacking.
Anyone can potentially fall victim to anti-transgender violence. Transgender-identified people and others whose gender identity or expression does not fit the typical binary are who you may think of first, but anyone who is perceived as not being "masculine" or "feminine" enough for their attackers is at risk.
Cases of anti-transgender violence have affected people of all ages, from newborn to elderly, and go across all sexual identities, races, and socioeconomic backgrounds. There's no "magical" way to be protected from anti-transgender violence.
This said, I want you to understand that after 15 years -- and with cases dating back 30 years before that -- one can start to see that some groups are at a higher risk than others. In the United States of America, for example, most cases of anti-transgender violence leading to murder are perpetrated against young transgender women of color like Rita Hester.
The Transgender Day of Remembrance is a day of solemnity. It is a day where we remember those we have lost, when we mourn, and when we consider that we live in a world where we or our friends could very well be next on the list. We know that we live in a time when the right to live our genuine lives without fear of murder is far from guaranteed. Our world is still a violent one, and we still have a very long way to go to see anti-transgender violence and prejudice wiped out.
This year, amongst so many others we may never know the names of:
We remember Evon Young, killed in Milwaukee, Wis., on Jan. 1.
We remember Cemia "CeCe" Dove, killed in Cleveland, Ohio, on March 27.
We remember Fatima Woods, killed in Rochester, N.Y., on May 30.
We remember Kelly Young, killed in Baltimore, Md., on April 3.
We remember Valarie McKinney, killed in Shreveport, La., on July 12.
We remember Diamond Williams, killed in Philadelphia, Pa., on July 14.
We remember Islan Nettles, killed in Harlem, Manhattan, New York City, N.Y. on Aug. 17.
We remember Domonique Newburn, killed in Fontana, Calif., on Aug. 20.
We remember Artegus Konyale Madden, killed in Savannah, Texas, on Sept. 1.
We remember Terry Golston, killed in Shreveport, La., on Sept. 6.
We remember Melony Smith, killed in Baldwin Park, Calif., on Sept. 9.
We remember Eyricka Morgan, killed in New Brunswick, N.J. on Sept. 24.
We remember Amari White, killed in Richmond, Va., on Nov. 9.
We remember scores more around the world who have been killed due to anti-transgender violence.
Over the last handful of years, attacks have intensified as groups attempt to fight against equality for trans people in the wake of their largely failed war against same-gender marriage. The battle against trans people is rearing its head in California, as several of the same groups who defended Proposition 8 now try to repeal A.B. 1266 and its protections of transgender students.
As they attack us and our ability to live, and as they mislead people about who we are, it is all the more likely that we shall see anti-transgender attacks increase. This too is why we gather for the Transgender Day of Remembrance: It is a reminder that we have to continue to fight, to struggle, and to survive.
On Transgender Day of Remembrance, we honor those we've lost -- and we continue to fight for all.
Related
Popular in the Community