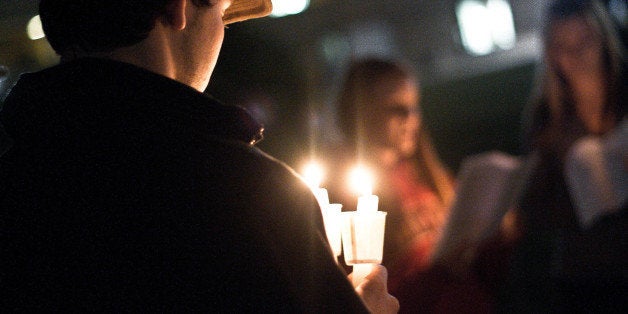 Transgender Day of Remembrance is a day for all of us to come together to memorialize and honor the lives of those individuals who have been killed in the last year because of their gender identity or expression.
The official day started 15 years ago, when a candlelight vigil for Rita Hester, a trans woman who had been murdered, led to the original "Remembering Our Dead" project, a list, compiled every year, of the people who had been killed because of anti-transgender violence. Every year on Transgender Day of Remembrance, communities across the country and throughout the world come together to read the names of the people taken from us by violence, light a candle in their memory, and pledge that their lives will not be forgotten. In the face of pervasive discrimination, harassment, and violence, it is a way for us to show that trans lives are valuable.
It is this perceived lack of value that underpins so many of the challenges that those of us in the transgender community face. Harassment in school often leads to a lack of educational opportunity. Discrimination in the workplace leaves many trans people chronically under- and unemployed. Access to health care is obstructed by lack of resources, outdated policies, and health care providers who have never been trained in the basics of transgender experience. For most trans people, these difficulties aren't experienced one at a time; they overlap and intersect. When combined with other pervasive forms of discrimination -- racism, classism, ageism, ableism, and more -- many trans people are left without recourse. Homelessness is a persistent problem. The trans population, already especially vulnerable because of these intersecting forms of discrimination, is made even more vulnerable to criminalization, victimization, and, ultimately, violence.
Visibility and understanding of the transgender community is growing now more than ever. Stories of trans homecoming kings and queens dotted the local news this year. Trans people can be the stars of reality shows like Small Town Security. Trans musicians like Laura Jane Grace and Our Lady J are creating buzz and getting people dancing (or moshing!). Actresses like Laverne Cox and Candis Cayne are showing the world that television fans are ready to love amazing trans characters played by trans people. Laverne Cox is probably the first transgender national TV celebrity. Nondiscrimination laws like ENDA are finally starting to make headway federally, but without these protections at the state level, trans people like me will still be forced to live as second-class citizens. We must pass the Gender Expression Non-Discrimination Act (GENDA) in New York to extend protections not only in employment but in housing, hate crimes and public accommodations. No matter whether we're celebrities or cashiers, high school kids or grandparents, trans people deserve to have access to the same opportunities and rights as everyone else. Trans lives are valuable. It is our job to make sure that society recognizes that.
Related
Popular in the Community