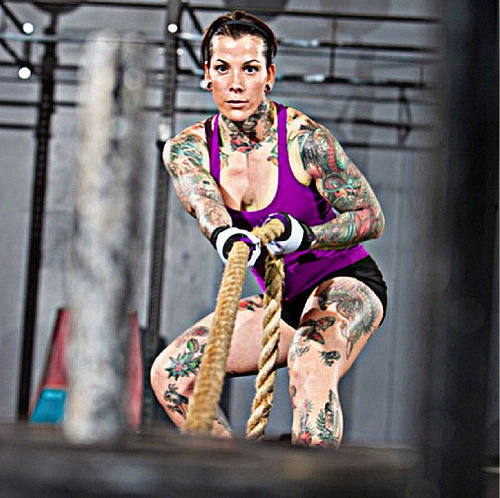 Chloie Jonnson is a transgender female and CrossFit athlete fighting for her rights to compete as a female in the CrossFit Games. CrossFit has issued a statement explaining why they denied Chloie the right to compete as female but gave her the option to compete as male competitor. The International Olympic Committee (IOC) has agreed that Chloie Jonsson meets all requirements to compete as a female athlete but CrossFit denies her that right as a female athlete. Chloie has filed a lawsuit for $2.5 million against CrossFit for violating her civil rights and she is represented by attorney Waukeen McCoy.
Chloie and I talk in a live conversation about transgender equality, acceptance, tolerance and respect. Our discussion is about why mainstream America continues to deny transgenders equality. The lack of understanding of the transgender people seems to be the main driving force behind the discrimination, disrespect and intolerance. One of the most important reasons I wrote the memoir, I Rise, was to enlighten and educate people about who transgenders are and to give visibility to a small community most often forgotten and lost in our society.
Chloie was very honest and candid about her desire to be treated fairly and equally without special consideration. Both the state of California and the International Olympic Committee (IOC) recognize Chloie as a female in all rights and privileges. So the real question becomes why does CrossFit deny her the right to compete as a female? We both agreed that mainstream America has a lack of understanding of transgenders in perspective to their day-to-day lives.
Transgenders are only being authentic to who they really are and living life in the most authentic way they can possibly do. Transgenders bleed red, cry when hurt, long for acceptance and love and only desires to be treated fairly and equally. Both Chloie and I agree if given the opportunity we are just like every other American living life the best way we can. The misconceptions about transgenders and their life causes transphobia and discrimination based off the lack of knowledge, and we all know knowledge is power.
To listen to the live conversation between Chloie Jonsson and I, go here.
Chloie and I encourage transgender youth and transgender athletes to not be afraid or scared to be who you are and we encourage and stand with you. We support you and your right to be your authentic self. Do not be controlled by the fear or shame for being the real person within your very being. We are all God's children and we (everyone of us) is equal under his eyes. Tolerance, respect and acceptance are the key to treating everyone equally (including transgenders). I leave for those who continue to hate and be transphobic against my transgender brothers and sisters, these words from my favorite poet, Dr. Maya Angelou (Reynolds Professor of Wake Forest University):
Excerpt from Dr. Angelou's poem, I Rise
"You may shoot me with your words,You may cut me with your eyes,You may kill me with your hatefulness,But still, like air, I'll rise."
Popular in the Community