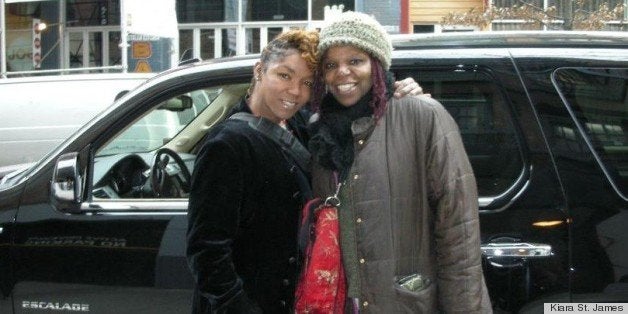 On Tuesday, March 12, I woke up at 4:30 a.m. to meet with a group of representatives from Housing Works who, every Tuesday from January to June, travel to Albany, N.Y., to speak with New York state legislators to encourage them to pass the Gender Expression Non-Discrimination Act (GENDA). It's the transgender civil rights bill that would add gender identity and gender expression to the human rights law in the state of New York.
Transgender activist Kiara St. James has been making the trip up to Albany every Tuesday for the past three years. She says that passing GENDA is important to her because she feels it's her duty as a trans woman from New York City, a part of the state that added gender identity as a protected class to the city's human rights law 11 years ago.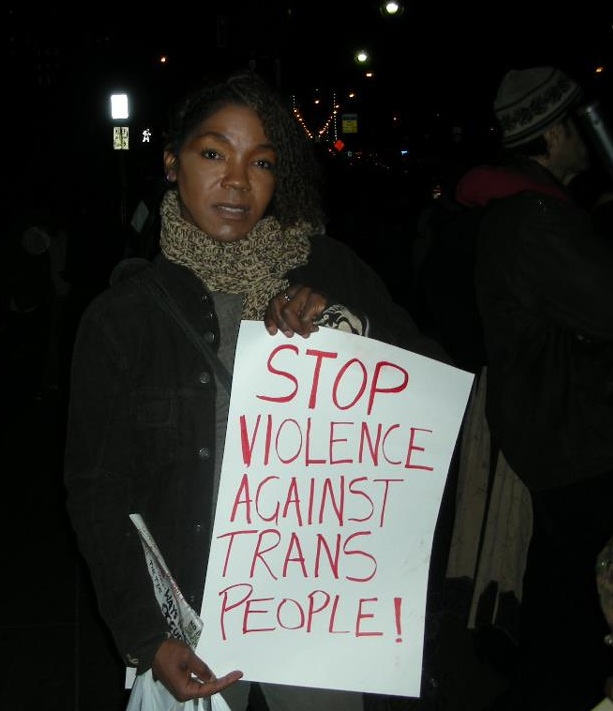 Kiara recalls a time in New York City before gender identity became a protected class:
In the '90s I was homeless, and at the time, they housed trans women in men's shelters. I experienced harassment and sexual assault. We fought hard to get those policies changed in New York City. Trans people in the other parts of New York live without these protections. They are at risk to experience what I did, every day.
Tanya Walker, another trans activist and a veteran of the U.S. Army, drives the van to Albany every week, for over four hours each way. She also recalls a time in New York City before trans people had protections against discrimination:
It was a very hostile environment. If you had gotten beat up by somebody on the street and you called the ambulance, they would just leave you on the ground to die. If you called the cops, they would pay you no attention. I was in a domestic violence situation with my ex-boyfriend. He cut me in the face and stabbed me on several parts of my body. The ambulance driver pulled up. As soon as they realized I was trans, they said, "We can't do anything for you," and left me bleeding on the street, and I was blacking out on the street. I was totally covered in blood, and they would not help me. I had to use tourniquets and things to try to stop the bleeding, 'cause I learned that in the military.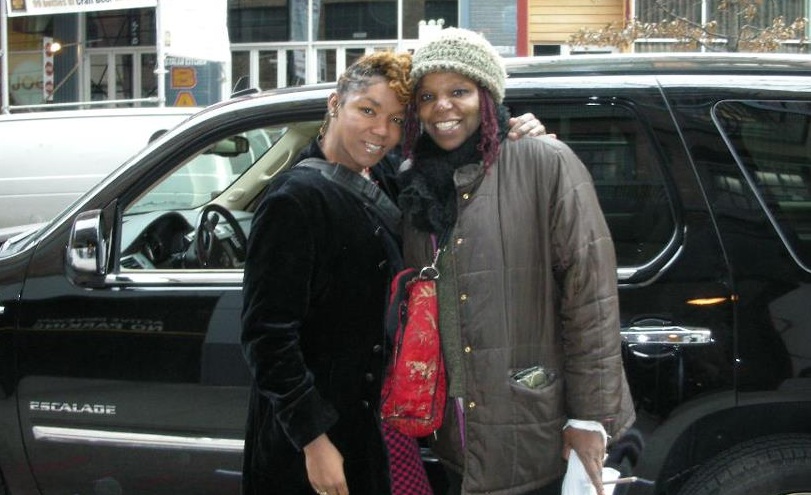 Kiara St. James and Tanya Walker
According to the National Transgender Discrimination Survey, 20 percent of transgender New Yorkers have lost a job because of their gender identity or expression. That is one in five of us! And 74 percent of the transgender community here in the state of New York has endured harassment and mistreatment in the workplace. This discrimination is still legal under our state law, and in 34 other states across the country. Kiara is quick to point out that passing GENDA is an economic issue. "The more trans people who are denied job opportunities, the more of us who'll be dependent on government assistance to survive," she explains. "We just want the same opportunities as everyone else."
Once in Albany, we spoke with the staff of several state senators and got to speak directly with Sen. Philip Boyle (R-Suffolk). He said he had spoken with Sen. Daniel Squadron (D-New York), the bill's lead sponsor in the New York State Senate, and had concerns. When pressed about what those concerns were, Boyle said he was worried about bathroom safety. Over the past several months, with the Coy Mathis case in Colorado and Arizona's infamous "bathroom bill," the issue of trans people having access to sex-segregated spaces consistent with their gender identity is being hotly contested, and many feel that it is being used as a scare tactic to deny trans people equal access under the law.
Kiara likes to point out that bathroom panic has been used to try to defeat equal rights legislation for transgender people for years. "During the civil rights struggle in the 1960s, politicians falsely argued that shared bathrooms between minorities and Caucasians would result in the spread of 'minority' diseases and increased violence against Caucasians," she says. "This claim was false."
In a Senate hearing on GENDA on Oct. 23, 2012, James Sheppard, the chief of police in Rochester, N.Y., and Steven Krokoff, the chief of police in Albany, N.Y., both cities that have transgender protections in their human rights laws, addressed the bathroom issue. When asked bluntly by New York State Assembly member Richard Gottfried (D-New York), the bill's lead sponsor in the Assembly, if they knew of any instances in their jurisdictions when someone claimed to be transgender and used the law to gain access to a bathroom or locker room to harass or perform illegal acts, both police chiefs said that they knew of no such instances. Chief Krokoff stated, "We have had these protections in place in the City of Albany going on for almost a decade, and I am pleased to say it has helped in a number of areas, not only the protection of transgender individuals but our ability to effectively create a safe atmosphere for all citizens of the City of Albany."
Masen Davis, executive director of the Transgender Law Center, recently said of Arizona's "bathroom bill" that it's a solution without a problem. The bathroom concerns of New York state legislators simply aren't supported by any facts. Meanwhile, the state is sanctioning discrimination against its trans citizens.
Tanya tells of another incident before gender identity was a protected class in New York City:
From 1994 to '96, I was going to Staten Island College. I was trying to pursue a degree in social work. I was president of the LGBT group over there at Staten Island College, and I was run off the campus by a mob of students in cars while I was on a bus stop one day, and I never went back, so I had a lot of issues and anxiety around returning to school.
It's often the psychic trauma from discrimination that keeps so many trans folks from going back to school when they've been mistreated so badly and keeps many of us from thriving and reaching our full potential. In the national Injustice at Every Turn survey, 78 percent of trans respondents reported experiencing harassment between kindergarten and 12th grade. Kiara likes to remind lawmakers that the state of New York has the Dignity for All Students Act, which protects all students, including trans and gender-nonconforming students, but no such law in parts of the state once those same kids turn 18.
Kiara and Tanya are trans women of color who have endured many hardships -- discrimination, harassment and violence -- but they are not victims. They are survivors who see advocating for transgender equality in the state of New York as their civic duty. Kiara states, "In the 11 years this bill has been languishing, people throughout this great state of New York have been denied access to the so-called American dream, a dream deferred for far too many of us for too long."
Kiara and Tanya work with Housing Works, the Empire State Pride Agenda and the New York Civil Liberties Union in a broad-based coalition in New York advocating for GENDA. The Transgender Rights Coalition is made up of nearly 80 organizations and individuals from Buffalo to Montauk, including transgender advocacy organizations, women's advocacy organizations, faith-based entities, labor and law enforcement. Just this week Housing Works, Empire State Pride Agenda and the New York Civil Liberties Union each launched media and public education campaigns aimed to raise the profile of GENDA and make the case for the longtime need to explicitly outlaw discrimination against transgender people once and for all.
The day I traveled to Albany with Kiara and Tanya, I left my apartment at 5:30 a.m. and didn't get back home until after 11 p.m. that night. These ladies, along with others all over the state, take this trip almost every week from January to June so that their voices can be heard by our state lawmakers and the cause of transgender equality and justice will not be forgotten in Albany.
Support HuffPost
Every Voice Matters
Related
Popular in the Community